Home At Last, the new CD by Herman Matthews, truly has my head spinning. This could be the best CD I have heard all year. Produced by Herman Matthews and Ned Albright, this is more than eleven great tunes, it is the ultimate road trip to any barbeque pit two thousand miles from home, wherever that may be. An epic adventure for the whole family, Matthews has captured the hearts and minds of all who listen.
Herman Matthews has been the power house drummer for such artists like Tom Jones, Tower of Power, Richard Marx, Kenny Loggins, Everette Harp and Kirk Whalum, just to name a few. Drumming since the age of seven, Herman Matthews is a true rhythm master. His groove performance sets the stage for an energetic ensemble of great musicians. I was pleasantly surprised to see Keith Richards old buddies and band mates Ivan Neville and Charley Drayton on this CD. Matthews not only enlisted great musicians for this CD, he obviously found a group friends who groove like they are playing these songs live.
With Herman Matthews on Drums and lead vocals, the personality of Matthews shines throughout this CD. The songs are all different in nature but seem to blend as one as Matthews creates an atmosphere where the listener can't wait to hear the next song.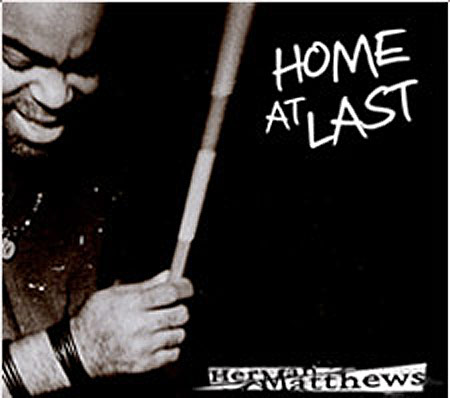 This CD offers a true blues feeling without the dose of depression. A mixture of music, food, fun, family and, of course, horns! Dance all night and cut the corners on tunes like Not Another Lover, Junk In the Trunk and the classic Function At the Junction. This compilation also gives the ultimate intermission with great tunes like Cup of Sugar; I Am a Drummer from Texas and Chop That BBQ. The best song is We Are Heaven which is a true masterpiece of song and emotion.
Take your summer vacation with Herman Matthews 'Home At Last' CD. Buy that classic convertible you always wanted, take the bumpy roads, no highways please, follow the beat, follow the smell, and yes, you to, will be home at last!
www.HermanMathews.com