The award show of all award shows is quickly approaching. Yes, the 79th Annual Academy Awards will be airing from the Kodak Theater in Hollywood in just over a week. We wanted to share the talented nominees with you, as well as the enterprising company that is putting a special twist on this year's festivities.
This year "Everybody Wins at the Oscars!" thanks to Distinctive Assets, the creative minds behind some of the greatest Gift Suites. Even if nominees walk home without a beloved gold statuette to put on their mantle, they can drown their sorrows in a lavish Gift Basket already valued at over $67,000 (and growing!) that DA has put together along with sponsors Caesars Palace and Wonderbra.
The Baskets will be given to the non-winning nominees in the major Academy Awards categories including Best Actor/Actress, Best Supporting Actor/Actress and Best Director on February 26th, the day after the telecast.
Known for their over-the-top Gift Baskets for major award shows such as the GRAMMY Awards, the Academy of Country Music Awards, the American Music Awards, the Kids' Choice Awards and many more, Distinctive Assets has put together an amazing assortment of gifts to create the ultimate consolation prize.
Caesars Palaces will provide a fabulous VIP Vegas Package including treatments at the luxurious Qua Baths and Spa, accommodations in the Augustus Tower, dinner for two at critically acclaimed restaurants Guy Savoy and Rao's, tickets to Celine Dion or Elton John at The Colosseum at Caesars Palace, a shopping spree at The Forum Shops at Caesars and a VIP table and complimentary bottle service at PURE Nightclub.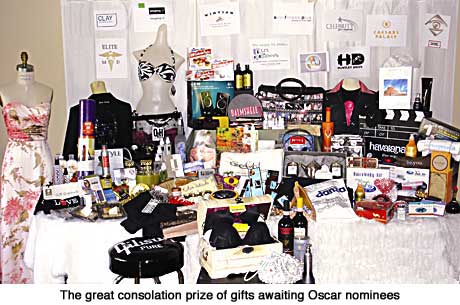 Other gifts include joluka Embellished Jean Jackets, a Gift Certificate for Refractive Surgery performed by Dr. Kawesch of Kawesch LASIK Center, a Celebrity Jet Gift Certificate for Service, an Annual Gym Membership to CLAY, Wellness Management Services & Gift Certificate for Botox or Microdermabrasion from Elite Personal Physician Services, Inc./Dr. Cheryl BryantBruce, M.D., a clear plastic tote bag from 02Hide.com, Truly Wize, Organic Artisan Shortbread Sampler from 2 Sweet Kidz, Y-Spa Anti-oxidizing Products and Gift Certificate for Services from Absolute Spa Group, Allie's Edibles Indulgent Comfort Sweets, Dark Chocolate Dipped Altoids, an Aquasana Shower Filter, an Art+Cook Special Limited Edition Gold Plated Citrus Reamer, Voyant Chai Cream Liqueur, BALMSHELL Lip Gloss, a Box of Bird's Nest Soup, BodyMint & PetMint from BodyMint, b.ology Tee's, a Chadsworth & Haig Tresaro Throw, The Backlace® by Cheri, a Cia.Maritima Bikini and Two Night Stay at the W Maldives, CIBU Shampoo, Conditioner & Detangler, ColourREVOLUTION The Mixer Root Touch Up for Hair, Dermacia Cleanser, Toner, Moisture Mist, Foundation and Brushes, Eminence Organics Skin Care, Ferrara Pan Lemonheads Gift Pack, a Gina Alexander Photo Duffle Bag,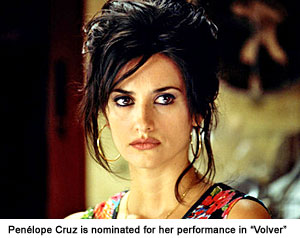 Gingi Lip Balm, Makeup Remover & Cleanser, Glamour Campaign Skull Blazer and Skull Hoodie, Hair Dr. Spela Hair Dr. Jade Air Dryer, Dr. Scalp and Spela 707 Shampoo, Havaianas Embellished Flip Flops, 10 Personal Training Sessions from Huntley Drive Fitness, Imagination is Free Hardbound Book of Poetry, The French Lieutenant's Bitch Doggie Tees from K9sRock.com, KMG for ARTHEA Digital Video Mail, Keep It Clean Complete Dental Pet Kit, Li'l Ewe's Unique Home Delivery Service, Liv'n Out Loud! Clothing Company Lifestyle Tees, a Logitech Z-10 Interactive 2.0 Stereo System, London Sole Ballet Flats, Lorellmiss Balsamic Italian Vinegar, Love, Jolan B Vintage Leather and Suede Belt, Marchon Designer Eyewear, MINU Jewels Salam Wrap Bracelet, a Gift Certificate for a Couture Gown from Mon Atelier, a Netflix One Year Membership, Peace is Possible by Andrea Cagan from the Prem Rawat Foundation, two one-hour private yoga sessions with Mark Blanchard of Progressive Power Yoga, Relastin Eye Silk and Relastin Skin Revitalizer from Revance Therapeutics, Shamar Custom Design Vintage Collection, East Meets West, Online Photo Albums from SmugMug, Snow Queen Vodka, Solas Fashion Clutch Handbag, Timex TX Watches, a Soul Mate Union Ring from Uroboros, the Line of VIVITÉ Glycolic Products, a three Night Stay at Winvian and REN Skin Care Set, a One Year Supply of Wicked Whoopie Cake Snacks, a Wonderbra Wardrobe, and Yoga Pants and Gift Certificate for a Lifetime Supply of Yoga Pants from YoginiStyle.
Who will receive these grand gifts? We'll have to wait and see until after the Oscars. Place your bets now! Here are some of the nominees: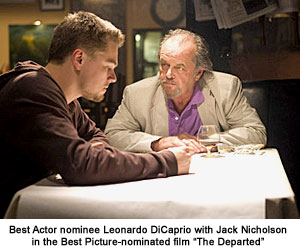 Best Picture:
"Babel" (Paramount and Paramount Vantage)
An Anonymous Content/Zeta Film/Central Films Production
Alejandro González Iñárritu, Jon Kilik and Steve Golin, Producers
"The Departed" (Warner Bros.)
A Warner Bros. Pictures Production
Graham King, Producer
"Letters from Iwo Jima" (Warner Bros.)
A DreamWorks Pictures/Warner Bros. Pictures Production
Clint Eastwood, Steven Spielberg and Robert Lorenz, Producers
"Little Miss Sunshine" (Fox Searchlight)
A Big Beach/Bona Fide Production
David T. Friendly, Peter Saraf and Marc Turtletaub, Producers
"The Queen" (Miramax, Pathé and Granada)
A Granada Production
Andy Harries, Christine Langan and Tracey Seaward, Producers
Best Actor:
Leonardo DiCaprio in "Blood Diamond" (Warner Bros.)
Ryan Gosling in "Half Nelson" (THINKFilm)
Peter O'Toole in "Venus" (Miramax, Filmfour and UK Film Council)
Will Smith in "The Pursuit of Happyness" (Sony Pictures Releasing)
Forest Whitaker in "The Last King of Scotland" (Fox Searchlight)
Best Supporting Actor:
Alan Arkin in "Little Miss Sunshine" (Fox Searchlight)
Jackie Earle Haley in "Little Children" (New Line)
Djimon Hounsou in "Blood Diamond" (Warner Bros.)
Eddie Murphy in "Dreamgirls" (DreamWorks and Paramount)
Mark Wahlberg in "The Departed" (Warner Bros.)
Best Actress:
Penélope Cruz in "Volver" (Sony Pictures Classics)
Judi Dench in "Notes on a Scandal" (Fox Searchlight)
Helen Mirren in "The Queen" (Miramax, Pathé and Granada)
Meryl Streep in "The Devil Wears Prada" (20th Century Fox)
Kate Winslet in "Little Children" (New Line)
Best Supporting Actress:
Adriana Barraza in "Babel" (Paramount and Paramount Vantage)
Cate Blanchett in "Notes on a Scandal" (Fox Searchlight)
Abigail Breslin in "Little Miss Sunshine" (Fox Searchlight)
Jennifer Hudson in "Dreamgirls" (DreamWorks and Paramount)
Rinko Kikuchi in "Babel" (Paramount and Paramount Vantage)
Best Director:
Alejandro González Iñárritu, "Babel" (Paramount and Paramount Vantage)
Martin Scorsese , "The Departed" (Warner Bros.)
Clint Eastwood, "Letters from Iwo Jima" (Warner Bros.)
Stephen Frears, "The Queen" (Miramax, Pathé and Granada)
Paul Greengrass, "United 93" (Universal and StudioCanal)
Best Animated Feature Film:
"Cars" (Buena Vista) John Lasseter
"Happy Feet" (Warner Bros.) George Miller
"Monster House" (Sony Pictures Releasing) Gil Kenan
Best Original song:
"I Need to Wake Up" from "An Inconvenient Truth"
(Paramount Classics and Participant Productions)
Music and Lyric by Melissa Etheridge
"Listen" from "Dreamgirls"
(DreamWorks and Paramount)
Music by Henry Krieger and Scott Cutler
Lyric by Anne Preven
"Love You I Do" from "Dreamgirls"
(DreamWorks and Paramount)
Music by Henry Krieger
Lyric by Siedah Garrett
"Our Town" from "Cars"
(Buena Vista)
Music and Lyric by Randy Newman
"Patience" from "Dreamgirls"
(DreamWorks and Paramount)
Music by Henry Krieger
Lyric by Willie Reale
The 79th Annual Academy Awards will be hosted by Ellen DeGeneres on Sunday, February 25, 2007, at the Kodak Theatre at the Hollywood & Highland Center, and televised live by the ABC Television Network at 5 p.m. PST (8 p.m. EST), The show will begin with a half-hour arrivals segment, "The Road to the Oscars", hosted by Vogue's editor-at-large André Leon Talley. For more information, go to www.oscars.org
For more on Distinctive Assets, go to www.distinctiveassets.com