If it's December, it must be awards season, but the Spike TV 2006 Video Game Awards are far from the boring, predictable marathons we've become accustomed to seeing. The VGAs break the mold of awards shows, delivering a new kind of thrill worthy of the titles it lauds, complete with a host in the form of video game enthusiast Samuel L. Jackson who's as electric as the games themselves.
Spike TV presented the Spike TV 2006 Video Game Awards, which aired on the network on December 13. For the fourth consecutive year, Spike TV celebrated the year's greatest achievements in gaming – the modern era's blockbuster realm of entertainment – with the help of superstars, including host Samuel L. Jackson. The show featured live musical performances by AFI and Tenacious D and comedy by Sarah Silverman. The extensive list of presenters and attendees included 50 Cent, Tony Hawk, Seth MacFarlane, MySpace phenomenon Tila Tequila, Michael Irvin, Daniel Dae Kim, Eva Mendes, Seth Green, and Jenna Jameson. Nominees for their performances in video games included acclaimed actors James Caan, Rosario Dawson, Johnny Depp, James Gandolfini, Patrick Stewart, and Kiefer Sutherland.
Leading the nominees was The Elder Scrolls IV: Oblivion from Bethesda Softworks with 10 nominations, including Game of the Year, Most Addictive, and Best Performance by a Human – Male for acclaimed actor Patrick Stewart. Bethesda Softworks has also been nominated for Studio of the Year. Not far behind, Company of Heroes and Gears of War nabbed six nominations each.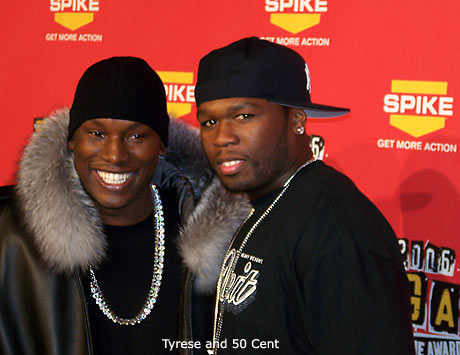 Fans were able to be a part of the festivities by logging on to www.vga2006.spiketv.com to watch exclusive footage from the red carpet and backstage. By casting their votes, fans were also the sole decision makers in the category of Most Addictive Game. The rest of the awards were determined by a panel of expert judges drawn from leading gaming Web sites and magazines.
Viewers witnessed an onscreen spectacle worthy of the extravagant games themselves. Taped at USC's Galen Center in Los Angeles, the show brought the games to life with game-inspired exploits. Unlike stuffy award shows, this one allowed the audience to get as loud as they wanted. Fans cheered on their favorite game, even standing up in thier seats, when nominations and winners were announced. Gamers were also able to see world premieres and exclusive sneak peeks at some of the most exciting upcoming titles for 2007 and further. Fans of the ultra-addictive game World of Warcraft were on the edge of their seats as they watched the premeiere of the new expansion pack "World of Warcraft: The Burning Crusade," complete with live music from chanting monks. It won't be available until 2007.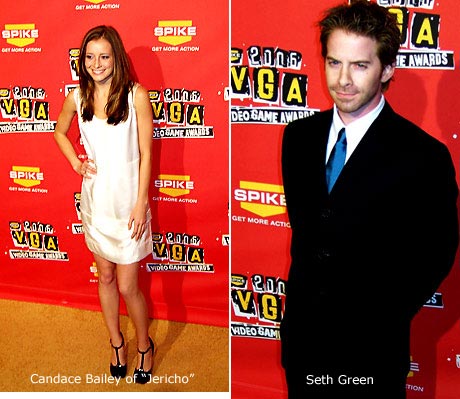 When fans camp out for days and face physical threats, all in hopes of buying a $600 gaming console (the Sony PlayStation 3, to be exact), you know in no uncertain terms that gaming has arrived. And with the video game industry outpacing feature films, there's no doubt that gaming has emerged as this generation's entertainment form of choice. This year, the (gaming) revolution will be televised on Spike TV's 2006 Video Game Awards.
Complete list of nominees and winners
GAME OF THE YEAR
The Elder Scrolls IV: Oblivion (Bethesda Softworks) – Winner
Okami (Capcom/Clover Studio)
Gears of War (Microsoft/Epic Games)
Guitar Hero 2 (Red Octane/Harmonix)
Tom Clancy's Ghost Recon Advanced Warfighter (Ubisoft)

CRITIC?S CHOICE
(game to be released after 11/15/2006 & before 12/31/2006)
The Legend of Zelda: Twilight Princess (Nintendo/Nintendo EAD) – Winner
Resistance: Fall of Man (Sony Computer Entertainment America/Insomniac Games)
Medieval II: Total War (Sega/Creative Assembly)
Tom Clancy's Rainbow Six: Vegas (Ubisoft Montreal)
Wii Sports (Nintendo)
BEST DRIVING GAME AWARD
Burnout Revenge-XBOX 360 (Electronic Arts/Criterion Games) – Winner
Need For Speed Carbon (Electronic Arts/EA Black Box)
TOCA Race Driver 3 (Codemasters)
GTR 2 (10tacle Studios/SimBin Development Team)
BEST INDIVIDUAL SPORTS GAME
Rockstar Games Presents Table Tennis (Rockstar Games/Rockstar San Diego)
EA Sports Fight Night Round 3 (Electronic Arts/ EA Chicago)
Tony Hawk Project 8 (Activision/Neversoft ) – Winner
Tiger Woods PGA Tour 07 (Electronic Arts/EA Redwood Shores)
Top Spin 2 (2K Sports/Power & Magic)
BEST ACTION GAME
Dead Rising (Capcom) – Winner
New Super Mario Bros (Nintendo/Nintendo EAD)
Okami (Capcom/Clover Studio)
Saints Row (THQ/Volition)
Bully (Rockstar Games/Rockstar Vancouver)
BEST TEAM SPORTS GAME
NBA2K7 (2K Sports/Visual Concepts) – Winner
Madden NFL 07 (Electronic Arts/Tiburon)
NCAA Football 07 (Electronic Arts/Tiburon)
FIFA 07 (Electronic Arts/EA Canada)
NHL 07 (Electronic Arts/EA Canada)
CYBER VIXEN OF THE YEAR
Lara Croft ? Tomb Raider: Legend (Eidos Interactive/Crystal Dynamics)
Alyx Vance ? Half-Life 2: Episode 1 (Valve) – Winner
Princess Peach ? New Super Mario Bros. (Nintendo/Nintendo EAD)
Enrica ? Tom Clancy's Splinter Cell Double Agent (Ubisoft Montreal)
Jen ? Prey (2K Games/ Human Head Studios/3D Realms)
BEST SONG
?LocoRoco No Uta? by Nobuyuki Shimizu and Kemmei Adachi in LocoRoco (Sony Computer Entertainment America/SCE Studios Japan)
?Heavenly Star? by Genki Rockets in Lumines II (Buena Vista Games/Q Entertainment)
?Helicopter? by Bloc Party in Marc Ecko's Getting Up: Contents Under Pressure (Atari/The Collective)
?Summer Shudder? by AFI in Madden NFL 07 (Electronic Arts/Tiburon)
?Lights and Sounds? by YellowCard in Burnout Revenge-XBOX 360 (Electronic Arts/Criterion Games) – Winner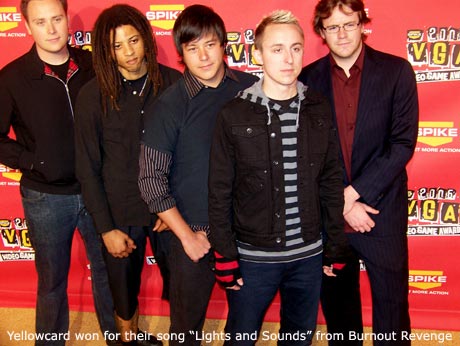 BEST SOUNDTRACK
Guitar Hero 2 (Red Octane/Harmonix) – Winner
Madden NFL 07 (Electronic Arts/Tiburon)
Scarface: The World is Yours (Vivendi/Radical Entertainment)
Grand Theft Auto: Vice City Stories (Rockstar Games/Rockstar Leeds / Rockstar North)
STUDIO OF THE YEAR
Clover Studio (Okami)
Relic (Company of Heroes)
Cliff Bleszinski /Epic Games (Gears of War) – Winner
Todd Howard / Bethesda Softworks (The Elder Scrolls IV: Oblivion)
Harmonix (Guitar Hero 2)
BEST WIRELESS GAME
Diner Dash (Glu Mobile)
SWAT Force (Vivendi/KAOLink) – Winner
Tower Bloxx (Digital Chocolate)
Super K.O. Boxing (Glu Mobile)

BEST ORIGINAL SCORE
The Elder Scrolls IV: Oblivion (Bethesda Softworks) – Winner
Bully (Rockstar Games/Rockstar Vancouver)
Electroplankton (Nintendo)
Okami (Capcom/Clover Studio)
Final Fantasy XII (Square Enix)
BEST FIGHTING GAME
Tekken: Dark Resurrection (Namco Bandai)
Dead or Alive 4 (Tecmo/Team Ninja)
Mortal Kombat Armageddon (Midway Games) – Winner
Street Fighter Alpha Anthology (Capcom)
God Hand (Capcom/Clover Studio)
BEST SHOOTER
Black (Electronic Arts/Criterion)
Prey (2K Games/ Human Head Studios/3D Realms)
Half-Life 2: Episode 1 (Valve)
Gears of War (Microsoft/Epic Games) – Winner
Call of Duty 3 (Activision/Treyarch)
BEST MILITARY GAME
Company of Heroes (THQ/Relic) – Winner
Tom Clancy's Ghost Recon Advanced Warfighter (Ubisoft)
Call of Duty 3 (Activision/Treyarch)
The Outfit (THQ/Relic)
Battlefield 2142 (Electronic Arts/EA UK / DICE UK)

BEST GRAPHICS
Gears of War (Microsoft/Epic Games) – Winner
Okami (Capcom/Clover Studio)
Tom Clancy's Ghost Recon Advanced Warfighter (Ubisoft)
The Elder Scrolls IV: Oblivion (Bethesda Softworks)
Company of Heroes (THQ/Relic)

BEST HANDHELD GAME
New Super Mario (Nintendo/Nintendo EAD) – Winner
Brain Age: Train Your Brain in Minutes a Day (Nintendo)
Grand Theft Auto: Vice City Stories (Rockstar Games/Rockstar Leeds / Rockstar North)
Tetris DS (Nintendo)
LocoRoco (Sony Computer Entertainment America/SCE Studios Japan)

BEST MULTI-PLAYER GAME
Gears of War (Microsoft/Epic Games) – Winner
Company of Heroes (THQ/Relic)
Metal Gear Solid 3: Subsistence (Konami/Kojima Productions)
Tom Clancy's Ghost Recon Advanced Warfighter (Ubisoft)
Tom Clancy's Splinter Cell Double Agent (Ubisoft Montreal)
BREAKTHROUGH TECHNOLOGY
WII (Nintendo) – Winner
PS3 (Sony Computer Entertainment America)
DS Lite (Nintendo)
Electroplankton (Nintendo)
BEST PC GAME
Company of Heroes (THQ/Relic) – Winner
Half-Life 2: Episode 1 (Valve)
Battlefield 2142 (Electronic Arts/Digital Illusions CE )
Star Wars: Empire at War (LucasArts/Petroglyph)
The Elder Scrolls IV: Oblivion (Bethesda Softworks)
BEST RPG
The Elder Scrolls IV: Oblivion (Bethesda Softworks) – Winner
Final Fantasy XII (Square Enix)
Kingdom Hearts II (Square Enix)
Valkyrie Profile 2: Silmeria (Square Enix/tri-Ace)
BEST GAME BASED ON A MOVIE OR TV SHOW
Lego Star Wars II: The Original Trilogy (LucasArts/Traveller's Tales) – Winner
The Godfather (Electronic Arts/EA Redwood Shores)
Scarface: The World is Yours (Vivendi/Radical Entertainment)
The Sopranos: Road to Respect (THQ/7 Studios)
Family Guy (2K Games/High Voltage Software)

BEST PERFORMANCE BY A HUMAN ? MALE

Seth MacFarlane in Family Guy (2K Games/High Voltage Software)
Gerry Rosenthal in Bully (Rockstar Games/Rockstar Vancouver)
Patrick Stewart in The Elder Scrolls IV: Oblivion (Bethesda Softworks) – Winner
Johnny Depp in Pirates of the Caribbean: The Legend of Jack Sparrow (Bethesda Softworks/ 7 Studios/Buena Vista Games)
Kiefer Sutherland in 24: The Game (2K Games/SCEE Studios Cambridge)
BEST SUPPORTING MALE PERFORMANCE
Seth Green in Family Guy (2K Games/High Voltage Software)
James Woods in Scarface: The World is Yours (Vivendi/Radical Entertainment)
James Caan in The Godfather (Electronic Arts/EA Redwood Shores)
Philip Michael Thomas in Grand Theft Auto: Vice City Stories (Rockstar Games/Rockstar Leeds / Rockstar North)
James Gandolfini in The Sopranos: Road to Respect (THQ/7 Studios) – Winner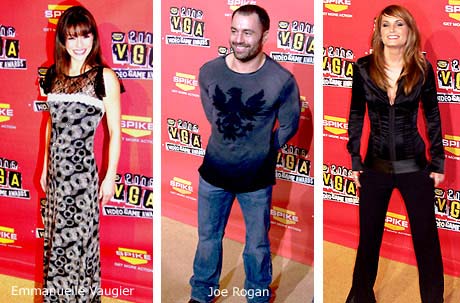 BEST PERFORMANCE BY A HUMAN ? FEMALE
Vida Guerra in Scarface: The World is Yours (Vivendi/Radical Entertainment) – Winner
Tia Carrere in Saints Row (THQ/Volition)
Emmanuelle Vaugier in Need For Speed Carbon (Electronic Arts/EA Black Box)
Keely Haws in Tomb Raider: Legend (Eidos Interactive/Crystal Dynamics)
Rosario Dawson in Marc Ecko's Getting Up: Contents Under Pressure (Atari/The Collective)

BEST SUPPORTING FEMALE PERFORMANCE
Rachel Leigh Cook in Kingdom Hearts II (Square Enix) – Winner
Elisha Cuthbert in 24: The Game (2K Games/SCE Studios Cambridge)
Brittany Murphy in Marc Ecko's Getting Up: Contents Under Pressure (Atari/The Collective)
Mila Kunis in Family Guy (2K Games/High Voltage Software)
Lynda Carter in The Elder Scrolls IV: Oblivion (Bethesda Softworks)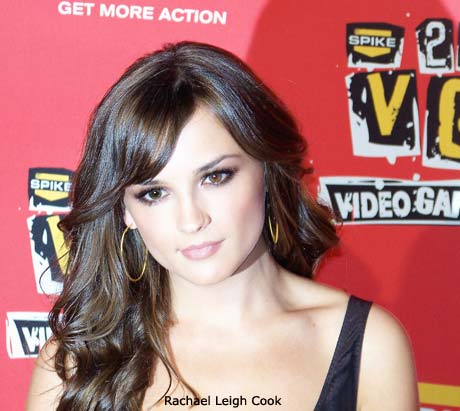 BEST CAST
The Godfather (Electronic Arts/EA Redwood Shores)
Family Guy (2K Games/High Voltage Software) – Winner
Scarface: The World is Yours (Vivendi/Radical Entertainment)
Saints Row (THQ/Volition)
The Elder Scrolls IV: Oblivion (Bethesda Softworks)
MOST ADDICTIVE
The Elder Scrolls IV: Oblivion (Bethesda Softworks) – Winner
Brain Age: Train Your Brain in Minutes a Day (Nintendo)
Gears of War (Microsoft/Epic Games)
Guitar Hero 2 (Red Octane/Harmonix)
Company of Heroes (THQ/Relic)
www.vga2006.spiketv.com