GBK hosted their 5th annual gift lounge in honor 25th annual ESPY Awards, that were hosted by Peyton Manning on July 11th, 2017. The gift lounge celebrating the ESPYs took place on the scenic rooftop of the Luxe Hotel overlooking Rodeo Drive. Celebrities & VIP spent the day sipping hand-crafted cocktails, indulging catered creations and exploring an array of brands.
Some Celebrities in attendance were ESPY Winner Jared Cook, ESPY Winner Anna Gasser, Adam Schefter, Seth Curry, Matt Leinart, Demaryius Thomas, Andre Berto, Tony Hawk,  Carmelita Jeter, Naughty by Nature,  Jorge Blanco, Jessica Phoenix and Jake Miller.
In addition to all the celebrities professional surfer Keala Kennelly was vibing out the lounge throughout as DJ KK, with a Roar Records special performance "RISE" by country singer Elyse Saunders.
Many attendees were excited to learn about the charity sponsor FOCUS Youth Center. This Organization provides a safe, multi-cultural space in underserved populations where children of all ages and their parents have the opportunity to learn, gain focus and thrive in an overwhelming culture.
As celebrities & VIP started to peruse the brands they were catered incredible bites by Rib Line and treated to cocktails by Crater Lakes Spirits. Crater Lakes Spirits offered crisp Moscow Mules and specialty cocktails with their hand-picked Juniper Berry Infused Gin and Pepper Vodka. Crater Lakes are one of the oldest and most-awarded craft spirits producers in the US.
Cali'Flour Foods also had the players best health interests at heart, sampling their delicious cauliflower crust pizzas (with only 180 calories in the entire crust) and gifting a year supply to each guest at the GBK gift suite.
Chef Brian Appiano of Rib Line created a BBQ on the terrace with barbequed oysters, ribs, and ceviche, to give a taste of what to expect at the Five Course Winemaker's Dinner that the celebrities were given. Rib Line is the Central Coast's most award-winning restaurant, they even produce wine!
4 Copas Tequila is one of the first organic tequilas that come in a variance of blanco, reposado, and anejo. There tequila is made up of pure agave with all the impurities eliminated from source to distillation.
In between catering options, guests stayed hydrated with HINT Water and snacked on Quest Nutrition Bars.
Body Boost Men's Stretch Mark Butter gifted their revolutionary product which keeps skin toned and stretch mark free. It is geared towards men who have stretch marks because of growth spurts, gaining muscle too fast, and more.
Athletes were greeted by the Dr. John's Hemp Oil team, who were excited to share the benefits of their new organic oil. This oil was received in open arms as it has been proven to be an effective remedy for pain and brain injuries sustained in athletic play.
LQD gifted men's skin care products; men's skin is thicker than women's skin and LQD's line is created with that in mind. They gifted their shaving gel, facial cleanser, and eye serum.
RICOS, the originator of concession nacho cheese, gifted their chips, cheese dipping sauce, and provided food for guests.
Celebrities also received gift certificates from Dr. Liza Chiropractic for mobile myofascial treatments.
Athletes were also gifted Bio Minerals, a research and development company that provides supplements which improve the condition of connective tissue, keeping players in top condition.
American Hat Makers provided a gift certificate for their incredibly stylish hats.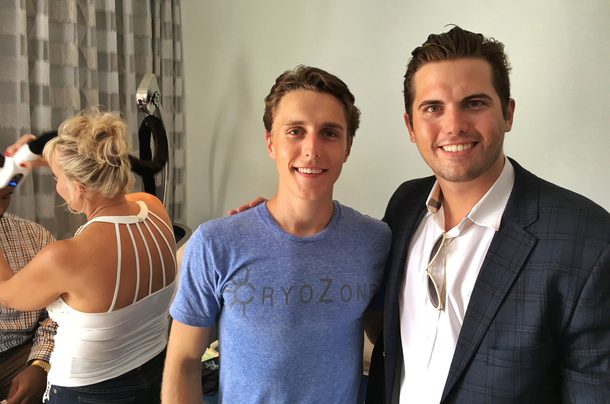 Cryo Zone Cryotherapy whole body therapy promotes natural healing at the cellular level by exposing your body to temperatures around -167°F  with nitrogen vapor in the CryoSauna for up to three minutes, your body protects your internal organs by pushing blood to the core where it circulates,  and keeps your core temperature intact as your blood picks up vital nutrients. Afterwards, blood recirculates back into your outer extremities. Great benefits!
Zumer Sport
Not just for the seamless aesthetics of GBK's press wall. Zumer Sport had an item for every sports fanatic, as they make innovative and creative products out of actual sports ball materials such as football, basketball, soccer and tennis balls. Zumer Sport's materials were also used for the customized GBK Press Wall, using all four materials to tie in the sports theme seamlessly.
Celebrities & VIP finished their Pre-ESPYS gift suite experience in style, with three home therapy sessions from Titus Motion Therapy,  a tasting from Louis Latour Winery, styling by Crown of Light diamonds, and a travel voucher for up to five days from the luxurious Sailrock Resort.
Sailrock Resort is a part of Sailrock South Caicos, an untouched land that offers tranquility, adventure and discovery.
GBK, formerly GBK Productions, is a luxury lifestyle gifting and special events company, specializing in entertainment marketing integration. Formed in 2000 by Gavin Keilly, the company's Founder and CEO, GBK consists of five divisions: GBK Celebrity Gifting, GBK Special Events, GBK Weddings, GBK Charitable Consulting and GBK Marketing & Public Relations. Widely known in the entertainment industry for bringing that little extra something into the Luxury Lounge environment, GBK offers its clients a full range of marketing services.
For more information on Gavin B. Keilly (CEO) or GBK, please go to gbkproductions.com.