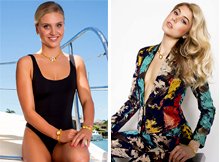 Innovative modern aesthetics that transcends time and trends, silver charm jewelry tells the story of every woman's unique style and intriguing personality. Read more in Style and Fashion…
Wait! Don´t forget to Subscribe for Free!
Main Feed | What is RSS?
Enter your E-mail below to Subscribe

*
No spam
|
Privacy Policy
We will not sell or distribute your e-mail address to anyone else.
Written by Jane Emery