The annual WOW! Creations Oscar gift lounge always impresses. This year was no different. Mark Harris and Matt Harris' WOW! Creations kicked-off the 2017 Oscars weekend. Guests got into red carpet-mode and were treated to amazing swag, cocktails and food during the day-long celebrity gift suite at the W Hotel in Hollywood.
Celebrities, VIPs and select media were introduced to new brands, innovative products and more:
Dr. Shimeca Videau, Doctor of Naturopathic Psychology, and her company, Videau Natural Health, is an Alternative Medicine, Beauty and Grooming company that integrates Naturopathic medicine and Phyto-(plant-based) medicine therapeutic treatments to hair, skin and body. Created for both men and women, these high-quality products address many different skin issues in a completely natural and healthy way.  Very well done. videaunaturalhealth.com
Mont Blac Executive Car Service gifted lucky guests with private car transportation. They feature new luxury Cadillacs, Mercedes, and Lincolns. For that VIP touch, you can count on the professionals at Mont Blac. MontBlacECS.com
McCoy, Ltd. of Japan is a successful skin care company known for their advanced technological and innovative luxury skincare products that keep your face and body looking young, slim, healthy and balanced. They were gifting their wildly sought-after Non F Monster, the all natural mineral cream that sculpts your body, among other amazing products. mccoy-nonf.com
Facebook  Facebook.com/non.f.energy See our article on Mccoy HERE
Jewel Straps
Glamorize any outfit with Jewel Straps –  jewelry bra straps for your strapless bra. Jewel Straps add glamour to tank top styles, strapless, and one shoulder ensembles. Rhinestones, crystals, and high-end fashion metals are used to provide an elegant, jewelry-like finish. Jewel Straps are adjustable to fit you just right.
www.jewelstraps.com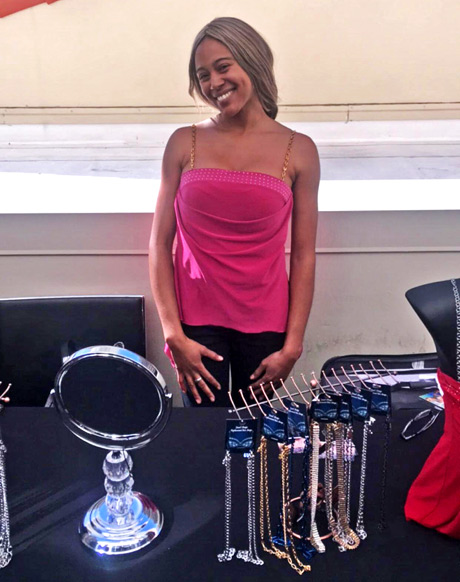 Queen C human hair extensions are easy to use and turn your hairstyle from boring to fabulous at home. With smaller, low-profile clips, these are easy to put on and look so natural. They gifted hair pieces, and great detangler brushes and new hair Beauty & Pin-Ups products: Rewind Reconstructing Shampoo, Conditioner, and Hair Rescue Masque. QueenCHair.com
Touch
The world's first 6 hour sanitizing Germ Block! Touch is a sanitizing continuous spray proven to kill 99.99% of disease causing germs for up to 6 hours. All others contain alcohol, & when alcohol evaporate (immediately), the protection goes away! www.touchgermblock.com
IncrediWhip ®
The Gourmet whipped topping that has a rich and creamy taste and will remind you of the good old days when foods were homemade. There are no: artificial colors, flavors, high fructose corn syrup or carrageenan. Sweetened with cane sugar & coconut sugar. Incrediwhip.com
Small batch Madam Pattirini Gin have a small run of less than 1,000 bottles at a time. All bottles are numbered by the batch and bottle. Made from Juniper, Bergamot, Coriander, Cardamom, Nigerian Ginger, and Sicilian Lemon, this boutique gin has a very interesting history! You can read all about them and order online: Madam Pattirini Gin
ALINA Z, MA, AADP, CHHP, NDS
Couture Nutrition ®  Chef & Board Certified Health Coach. Alina Z  is an award-winning, Board-Certified Health Coach, Detox Specialist, Chef  and Creator of the #1 Best Diet in America, as selected by Harper's Bazaar Magazine. She gave samples of her extremely delicious and healthy treats. AlinaZ.com

Continue for more brands HERE!
_____________________________________________________________________________
Wait! Don´t forget to Subscribe for Free!
Main Feed | What is RSS?
Enter your E-mail below to Subscribe

*
No spam
|
Privacy Policy
We will not sell or distribute your e-mail address to anyone else.
Written by Jane Emery