As Secret Room Events hosted a bevy of Hollywood's finest – nominees and other celebrity talent as well as producers, directors, stylists, press and media, for the Red Carpet Luxury Lounge honoring the 2017 Academy Awards. They were all introduced to and gifted new and exciting products in the lounge and in a huge takeaway gift bag with items and brands that they were given as they exited the gift suite, which included:
Anastasia Beverly Hills
Anastasia's flagship salon is located in the heart of Beverly Hills. Services include waxing, facials, and makeup application. They gifted items from their fabulous make up collection: Master Paletter by Mario, Glow Kit, Lip Gloss, AnastasiaBeverlyHills.com

BLK BLU NYC is a leather-based accessories brand who's entire collection is hand-made in New York City. The line combines luxury elements with detailed craftsmanship, using fine lambskin, luxe cashmere, and plush wool. BLKBLUNYC.com
Imedeen – Prime Renewal
Age-defying Skincare from the inside exclusive biomarine complex blend of antioxidants and Tea Vita extracts. Supports production of collagen and renewal of cells. Number 1 selling Beauty supplement in the UK. Imedeen.us
Hey Lady Shoes
Gorgeous! So unique, so beautiful, so classy, so sexy! Vintage Chic, Modern Comfort. "Shoes with beauty, brains, personality and heart."'Laidback Luxe, Inherently Sparkly, Effortlessy Sexy' LoveHeyLady.com
Rachel Tribble
"Rachel Tribble's award-winning artwork has captured a worldwide audience from corporations to private collectors. Her dream-like paintings are regarded as "heartfelt" and "esoteric" and are recognized for their meditative quality as emotionalexperiments in color and light." RachelTribble.com
Sasaki Advanced Aesthetic Medical Center offers three integrated Centers of Excellence that focus on your aesthetic age-appropriate needs with evidence-based treatments: The sophisticated medically-based InnoVessence SkinCare Center, advanced Nurse Injection and Laser Center, and the renowned Surgical Center that are dedicated to your safety and well-being in a comprehensive and integrated office environment. DrSasaki.com
Trimfoot Co. has been in business since 1938 as a leader in the infant's and children's footwear trade. They develop and sells quality footwear across the broad market spectrum under such name brands as Baby Deer, Wee Kids, Natural Steps, School Issue, Dance Class, and Lindsay Phillips, as well as under many private labels. Trimfootco.com
WEN by Chaz Dean gifted their restorative texturizing Treatment spray which is designed to create soft, naturally kept styles that enhance the look of straight, wavy, and curly hair. The spa enhances the texture and volume of the hair as it keeps it nourished. Also, the limited edition Wen Spring Cherry Blossom Cleansing Conditional with Bitter Cherry Extract and Wild Cherry extract, and Spring Cherry Blossom treatment mist. Go HERE for more info on products.
Hero Nutritionals
Yummi Bears Organics: The original gummy vitamin – Vitamin D3, promotes healthy bones, teeth and immune health.
Slice of Life Organics Energy plus B12 Adult Gummy Vitamins: Promotes healthy energy production. HeroNutritionals.com
Brownie Brittle™
Sheila G. took a treasured family recipe for fudge brownies and baked her way into a thriving business. Being fond of the crispy edges she created just the crunchy edges. And now we can have the crispy 'edges' too. BrownieBrittle.com
Guylian USA: The world's favorite premium Belgian chocolates. guylian.com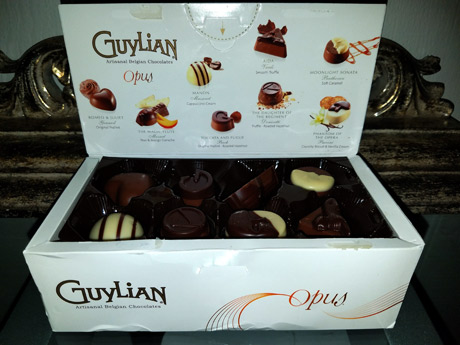 Yankee Candle gifted from their candle line with over 150 fragrances. They offer the world's largest selection of candle and home fragrance scents. For more information visit m.yankeecandle.com/mobile/
Leuchtturm1917 gifted their bullet journal which has an elastic enclosure band, has Ink-proof paper (80 g/sqm), a sticker for labelling and archiving, 240 numbered pages, 8 perforated and detachable sheets and many more great features. For more information visit Leuchtturm1917.us
Silc Skin Decolette pads get rid of wrinkles without surgery, creams or lotions. Their pads are designed to prevent wrinkles on the face, chest, and neck. The Decolette pad is specifically designed for the chest area. Prolonged use of their pads will help return chest skin to a more youthful and supple appearance. For more information visit: Silcskin.com
Texture is the Netflix for magazines according to Engadget. They have a "New and Noteworthy" section which is carefully hand picked by experts.
Black Stallion Winery: Black Stallion Estate Winery is the latest addition to the distinguished collection of wineries in the Oak Knoll District of Napa Valley.
Nail Medic CC Cream Lacquer has optical brighteners which helps restore discolored nails. Additionally it hass antioxidants which protects your nails from getting damaged.
Dermatologic Cosmetic Laboratories gifted DCL Skin Renewal Complex with SPF 30 … Five in one refining hydrator.
Yazzii Jewelry Bags
The perfect storage for necklaces bracelets rings and earrings in a gorgeous bag with many zippered compartments, bracelet and ring holders. Makes traveling with jewelry hassle-free and keeps them safe. Perfect! Yazzii.com
Bold Blooms gifted their assortment of beautiful images on cards. Sasha, the creative mind behind Bold Blooms, believes in feeling the love that brings strength, healing and trust in the process of life. Feelgoodphotosbysasha.com
Nature's Bounty Optimal Solutions gifted their hair, Skin & Nails Gummies with 2500 mcg Biotin per servings and antioxidants C and E, by NBTY Global Inc.
Eco Tools: Make up brushes, hair brushes, beauty and spa.
Green Goo by Sierra Sage
Made with homeopathic ingredients, 100% all natural herbs and plant based oils and aloe vera. Skin Repair – After sun care for sunburns, sun spots, puffy euyes, wrinkles, scars, dark circles and minor burns. GreenGoopHelps.com
LL Bean provided a huge,sturdy tote aptly named "Boat and Tote", open-top, that you can have monogrammed if you'd like .. great for beaches, picnics or anytime.
Texture The Magazine App
Texture is the Netflix for magazines according to Engadget. They have a "New and Noteworthy" section which is carefully hand picked by experts.
Other great brands in the bag included, by these companies:
Artnaturals Bath and Body
"Beauty treatments should stem from the purest forms of nature. We gathered the finest ingredients and extracts from around the world to handcraft health-conscious essentials for your skin, hair, mind, body and spirit."

Emily Cho luxury handbags
Feel Good Photos By Sasha : Photos that make you feel good.
Olde Armoury Leather: Home-based leather goods manufacturing shop in San Diego, CA.
US Organic: US Organic uses powerful and healthy organic and natural ingredients in all their essential oils.
Taymor: Family owned since 1948, Taymor is built on a solid reputation of quality, design and service, Taymor is one of North America's leading architectural hardware designers and distributors.
Eveden by Wacoal: Strapless bras and panties.
Secret Room Events is a brand and product marketing firm with niche appeal in the entertainment industry, producing exclusive swag bags, gift lounges and private events for Hollywood's most influential people.