Distinctive Assets once again had Hollywood's Oscar-hopefuls covered. Whether they took home the trophy or not, the 2017 "Everyone Wins" Nominee Gift Bag was awarded by Distinctive Assets to the major Oscar® Nominees.
The Sultan of Swag, Lash Fary, has curated the swag bags for the 15th year.
This year's amazing swag bag contained fabulous and eclectic gifts including travel packages to Hawaii and Italy, cutting-edge electronics, best-in-class beauty, art, personal sommelier services and even unique non-browning non-GMO Project certified Opal Apples…
Thanks to the American Heart Association, nominees were provided with the priceless opportunity to save a life with personalized Hands-Only CPR Training and a CPR Anytime Kit.
"At the end of the day, the movie industry is about allowing viewers to escape reality and enter a fantasy world. We hope we do that in some small way for these hard-working nominees … help them relax, unwind, unplug and indulge after one of the most intensely hectic weeks of their lives," added Fary.
Lucky nominees like Ryan Gosling, Emma Stone, Octavia Spencer, Dev Patel, Viola Davis, Casey Affleck and Meryl Streep will also receive the following fabulous items:
STARRING:
This year's gift bonanza stars the 2017 CES Innovation Award Honoree Oomi Smart Home, the Haze Dual V3 Vaporizer, transformational Luminosity Skin Serum from Healing Saint, naturally non-browning and non-GMO Project verified Opal Apples, and a luxury 6-day Hawaiian vacation at Koloa Landing Resort at Poipu and stay in a private mansion at Lost Coast Ranch in Northern California.
KOLOA LANDING RESORT AT POIPU
Brand new to Marriott's Autograph Collection of Hotels & Resorts, Koloa Landing Resort at Poipu is nestled on 25 lush topical acres on Kauai's year-round sunny South Shore. The property boasts the largest deluxe studios and luxurious villas of any property on the island and is complete with three incredible lagoon pools – including a 350,000 gallon main pool – poolside Holoholo Grill featuring consulting Chef Sam Choy, 4,000 sq ft day spa, gourmet market, open-air lobby bar, and 24-hour fitness center. Nominees will receive a 5-night stay in a 3 bedroom villa that features full gourmet kitchen, semi-private elevator access, expansive lanai, floor-to-ceiling sliding glass doors that completely transform the living room into an indoor-outdoor living experience, and en-suite washer/dryer. www.koloalandingresort.com
OPAL APPLES
Opal® apples can't be compared to an everyday apple. These sunny fruits are like none other — with a beautiful appearance, distinctively crunchy texture, floral aroma and a sweet, tangy flavor. But one of the most incredible and natural features of this apple is that it does not brown after cutting. So an Opal® a day will keep your salads —and your kids' lunchboxes — crisp and fresh. Opal apples are Non-GMO Project verified. Nominees will receive a case of Opal apples each month for a year (October thru July) and be able to participate in the Opal Apple Youth. Make a Difference initiative. Opal is known as the apple with a purpose. www.opalapples.com
HAZE DUAL V3 VAPORIZER
The Haze Dual V3 is the first and only dual chamber vaporizer in the market. This premium vaporizer provides ultimate portability, longer sessions, and infinite versatility. It is also compatible with every type of material, including dry blend, e-liquid, oils, and concentrates. Its small size, replaceable batteries, pre-packable canisters, and multiple different options to vape make the Haze Dual V3 the most portable and complete vaporizer for outdoor lovers. www.hazevaporizers.com
LOST COAST RANCH
Fully-private 3-day mansion stay to experience the sublime beauty of the Pacific Ocean at the magnificent and unique Lost Coast Ranch in Northern California. This magical retreat offers superb living space with 18 bedrooms for up to 10 guests, gourmet catering and farm to table dining. Hike the nearby forests, stroll along the beach or take in the sunrise and sunsets from the wrap-around deck in an idyllic setting. www.lostcoastranch.net
HEALING SAINT by DR. JANE 360
A year's supply of Healing Saint Luminosity Skin Serum which uses polypeptide complex and natural botanical extracts to gently and effectively reduce the appearance of fine lines, fade age spots, minimize uneven tones and increase luminosity. Bonus Gift: Healing Saint Hair Follicle Stimulant which replaces what has been lost due to aging and replenishes the essential growth factors, preventing further hair loss. www.drjane360.com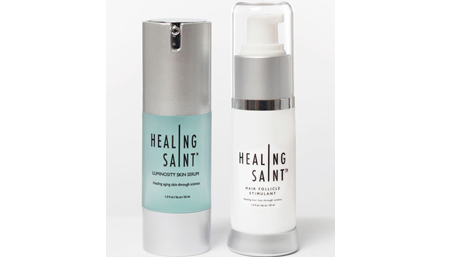 OOMI
Oomi turns your ordinary home into an intelligent smart home. Check-in on loved ones from anywhere in the world or have your lights turn on when you get home. The best part? Oomi is as simple as a handshake so anyone will feel comfortable setting up their new smart home. The starter kit retails for $599. It includes Oomi Cube, Oomi Touch, Oomi Dock, two Oomi bulbs and one Oomi Plug.
There was so much incredible swag, the value was in the 6-figures! And our article has many page, so click below to see (almost) all the swag!
More Brands in the Distinctive Assets  2017 "Everyone Wins" Nominee Gift Bag
Everyone Wins" Nominee Gift Bag by Distinctive Assets Sponsors
2017 "Everyone Wins" Distinctive Assets' Nominee Gift Bag in Honor of the Oscars Continued…
Distinctive Assets 2017 "Everyone Wins" Nominee Gift Bag Cont'd
About Distinctive Assets:
Distinctive Assets is a niche marketing company offering celebrity seeding, business development and branding opportunities within the entertainment industry and beyond. Distinctive Assets spearheaded the proliferation of award show swag and boasts an impressive resume of prestigious events that includes the GRAMMYs®, Latin GRAMMYs®, Tonys, American Music Awards, Kids' Choice Awards, BET Awards, CMA Awards and Academy of Country Music Awards.
From Fortune 100 companies to start-ups, clients benefit from customized marketing solutions that leverage unparalleled experiences as well as access to top celebrities, premier events, influential media and strategic partners.