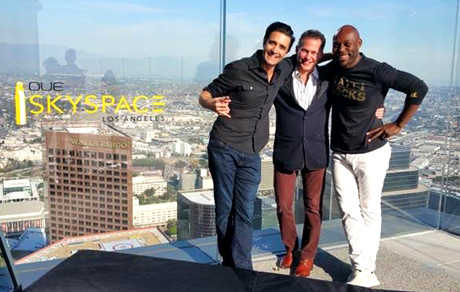 GBK and OUE Skyspace LA collaborated together to host their first annual holiday event 'Giving' lounge. For the first time, GBK made its gift lounge available to the general public. The one forewarning was that the public was bidding on attending the event with a celebrity who volunteered to participate in the 'Giving' lounge.
At GBK's first annual "Giving" Lounge, Celebrities gave out a large variety of gifts and holiday goodies to the charity of their choice,raising a total of over $200,000 for the listed causes.
Make-A-Wish Greater Los Angeles:
Make-A-Wish is a non-profit organization that strives to fulfill the dreams and wishes of children with life-threatening medical conditions. The foundation aims to help fill the lives of those affected with hope, strength, and vitality. At the event, Make-A-Wish had the opportunity to invite an extensive amount of celebrities on site to attend their Annual Gala.
Hosted on December 7th, the event gave recognition to Robert Downey Jr, the LA Kings, as well as Scooter Braun. For more information, please visit la.wish.org.
Toys For Tots
Headed by the United States Marine Corps Reserve, Toys for Tots is a toy distribution organization that gives out toys to children whose parents cannot afford to buy Christmas gifts for them. For the sake of the cause, HASBRO was charitable enough to donate a hefty variety of toys; including Marvel's Captain America: Civil War Miniverse action figures, and their Star Wars BladeBuilders Spin-Action Lightsaber. For more information, please visit toysfortots.org
Other beneficiaries that the event hosted are; Cystic Fibrosis Foundation, Children's Hospital Los Angeles Treasures Planned Parenthood, International Rett Syndrome Foundation, Educating Young Minds, YOU Foundation for Children in Need, Children of the Night, and Haitian Hero.
Some of the Celebrities that attended the event (but not limited to) were: Anastasia Baranova (Z Nation), Doris Margado (Logan), Naomi Grossman (American Horror Story), Akbar Gbaja-Biamila ("American Ninja Warrior"), Cerina Vincent (Stuck In The Middle), Keesha Sharp (Lethal Weapon), Lotte Verbeek (Fault in Our Stars), Meghan Ory (Once Upon a Time), and Madison McLaughlin (Arrow), just to name a few.
Eloquent and luxurious gifts were given and from an array of different categories from toys to beauty as well as fashion. The charities took home several enormous bags full of the gifts donated.
Some of the array of items given included:
VIP passes to come to OUE SKYSPACE again.
A $1,000 voucher to Ike's Place Sandwiches. Great submarine sandwiches. Various locations in northern and southern Calfornia.
American Hat Makers provided a gift certificate for their incredibly stylist hats.
For more information please visit www.americanhatmakers.org
A $275 voucher from Manly Handz Mobile Spa.

For more information visit www.manlyhandz.com
The latest in trendy sunglasses from Tempt Brands.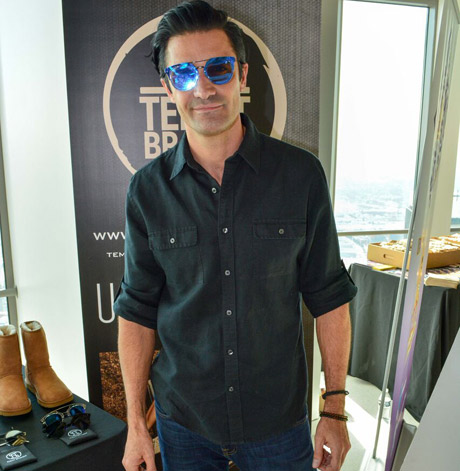 Visit www.TemptBrands.com for more information.
A special candle with a ring inside of it courtesy of Katya Candles
Visit www.katyacandles.com for more information.
Guilty Soles was also there who handed out heeled booties, laced-up heels and more.
JH Design's who gifted leather jackets.
DJ SHY: A female DJ was the first female on-air mixer at the No. 1 Top 40 radio station in America. Utilizing a combination of popular tunes and oldies, she set the tone and mood of the entire room that both gave and kept the room with an unforgettable experience for one to have.  For more information, please visit www.dj-shy.com.
Based in Los Angeles, the fundraising event promoted awareness for multiple causes.  On top of raising money for various organizations, the event also brought to light the issues at hand. Two of the largest beneficiaries that drove the event included  Make-A-Wish Greater Los Angeles, and Toys for Tots.
For more information about OUE SKYSPACE, visit www.oue-skyspace.com
GBK (GBK Productions) is a special events company that exclusively specializes in entertainment marketing assimilation. Founded by Gavin B. Keilly (CEO) in 2000, the company is consisted of five different divisions: Marketing/Public Relations, Weddings, Charitable Consulting, Celebrity Gifting, and Special Events. GBK is known for bringing something extra to the table at all their events, the company provides an all-encompassing service for its clients. For more information, please visit gbkproductions.com.