HuffPost Originals "Celebs Have Issues," is an original video series aimed at solving the world's problems, one comedy sketch at a time. Each week, celebrities including Kristen Bell, Drew & Jonathan Scott, Mayim Bialik, Ty Burrell and Reid Scott star in a custom sketch highlighting a cause of their choosing.
Each star-studded episode spoofs a commercial, promo, or PSA and puts serious causes such as equal pay, transgender rights, and mental health in the spotlight, using wit and laughter as a means to fight the good fight.
Each individual episode also aligns with a charity in order to promote awareness, such as:
I Am That Girl
Straight But Not Narrow
The National Alliance on Mental Illness
Kids In The Spotlight
The Huffington Post is highlighting these celebrities and their causes in order to create a real difference while making audiences laugh along the way.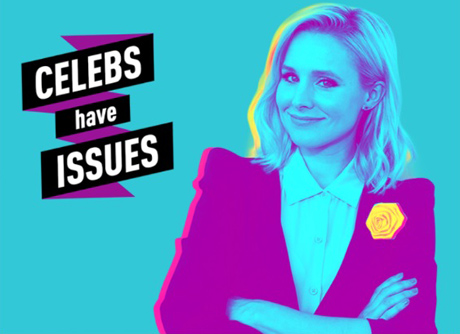 In the premiere episode, debuted today, Kristen Bell stars as a hilarious advocate for the very unfunny issue of women's inequality in the workplace. The episode begs the question, "Why outsource all your production to far away countries like India, China and Narnia when we have the cheapest and best workforce right here in the good ole' US of A: Women." Looking for employees who smell nice, bring in baked goods and don't complain about their working conditions? Pink sourcing is the answer for you.
Check out the show trailer here and go to Shows.huffingtonpost.com/celebshaveissues to watch the full episode online. New episodes will be available each Wednesday.