Shade Hotel in Manhattan Beach, the beach town's premiere luxury boutique hotel, throws its say-goodbye-to-summer final pool party of the year on its rooftop Skydeck, which offers stunning views of the Manhattan Beach skyline and the Pacific Ocean, this Labor Day Weekend. Don't miss the chance to salute summer out in style!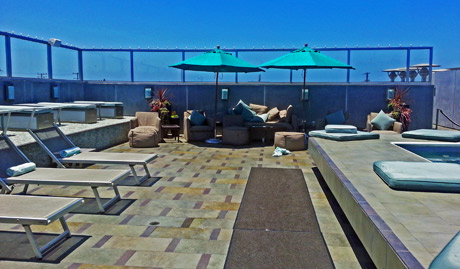 From 1 p.m. to dusk, September 4, guests can enjoy hand crafted cocktails; menu specials created by Executive Chef Ashley Oates of zinc@shade (one of our FAVORITES), such as Mini Ahi Tacos and the signature Manhattan Beach Sushi Roll along with handcrafted cocktails, and a DJ spinning uplifting music for guests to enjoy while basking in the summer sun, while lounging poolside on Shade's SkyDeck. This is the perfect opportunity to bask in the sunshine over the holiday weekend with friends
"Summer is our favorite season at Shade," said Shaunna McKelvey, general manager. "Spending time with friends by a rooftop pool while enjoying food, drinks and good music is the perfect way to enjoy a summer Sunday, and we look forward to providing our guests and visitors with memorable summer sunsets."
Shade's Summer Pool Parties are open to the public, and there is no charge for admission. For further information, visit www.shadehotel.com, or call 310-469-3466.
Shade Hotel is located at 1221 N. Valley Drive in Manhattan Beach.
About Shade Hotel
Shade Hotel, named one of the top 25 "trendiest hotels" in the United States by Trip Advisor, is a luxury boutique hotel.  It centrally located in the heart of downtown beautiful Manhattan Beach, just a few blocks from the beach and only 15 minutes south of LAX.  Blending California beach culture with contemporary sophistication, the property features an energized, yet refined look and feel.  Designed by Christopher Lowell and Larry Drasin of Drasin Design, it exudes an environment of balance, harmony and spiritual well-being, with stainless-steel and natural touches that include river rock, running water and exotic bamboo.  The property's popular zinc@shade offers superior indoor or outdoor dining and a lively lounge with entertainment. The rooftop Skydeck offers a private pool and bar, and an adjacent spa provides the ultimate in guest pampering.  Shade Hotel is an ideal location for the ultimate coastal California experience, dream beach weddings, business meetings or special occasions.
Read our article on Shade Hotel here…
Wait! Don´t forget to Subscribe for Free!
Main Feed | What is RSS?
Enter your E-mail below to Subscribe

*
No spam
|
Privacy Policy
We will not sell or distribute your e-mail address to anyone else.
Written by Jane Emery