ROKU is the continuation of the LA's legendary original trendy sushi restaurant, Sushi ROKU. Situated at the beginning of the famed Sunset Strip where Beverly Hills meets West Hollywood, the Innovative Dining Group's ROKU's redesigned 8,000-square-foot is contemporary modern, sophisticated yet comfortable, with a lively cosmopolitan flair.
The restaurant features an expansive indoor/outdoor space with classic Asian touches like over-sized silk pendant fixtures hanging from rustic beams and manicured Bonsai trees in huge pots between the large cozy booths.
Another area is dedicated to impeccable sushi mainstays and creative experimental dishes, carrying over a tradition from Sushi ROKU.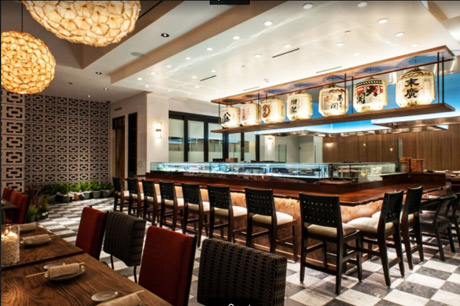 Sit along a live edge sushi bar as Chef Jiro Kobayashi  prepares the freshest, most high-quality fish daily in both traditional and modern sushi preparations.  Omakase (or Chef's Choice) is recommended.
Another part the restaurant as an up-close-and-personal teppanyaki experience, where Teppan chefs prepare A-5 Japanese Wagyu, Matsuzaka beef, Santa Barbara spot prawns and other high-quality ingredients at interactive grill tables.
We stopped in to try the new items on ROKU's menu of new style appetizers, inventive entrees and select favorites from the iconic Sushi Roku brand. The tradition of excellence continues!
I discovered that ROKU is an "innovation hub" for the IDG empire, meaning the ROKU's kitchen is used to develop new dishes for all IDG concepts, including Sushi Roku, BOA, and Katana.
Cocktailing at ROKU's swank bar makes for a great time too. They offer LA's most extensive selection of Japanese whiskeys (including rare pours), not to mention a carefully curated sake menu and almost two dozen Japanese beers.
The Pacific Scorpion, Roku's signature in-house infusion with Svedka, Svedka Clementine, coconut, pineapple, passion fruit, watermelon, guava and lychee was my favorite.
For Patio Dining, please visit their reservation page at InnovativeDining.com/reservations.
For Teppan or Sushi Bar reservations, please call ROKU directly at 310.278.2060.
Don't forget dessert! Best dessert in L.A.!