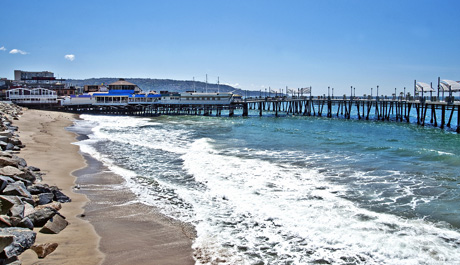 The South Bay restaurant scene has really come into its own lately with a growing cosmopolitan feel. Redondo Beach is one of the most culturally diverse food scenes cities in Los Angeles – from World-class chefs who have taken up residence and brought a myriad of fine culinary establishments to casual eats featuring great menus.
We joined a group of culinary enthusiasts and joined a Dine Around Redondo Beach. Our day of deliciousness in included restaurants in Redondo Beach's Riviera Village and on the waterfront.
Bettolino Kitchen
Modern twists on authentic Italian at Bettolino Kitchen – South Bay's New Italian Modern. Bettolino's atmosphere is a cool, casual, upscale vibe without being pretentious. The star is the food. Fresh ingredients, handmade pasta, crostini and small appetizer plates are excellent. and the presentations are stunning.
Italian Michelin Chef Fabio Ugoletti is a master in the kitchen. Italian chef-import Fabio Ugoletti earned the prestigious Michelin star at Al Gallopapa in Castellina, met Vince Gaetano in Italy and the rest is history. www.bettolinokitchen.com
Address: 211 Palos Verdes Blvd., Redondo Beach, CA 90277 Phone: 310.375.0500
Kincaid's Bayhouse is a uniquely local high-end restaurant that "brings local to life." With six locations, Kincaids is a nationally-acclaimed restaurant that has the most beautiful waterfront views of the waves crashing on the beach at their Redondo Beach location.
The drinks, food, and desserts are remarkable and memorable in addition to the impeccable ambiance which keeps friends and families always coming back! Dining at Kincaids is a memorable experience! Extraordinary. www.kincaids.com
Address: 500 Fisherman's Wharf, Redondo Beach, CA 90277 Phone: 310.318.6080
Redondo Beach Crab House
A longtime staple of the Redondo Pier (est 1987) , Shellfish Market Restaurant Redondo Beach Crab House offers the freshest seafood you can get. What better place to eat delicious shellfish than right on the sea in a themed-setting. They are also known for their unique Korean seafood dishes. www.redondobeachcrabhouse.com 310.376.2244
Sacks on the Beach
Gazing at the ocean on the northwest corner of S. Catalina & avenue I, Sacks in the beautiful Riviera Village offers fresh gourmet sandwiches, salads, fresh juices, pastries & all-organic espresso, coffees & teas. A cool spot to sit inside or out, it is the perfect destination for a leisurely breakfast, lunch or just to grab some delicious and healhy food to take to the beach for a picnic!
Since 2012, they have garnered a reputation for tasty food, beverages, & friendly service .. and we can confirm, that is the truth! Loved this spot! www.sacksonthebeach.com
1611 S. Catalina Ave., #120, Redondo Beach, CA 90277 Phone: 310.540.3770
Stay tuned for more deliciousness from our Dine Around in Redondo Beach shortly.