Science is the secret behind the success of SkinClinical. Dr. Harry Glassman, the world-renowned cosmetic surgeon, SkinClinical's co-founder and Thibiant's Medical Director, brings his 35 years of knowledge and experience in addressing the effects of medical treatments, surgeries, and environmental factors on skin on the aging process.
His expertise sets the foundation for SkinClinical's approach of combining effective, patented ingredients from science and nature into products that then undergo rigorous, independent clinical trials to ensure the best results. The payoff: World-class skincare that shows up in younger, softer, and smoother skin, all without a prescription or a visit to the doctor's office.
SkinClinical's most treasured product might be the Reverse anti-aging light therapy, the recently launched handheld LED device that increases collagen production on the face and reduces fine lines and wrinkles. It is the only LED device cleared by the FDA for home use to employ medical-grade light intensity.
Light intensity is the key to penetrating the skin and spurring collagen production, which in turn brings about more elastic and youthful-looking skin. After four weeks of use on the forehead, 81% of users showed a decrease in fine lines and wrinkles, while 94% reported better skin texture. After eight weeks of use on crow's feet, 84% of users said they saw improvement in fine lines and wrinkles, and 94% claimed improved skin texture.
The device itself is simple to use and easy to hold. Up top, the bezel you hold to your face is made of surgical-grade stainless steel that lasts long and doesn't heat up. The medical-grade lens can be cleaned to combat product buildup, which can be a barrier to effectiveness over time. To turn the device on and off, simply swipe a finger over the power button. For each treatment area, make sure the device is in contact with your skin and gently move it over the affected area for three minutes until the device beeps. Repeat for each section. It's that simple.
In addition, SkinClinical carries extreme healing lotions for the treatment of dry, delicate, itchy, red, inflamed, wounded, scarred, or chapped skin caused by eczema, psoriasis, diabetes, and aging, as well as changes caused by chemotherapy and radiation therapy.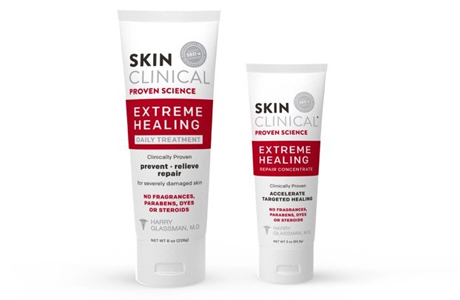 SkinClinical's extreme healing uses SBD-4, a patented technology that stimulates skin's natural cell regenerative process, improves skin's hydration, microcirculation and oxygenation, and increases skin's elasticity, thickness, and natural collagen production.
Among customers, 100% report immediate improvements in hydration, as well as skin's smoothness, texture, radiance, and lumosity. More than 90% also report repairs to rough, damaged skin, improvements to crepey skin, and increased firmness within 24 hours. In trials with the NIH, SkinClinical has shown proof of collagen production and increased micro-circulation, which can only add up to better skin.
Good skin is no accident — it's a science. Nowhere is this truer than with SkinClinical, founded by a world-famous and accomplished cosmetic surgeon and now in medical trials with the National Institute of Health to bring proven and reliable results to customers. Ordinarily, you'd need a prescription or at least a visit to the doctor's office to get such cutting-edge technology, but no longer. SkinClinical has what you need for smoother, softer, and younger-looking skin, available at home.