There is nothing more inviting and appetizing than dining on the water. We all seek to find that perfect place that combines fresh seafood, great atmosphere, and great service.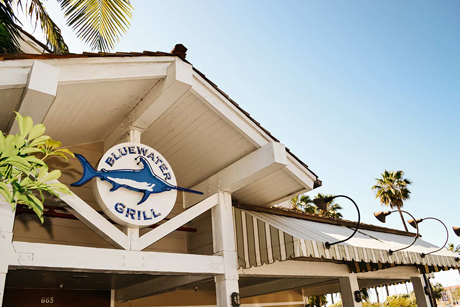 Located in Redondo Beach, Bluewater Grill has upped the waterfront dining ante in the South Bay with the opening of a spectacular new outdoor dining patio with fire pit, lounge area and seating for 80 overlooking King Harbor Marina.
One of the largest waterfront dining spaces in the South Bay, the patio's contemporary coastal style features decorative ceramic floor tiles, Italian wedding lights and thickly padded couches and booths.
Bluewater Grill Redondo General Manager Deanna Sarro adds: "Now, we finally have an outdoor dining experience worthy of our location right on King Harbor Marina – and one of the best places in the South Bay to enjoy dinner and drinks while watching the sunset."
Along with Bluewater's focus on expert preparation, the freshest sustainable seafood and local ingredients, we owe it to our customers to give them a dining environment that reflects the very best of the area."
The new Bluewater Grill patio is now accommodating lunch and dinner guests daily, and Sarro advises customers to ask for a patio table when they call for reservations. Visitors can use the ample free parking in the Bluewater Grill parking lot, or arrive easily by bike via the interconnected bike lanes.
With the debut of the new patio, Bluewater Grill Redondo Beach officially joins the list of dog-friendly Bluewater restaurants. Dog owners who bring their trained, leashed pet can take advantage of the Bluewater Fido Fare Menu, a dog water dish and complimentary dog treats.
Sarro says the new patio capitalizes on the growing popularity of the South Bay and Redondo Beach. "Thanks to a flurry of new projects including the new Shade Hotel at King Harbor Marina and the Harbor Drive bike lane connecting the Redondo Pier with the Strand in Hermosa Beach, Redondo Beach is hot with both locals and tourists.
Two Los Angeles firms with Bluewater Grill experience were responsible for the project: Kelly Architects, the architect for the new Bluewater Grill Carlsbad opening this fall; and Mitchell Construction, the general contractor for Bluewater Avalon on Santa Catalina Island.
The restaurant is planning an official christening event plus a May 16 open house for hospitality, media and influencer/blogger guests.
Bluewater Grill Redondo Beach is located at 665 North Harbor Drive at King Harbor Marina. The phone number is (310) 318-FISH (3474).
For menus, locations and operating hours for the seven Bluewater restaurants in Southern California and Arizona, go to www.bluewatergrill.com or call 310.318.3474.
You can follow each restaurant on Facebook, or the Bluewater family on Instagram and Twitter.
About the Bluewater Family of Seafood Restaurants
Bluewater Grill serves the freshest sustainably caught or farm-harvested seafood, innovatively prepared, in an atmosphere of casual style and at a surprisingly affordable price.
In addition to the original location in Newport's Cannery Village, there are Bluewater Grills at King Harbor in Redondo Beach, at The District at Tustin Legacy in central Orange County, and in the Camelback neighborhood of central Phoenix.
Beyond the original four restaurants, Bluewater Avalon and Bluewater Boathouse Seafood Grill serve locally caught seafood from two of Southern California's most picturesque locations: over the water on Avalon Bay on Santa Catalina Island, and in the former Hotel del Coronado boathouse on Coronado Island in San Diego, respectively.
Most recently, Bluewater founders debuted the seventh Bluewater restaurant – and first in Southern California's Inland Empire – in 2015 in Temecula Wine County, and announced plans for an eighth restaurant in Carlsbad Village in Fall 2016. For details, go to www.bluewatergrill.com or visit us on Twitter or Instagram. Each Bluewater restaurant also has its own Facebook page for restaurant-specific menu offers, recipes, events and local happenings.