An LA's The Place Fav New Products in 2016
Truth Vitality Lux Renew™is a revolutionary FDA-approved device which treats full facial wrinkles and acne, which you are able to use on yourself, in the comfort of your home. It is one of the very first clinically-tested, FDA-cleared, over-the-counter devices with all of its intended uses. The combination of Ultrasound and Red and Blue light is used the most expensive skin firming equipment used in top Med Spas. It is a proven combination of technologies that works.
This ergonomic, lightweight handheld device is safe and virtually pain-free. The Truth Vitality Lux Renew delivers anti-aging treatments that firm and smooth the skin, giving you back your more youthful look and glowing skin.
Compared to other products on the market, Truth Vitality offers a comprehensive skin care solution for an extremely competitive price. Other competing products charge more money, and offer far less features.
[youtube]https://www.youtube.com/watch?v=8MtHhNENUzo[/youtube]
Suitable for all skin types, and each active property has an abundance of benefits:
3-in-1 Technology
Truth Vitality is the only products that offers red LED, blue LED, and ultrasound. It easily allows you to choose the mode: Ultrasonic, Red LED, or Blue LED, individually or coupled together, and the intensity level that's right for you.
The red LED improves the skins barrier function as well as enhances the skin's ability to generate new collagen, which in turn aids in reducing wrinkles, rosacea, and broken veins.
The red LED also targets water layers on elastin, enabling facial wrinkle levels to be significantly reduced.
The integration of the active properties of ultrasound, blue and red LED, allows this revolutionary product to effectively and efficiently attack many skin care issues, all at once.
It emits energy in the red region of the spectrum for the cosmetic treatment of periorbital wrinkles (crow's feet).
It emits energy in the red and blue region of the spectrum to treat mild to moderate acne on the face. The blue LED penetrates the skin deeply and produces oxygen which destroys acne causing bacteria.
Ultrasound boost collagen production while improving the skins elasticity and firmness, and it also prompts the vibration of surrounding tissues in the skin in order to maximize collagen.
This electrically-powered ultrasonic device is also used for the temporary relief of minor aches and pains. The ultrasonic massage also massages the skin.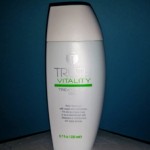 When you purchase Truth Vitality Lux Renew, a light, water-based conductive gel comes with it that helps the device glide smoothly over skin and helps ensure the conductivity of ultrasonic waves. The gel can also be used on its own as a beauty mask. Formulated with sodium hyaluronate, green tea, Vitamin C and milk thistle seed extract, it contains antioxidants that help fight free radical aggressors.
The truth vitality treatment gel is a light blue gel which facilitates the ultrasound penetration and also aids in treating acne, producing collagen, hydrating the skin, and increasing oxygen levels of the skin.
Ingredients includes hyalruonic acid (found in various connective, epithelial, and neural tissues) which hydrates, perflurodecalin which boosts oxygen, Green tea and vitamin C improve short-term antioxidant effects of the LED light, and milk thistle aids in clearing the skin.
Clinical Trials
Clinical Trials have revealed excellent true results for patients who use truth vitality. In clinical trials 60 participants experienced extreme improvements after just 12 weeks.
89.7% showed improvement in overall appearance of the skin
100% showed improvement in skin firmness
79.3% showed improvement in for headlines and wrinkles
86.2% showed improvement facial lines and wrinkles
79.3% showed improvement in radiance
Treatment should be performed 3 to 5 times per week for 15 to 19 minutes. It is recommended to perform the treatment for 5-7 minutes.
The Truth Vitality Lux Renew is a superior, economical, result-driven solution for treating, healing, and nurturing the skin. The overall value proposition of this product is very much worth the price.
To order your new Truth Vitality Lux Renew, visit https://www.truthinaging.com/truth-vitality-lux-renew
Follow them on Social Media!
Facebook: Truth In Aging
Instagram: @TruthInAgain
Twitter: @TruthInAging