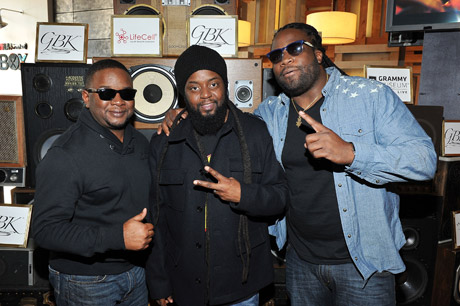 GBK honered musical stars once again with their 2016 GRAMMY Awards Nominees and Presenters Pre Grammy Gift Suite, held downtown  Los Angeles at Tom's Urban at L.A. Live, co-sponsored by Boom Case.
Presenting  sponsor, Boom Case, handmade portable sound systems, wowed with Vintage Suitcase 'Boom Boxes'. With classic looks of past era luggage and all the latest technology and audio, musical stars delighted in the 'delivery system' through which their music is listened to and got to take one home to try for themselves. theboomcase.com
The GRAMMY Museum, an interactive, educational museum devoted to the history and winners of the Grammy Awards, had stars sign a poster to be auctioned off to raise money for charity. They are always committed to education through education programs, interactive exhibits, workshops and performances with over 25,000 students (k-12) receiving a musical education through their programs.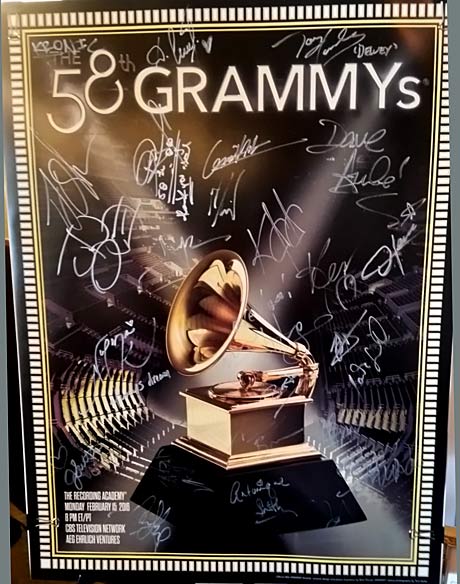 Musical and VIP guests included Anthony Brown (Nominee: Gospel Performance/Song), Normani Kordei (Fifth Harmony), Jessica Sanchez (American Idol), Morgan Heritage (Winner for Best Reggae Album), Lalah Hathaway ( Winner for Best Traditional R&B Performance), Kendra Foster (Winner for Best R&B Song), Bilal ( Winner for Best Rap Album and Best Rap/Sung Collaboration for "These Walls" with Kendrick Lamar), Pentatonix, among others.
Event Sponsors  at the GBK Grammy Awards Gift Lounge included:
Activision – Guitar Hero Live introduces a radically-improved guitar controller, hundreds of songs and two brand new ways to play: GH Live, a first point of view, where you play in front of a real crowd that reacts to how you perform, and GHTV, the world's first playable music video network. The game is available now for the PlayStation 4, PlayStation 3, Xbox One, Xbox 360, Wii U, iPhone, iPad, iPod touch, and the new Apple TV. www.guitarhero.com
American Hat Makers – Handmade leather hats made in California. www.americanhatmakers.com
Swagway – What a long way these boards have come!  It is said, you won't find a safer, higher quality board than Swagway.  Observing the musical stars trying these out onsite, it seemed like an easy board to master and to keep your balance on. They are very heavy, so have a good solid base. Top-rated, the Swagway is considered "superior" in comparison to the competitors by PC Mag. Swagway is only the original manufacturer of the "hands­-free smart board". Called the "hottest gift on the planet" by Ellen on The Ellen Show. www.Swagway.com
Ike's Place –  Award-­winning sandwiches for Meat Eater, Vegetarians, Vegans, and Gluten Free Diets! Something for everyone. Now at multiple locations all over L.A. and California.  www.ilikeikesplace.com
Beija­Flor Jeans One pair of Beija­Flor's universally slimming jeans, designed to make women look and feel their best. www.beijaflorjeans.com
LifeCell –  Magic is an all in one solution! LifeCell's All-­In-­One Anti-­Aging Treatment is a product that acts as an under eye treatment, firming serum, dark spot corrector, antioxidant serum, wrinkle reduction treatment, sheer moisturizer, and primer all in one product. And it's paraben-free, fragrance-free, and cruelty-free! www.LifeCellCream.com
Be Tini Spirits – Delicious premium prepared cocktails in 4 flavors: Cake, Lemon Drop, Appletini, and Margarita. www.betinispirits.com
Bopulent Jewelry – Custom handmade gemstone jewelry using 14kt gold, rose gold, platinum, silver, and diamonds. www.bopulent.com
Couch Potato – Your premiere entertainment shop, Couch Potato has one goal in mind: "To create a dramatically fun, quality experience in entertainment where our customers can find the very best and buy Movies, Television and Electronics online." They gifted a gift certificate to be used in store or on their website. www.couchpotato.com
DEIFIC craftsman produce limited production jewelry with quality reflecting the egotistic obsession of a perfectionist and designs inspired by the vast multi-culturism of Los Angeles. www.deificjewelry.com
Erika Walton Jewelry Handmade in the USA, limited addition, recycled and vintage toys mixed with crystals, glass, gemstones, vintage beads and other recycled pieces. The looney tunes line is licensed by Warner Brothers. www.alteregojewelry.com
Presenting Sponsors
Haute™ Brush – The Haute™ Brush is amazing and definitely filled a need in the market! It is a hair straightener that combines your traditional flat iron & brush, into one convenient ultimate beauty tool! Using a heated brush, the Haute™ Brush saves you time and energy by effortlessly straightening and revitalizing your hair in one stroke. Unlike traditional hair straighteners, the Haute™ Brush's unique patented design reduces the risk of burning and damaging your hair, giving you worryfree style in minutes. With anti­static detangling technology to diminish unruly frizz and ceramic panel that promotes hair follicle health, get professional salon style at home or on­the­go with the Haute™ Brush. www.HauteHair.com
Audiopark – Audiowrap/ Twistwrap a brave step to credit the professional audio fashion statement. The main part of the cable with its diminutive colorful spiral braid is feather light and flexible. New Driver invention­ The driver technology is built with a combination of the micro V technology with a completely new magnet configuration wherein the magnet is mounted as a ring encircling the coil to divert more energy to the diaphragm. www.audioparkco.com
Hale Bob – Hale Bob dresses modern, fashion­forward women in feminine, chic and distinctive clothing. Their fashions are created from the highest quality fabrics and they are recognized for our exclusive, colorful prints. Guests received women's fashion such as jacket's, tops, etc. www.halebob.com
JH Design Group – Custom official team jackets from MLB, NBA, NHL, and NASCAR. www.jhdesigngroup.com
Le Dome Champagne Truffles – Le Dome Champagne Truffle Corks are The Chocolates of Celebration. A life­sized, 3­D champagne truffle, shaped like a champagne cork, packaged in an authentic branded champagne capsule. They are made with French and Belgium chocolate and infused with the essence of French Champagne. www.ledomechampagnetruffles.com
Paséa Hotel & Spa – Complimentary two night stay at Paséa Hotel & Spa plus dinner for two at Tanner's and one 50­minute signature couples massage at Aarna Spa. www.paseahotel.com
Belmond La Samanna, St. Martin – Three nights in a stunning Ocean View Suite with daily breakfast for two www.Belmond.com/lasamanna
Toluca Lake Tennis and Fitness Club – VIP Club Pass for one week to the premiere tennis and fitness club in Los Angeles, and three personal training sessions with TLTFC Club Trainer. www.tltennisandfitness.com
NoStreaks Detail – NoStreaks Detail offers world­class mobile detailing services that meet the extremely high standards of automotive connoisseurs and cater to the individual needs of high profile clientele. www.nostreaksdetail.com
Unite4good is a socially conscious movement dedicated to empowering people to help others, and where everyone can make a positive difference. www.u4g.com
Wait! Don´t forget to Subscribe for Free!
Main Feed | What is RSS?
Enter your E-mail below to Subscribe

*
No spam
|
Privacy Policy
We will not sell or distribute your e-mail address to anyone else.
Written by Jane Emery