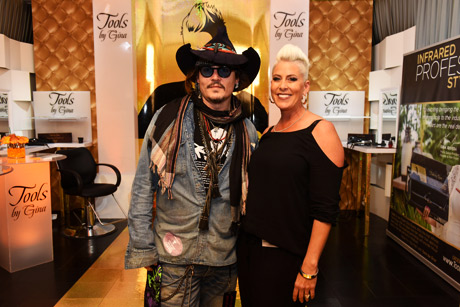 Distinctive Assets and the Recording Academy have once again come together to produce the GRAMMY® gift bag and gift lounge in honor of the 58th Annual GRAMMY Awards®.
The GRAMMY® Gift Lounge has become one of the most renown gift events in the world, and was be open to presenters and performers during three full days of rehearsals at STAPLES Center before music's biggest night held on Monday, February 15, 2016, at STAPLES Center in Los Angeles.
LL Cool J is back to host the Grammy's with legendary performers Adele, Kendrick Lamar, Justin Bieber, Pitbull, Sam Hunt, Carrie Underwood, The Weekend, Lionel Richie and Little Big Town. Talent will also walk away with a preassembled GRAMMY Gift Bag which will represent a diverse portfolio of brands ranging from unique to useful.
"It is a true honor to be even a very small part of Music's Biggest Night®," says Distinctive Assets' founder Lash Fary. This year's gift lounge is presented by Tools by Gina, owner of a chain of highly successful salons and great hair tools.
After founding Phenix Salon Suites, serial entrepreneur Gina Rivera turned into a icon in the world of beauty. Gina came to Distinctive Assets to showcase her new venture, Tools By Gina, where she featured and gifted her innovative Pure Infrared Technology Professional Styling tools that steam the hair rather than applying direct heat. This advanced technology provides natural shine to the hair and lock in moisture, without damaging your hair. toolsbygina.com
SCUF Gaming is a gaming company that makes customized controllers for professional gaming. With patented innovative features it is no wonder that 90% of pro-gamers use SCUF. SCUF gaming gifted their, league endorsed, SCUF Infinity1 professional customized controller. These gaming tools of destruction are designed to improve your play how you like it by offering countless degrees of customization, while offering interchangeable key areas of function, feature and design. Accessories to the SCUF Infinity1 include: SCUF Protection Case, SCUF FPS Adjustable Trigger & Pro Grip Combo Kit, SCUF Thumbsticks, SCUF Rings, SCUF Charging Cable, GamerGrip Total Grip Solution and SCUF Hat. www.scufgaming.com
Chef Phillip Ashley is on a mission to break the conventional boundaries of chocolate making with his artistic culinary movement. Utilizing flavors such as Saffron, Aged Balsamic Vinegar and Japanese Suntory Whisky; Chef Phillip Ashley crafted and gifted a 6 piece designer chocolate gift box called the Luxe Collection. Phillip Ashley Chocolates also gifted all attendees to the Grammy's a 23k gold salted caramel pecan praline.
Los Angeles local clothing brand Belldini, has been a leading manufacturer of women's fashions for over 35 years. Belldini features an extensive collection of high quality-apparel that allows busy women to stay comfortable, fashionable and calm everyday. Belldini supply everything from cardigans and pullovers to twinsets and leggings. www.belldini.com
Eric Viskovicz is the brainchild of Fit Club TV, and founder of and owner of Live in Fitness, one of the most successful weight loss retreats in america. Fit Club TV gifted their Ultimate Fitness package which includes Fit Culture Threads designer workout apparel, a Live in Fitness VIP experience in a private villa www.liveinfitness.com, and a fit culture fuel package whihc consists of health and performance supplements. www.fitclubtv.com
Flos Floris is an Italian clothing company out of Milano, selling high fashion clothing with fashion designer duo Antonio Matarazzo and Francesca Lanticina. Flos Floris gifted their high fashion Snap back hat. flosfloris.com
Space is an art form, it is designed by architecture that contains it and the fixtures and furnishings. KOI interiors mission is to utilize that space and emphasize the function and flow of that space to satisfy clients. With their high standards themseleves, KOI interiors meticulously pick designers who have a passion for their dream. koiinteriors.com
Marchon creates designer eyewear out of the heart of New York City. Marchon has a portfolio of winning brands including: Calvin Klein, Sean John, Nine West, Nike, and the X games. With all of their other great brands Marchon generates over 16 million frames sold annually. marchon.com
SIS by Simone I. Smith Jewlry gifted earrings and necklaces plus FOCUS for Men bracelets. Simone I. Smith is wife over Grammy Host LL Cool J. simoneismith.com
The Natural Mixologist crafts custom natural, vintage recrafted cocktails for any event that are organic, gluten free and vegan. The Natural Mixologist was serving custom in-Lounge cocktails and gifted a gift certificate for Mixology Services at an event of their choosing. thenaturalmixologist.com
Noon VR gifted their Virtual reality headset and promoted their mobile app to celebrities and media. noonvr.com
The Philosophy of Trespass is to help make every outdoorsy adventurer enjoy being outdoors all year round. No matter the terrain or activity Trespass has the fashion and comfort to keep you going. Trespass gifted their Goose-feather down jacket. www.trespass.com
Collaborating up with Vans and Kevin Lyons for Truth's "Finish It" campaign which empowers smokers and nonsmokers alike to join together in the power of art and fashion to drive change that ends tobacco use. Truth, Vans, and Kevin Lyons created a one-of-a-kind sneaker that encourages everyone to use their voices and creativity to end smoking for good. Along with with the sneakers Truth also collabed with Bubba Rose Biscuit Co. to gift animal treats that help raise awareness of smoking and its effects on animals. Cat and dogs of owners who smoke are twice as likely to get cancer. thetruth.com
Click here to see all the amazing brands IN THE GIFT BAG…!
About Distinctive Assets…
Distinctive Assets was established in 1999, Distinctive Assets not only produces the Gift Bags and Backstage Gift Lounges for many major award shows but also provides product placement, product introduction, event production, public relations and branding opportunities within the entertainment industry and beyond. For more information on Distinctive Assets visit www.distinctiveassets.com.
About The Recording Academy®…
The Recording Academy® was established in 1957 and is an organization of musicians, songwriters, producers, engineers and recording professionals that are dedicated to improving the cultural condition and quality of life for the music community. Internationally known for the GRAMMY Awards, a recognized award ceremony for musical excellence and the most credible brand in music, The Recording Academy is also responsible for professional development, cultural enrichment, a, education and human services programs.. For more information about The Academy, please visit Grammy.com.