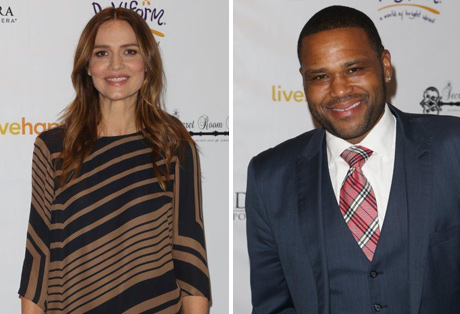 The Secret Room put on an exciting, lavish, celebrity/VIP, invite-only pre-Golden Globes gifting lounge to get celebs ready for the big show in style with some exclusive offerings from here and around the world.
Held in Beverly Hills at the SLS Hotel, nominees and talent that graced the Secret Room included "Black-ish" star Anthony Anderson,  American Crime" star Johnny Ortiz, "Flesh & Bone" star Sarah Hay, "Sicario" star Bernardo Sacacino, "CSI's" AJ Buckley, "Trumbo" actor Richard Portnow, "Mozart In The Jungle" star Saffron Burrows, "Dancing With The Stars" Allison Holker, "The Fencer" producer Kai Nordberg, "The Fencer" director Klaus Haro, "America's Next Top Model" winner Nyle DiMarco, Lou Ferrigno, Lorielle New,  comedianne Judy Tenuta and more.
Secret Room Events has always gifted the best selection of exotic trips and getaways for celebrity nominees. This year's Amazing trips are: Seven days in Bora Bora all-inclusive, and Langham Place, Fifth Ave. New York.
Platinum sponsors in the Secret Room Style Lounge included Derma e, Eve and Nico Crafts & Home Décor & Ruffle Girl, Inc.
Guests were introduced to exciting and unique brands and new finds, from Nadri Jewelry, Visit Santa Barbara, Brevena Luxury Skincare, Denman, Tesla Motors, Live Happy Magazine, Santa Anita Park,  Lilach Adoni, Frency and Mercury, Betty Boop, Cure, Eddie Scandinavian, City Color Cosmetics, Aspen Tea Company, , Kristals, Polyform Products Co., Biola Organic Cosmetics, Scentuals, Pretty Women Perfume, Oleavicin, Fernanda Japan, Myntsmile Oral Health, Sanada Adler Luxury Real Estate, The Travel Org, Fuel and Twisted J.
See write-ups on all the brands HERE!
And, as if that weren't amazing enough, all celebs and VIP media took away an LL BEAN goodie bag full of swag from:
Rushmore Essentials, Elysee Cosmetics, Coco Libre, Zacasha, Chap Stick, Betsy White stationary, Jon Reyman's Spoke & WEAL salon, Veena, Marina Cottage Soap Co., Viabuia bags, Celebrity pet toy company, Nailtiques Cosmetic Corp., Threeworks.com, Makeupartistchoice.com, Dog sport, Sydney Candle Co., I ring, Ukies, Winkniks, Kusco Murphy Au, The Manhattan Toy Company, Edifier A Passion For Sound, Kurtooo's, Crumb Artisan Crafted Crumb Cake, Imagination Creations, Fifty Fifty, Jennie and Vera's cookies, Capelli New York, Judicakes, Lifeline First Aid, Funky Chunky, Beach Lunch Lounge, Scentuals Body Care From Nature, UUnique, Waka Waka, Jasongarner.com, Kidville Brentwood, Southern Okie Gourmet Spreads, No Cosmetics, Dedo Kids and Thera Cane.
Read more details on individual brands named above, click HERE!
Derma e gifted purifying daily detox scrub and purifying 2-in-1 charcoal mask, which was a nice discovery. Derma e is purifying skincare that detox is your skin in a natural way; helps you to avoid deeper skin cell damage premature signs of aging acne blemishes, wrinkles, thinning or sagging skin. Their line consists of purifying gel cleanser, toner mist, daily detox scrub, 2 in 1 charcoal mask, Youth serum and oil free moisturizer.
Eve and Nico Crafts showcase the unseen beauty of Africa through African crafts and art influenced by culture, history and environment. They featured wire baskets, hand-woven out of telephone wire.
Visit Santa Barbara, the "American Riviera, gifted a limited edition "Red Carpet Red" Pinot Noir to commemorate the 2016 awards season, as well as gift certificates for bottles of wine, wine and food tasting from:
High-end and Hand-crafted Turita Wines, Standing Sun Winery, The Brander Vineyard, Taste Santa Barbara Food Tours (TasteSBFT.com), Fess Parker Winery and Vineyard, Figueroa Mountain Brewing Company Wine Merchant cafe, and a guest pass to the Santa Barbara Botanic Garden for two.The Santa Barbara International Film Festival takes place February 3rd thru 13th. For more info, go to SantaBarbaraCA.com
Live Happy Magazine, LiveHappy.com, is a magazine, website and resource about how to a happy life. Available on newstands or in a digital edition.
*Click here for more unique and exciting brands from the Secret Room's 2016 Golden Globes gifting lounge!