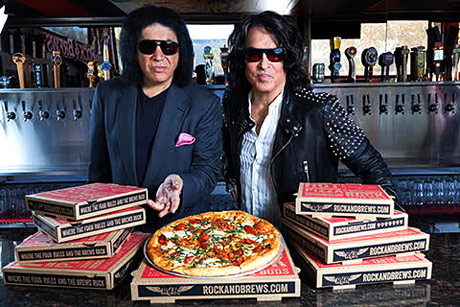 Aspiring chefs and pizza-lovers, here's your chance to make your mark! KISS front men Paul Stanley and Gene Simmons announced today that their Rock & Brews restaurants will be kicking off a Pizza Palooza "Rock Star Pizza Contest" for the month of January.  Contest participants will create a recipe from a list of provided ingredients, choose a rock and roll themed name and submit it with a selfie on local Rock & Brews restaurant social media platforms with the hashtag #pizzapalooza. The winning pizza will be featured at participating Rock & Brews restaurants in February as part of the brand's annual Pizza Palooza campaign.
Each participating Rock & Brews location will select a winning recipe and submit it to Stanley and Simmons for tasting. They will announce the national winner on January 29.  In addition to having their pizza on Rock & Brews' Pizza Palooza menus, the winner will be featured on Rock & Brews' website and in a national press release. They will also receive a Stanley and Simmons autographed pizza box and Rock & Brews merchandise.  Local winners will be announced on January 21 and will receive a Rock & Brews' swag bag and a $100 Rock & Brews gift card.
"We take pride in offering our guests craveable, hand-crafted pizzas, made with only the highest quality ingredients available," said CEO and co-founding partner, Michael Zislis. "Our Rock Star Pizza contest is an opportunity for our customers to engage with Rock & Brews and showcase their love of rock and roll and pizza."
For more information on the Pizza Palooza Rock Star Pizza Contest visit local Rock & Brews Facebook pages or www.rockandbrews.com/contestrules/.
About Rock & Brews
Rock & Brews is a one-of-a-kind, rock-inspired restaurant and entertainment concept designed to engage people of all ages with quality comfort food and local favorites, a broad selection of craft and international beers, and an energized environment that is reminiscent of being at a family-friendly music event.  Founded by rock icons Gene Simmons and Paul Stanley of KISS, along with partners, restaurateur Michael Zislis and concert industry veterans Dave and Dell Furano, the first Rock & Brews opened near Los Angeles International Airport in Southern California in April of 2012.  Each location boasts a backstage environment showcasing a "Great Wall of Rock," iconic rock art, concert trusses and lighting and multiple flat screens sharing some of the greatest rock concert moments of all time.  Most offer a play area for kids and many are dog friendly.  For more information, please visit www.rockandbrews.com