Part of the fun of celebrating the holiday season is sharing Christmas cheer with friends. We decided to stop in to Hardrock Hollywood and try their festive cocktails served in souveniger mason jars!
Each cocktail provided its own holiday flair, however one truly stood out amongst the rest. The Bohemian Rhapsody was the highlight of the evening, and the featured cocktail, although each cocktail was noteworthy and put oneself in the holiday spirit.
Justin the bar manager shared that the five recipes were created by bartenders from Hardrock Cafes around the nation, and even as far as Japan.
The Bohemian Rhapsody was crafted by Kazuki Goto, Hard Rock's BARocker 2015 Champion out of Hard Rock Cafe Tokyo. It combines Smirnoff Vodka, Robert Mondavi Merlot, sweet and sour, and is topped with house-made passion fruit foam.
Other delights include She's My Apple Pie, which Is quite a holiday treat, utilizing Fireball Cinnamon Whiskey, Apple Juice, Pineapple Juice and Monin Salted Caramel.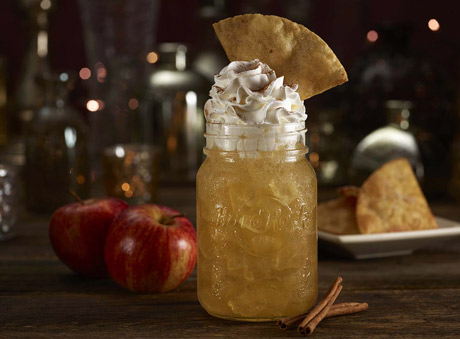 Another spicy yummy concoction was the Feeling Hot, Hot, Hot, which is comprised of Fireball Cinnamon Whiskey, Rum Chata, pineapple juice, Cream of Coconut, Orget/Almond Syrup and dash of cinnamon. Yummy!
Other choices of holiday cheer in a mason jar are the Southern Jam, which is made from Monkey Shoulder Scotch, Black Cherry Puree and splash of Lemon Juice – delightful!
And the last one you is alcohol-free, for the designated driver, or enjoy as a decadant desert! Rock You Like a Coconut combines Half & Half, Monin Salted Caramel, Cream of Coconut and Caramel Sauce.
We enjoyed these cocktails with Hard Rocks tasty appetizer platter…
and their featured Modelo Burger, utilizing Modelo beer in the sauce that tops it for a very tasty burger.
Going to Hard Rock Cafes is an experience in itself, as you are surrounded by rock legend memorabilia while you view ongoing music videos.
Make haste as these holiday treats are only available through Sunday, January 3.
But you can still enjoy them all year long, as you will takeaway a cute Hard Rock mason jar for you to enjoy these at home.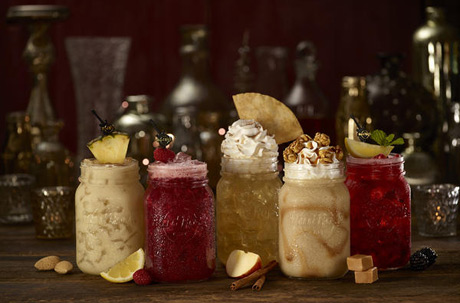 Check out the recipes for each of the Hard Rock holiday-inspired mason jar cocktails here in LAsThePlace.com!
_____________________________________________________________________________