Peta Murgatroyd, dancer, television personality and Season 14 winner of "Dancing with the Stars" and teen star, recording artist, Radio Disney host and Children's Miracle Network Hospitals® Teen Ambassador, Alli Simpson, hosted pediatric patients at the Winter Wonderland Ball…
on December 12, 2015, presented by Children's Miracle Network Hospitals, held at the famed AvalonHollywood.
Hollywood's brightest stars and their children joined Peta and Alli and spent a fun-filled day, with the inspiring patients from Children's Hospital Los Angeles and Children's Hospital Orange County, at the Winter Wonderland Ball. This special event helped kick off the Band Together For Kids campaign.
Celebrities and VIPs in attendance
Muragtroyd, Simpson and Children's Miracle Network Hospitals patients were joined by an incredible turnout of stars including Maksim Chmerkovskiy, Amy Purdy, Oscar Nunez, Carlos Bernard, Serge Onik, Henry Byailkov, Merv Samuel, Chadd Smith, Stephen Howard, Rick Malambri, Sophie Reynolds, Tiffany Haddish, Trinitee Stokes, Vanessa Marcil , Chloe East, Chloe Lukasiak, Coy Stewart, Edwin Hodge, Elise Luthman, Ella Anderson, Forrest Wheeler, Hadley Belle Miller, Haley Tju, Jacque LeWarne, Zack Everhart, Jake Brennan, Jasmin Savoy Brown, Jason Boots, Jen Lilley, Jenifer Lewis, Jiff Pom, Joey Luthman, Joshua Rush, Kamil McFadden, Karlee Perez, Kenton Duty, Kira Kazantsev, Kris Lythgoe, L.J. Benet, Landry Bender, Larsen Thompson, Lauren Potter, Lauren Sesselmann, Laya Hayes, Marissa Heart, Matthew Royer, Max Page, Mekenna Bree, Miss USA 2014 Nia Sanchez, Murray Wyatt Rundus and more who enjoyed a festive holiday party with the patients and their families.
Guests were transported into a magical Winter Wonderland with face painting, metallic tattoos by Lulu dk, balloon art, a holiday themed photo booth by Fun Captured Photobooth, gourmet lunch, sweets and treats, fabulous gifts and more! A surprise visit was made by a special guest from the North Pole, as the Hollywood community shows its love and support for the Miracle Kids.
Partygoers enjoyed gourmet coffee from Nespresso, an organic juice bar by Suja, frozen treats by Viva Pops, and delicious cotton candy by Love Swirls. Guests noshed on a gourmet lunch served by Avalon's executive chef, with hydration powered by AQUAHyrdate.
Guests were gifted with gorgeous inspirational jewelry by Good Works Makes A Difference. Too Faced Cosmetics will gift everyone with lipstick from their fabulous cosmetics line. Guests took home gift bags filled with a surprise from Tokidoki.
Hollywood's finest DJ Kid Fish curated the musical soundtrack for the event. Patients had the opportunity to dance the day away with their parents and celebrity guests to party hits and holiday classics.
Children's Miracle Network Hospitals President and CEO John Lauck greeted guests and Miracle Kids Belle and Nate shared their stories from the stage.
Alli Simpson and her father, Brad, performed their new single, "Enough" (co-written and performed with brother and pop star Cody Simpson). Alli, Cody and Brad have dedicated their song to Miracle Kids everywhere and with each "Band Together For Kids" holiday donation of $5 to Children's Miracle Network Hospitals, supporters received a download of this special song.
"We are excited to premiere the 'Band Together For Kids' campaign to generate even more awareness about how donations to children's hospitals provide lifesaving care and fund care not covered by government programs or insurance," Lauck said. "Bringing more awareness to children's hospitals' needs means we can help more kids who require care."
Children's Miracle Network Hospitals® raises funds and awareness for 170 member hospitals that provide 32 million treatments each year to kids across the U.S. and Canada. Donations stay local to fund critical treatments and healthcare services, pediatric medical equipment and charitable care. Since 1983, Children's Miracle Network Hospitals has raised more than $5 billion, most of it $1 at a time through the charity's Miracle Balloon icon. Its various fundraising partners and programs support the nonprofit's mission to save and improve the lives of as many children as possible. Find out why children's hospitals need community support, identify your member hospital and learn how you can #BandTogetherForKids, at cmnhospitals.org and facebook.com/CMNHospitals.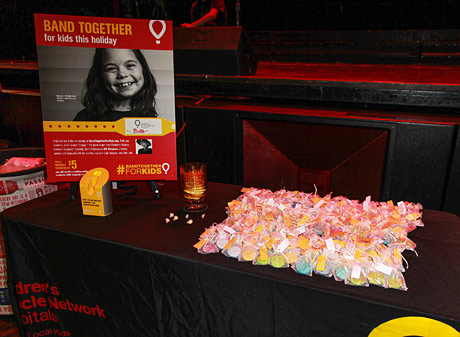 AQUAhydrate: Performance in the Purest Form.  Make the switch from sugary artificial beverages back to pure, great tasting water that fuels your performance lifestyle. Live in the new generation of hydration- AQUAhydrate www.aquahydrate.com Twitter: https://twitter.com/aquahydrate
Children's Hospital Los Angeles has been named the best children's hospital in California and among the best in the nation for clinical excellence with its selection to the prestigious US News & World Report Honor Roll.  Children's Hospital is home to The Saban Research Institute, one of the largest and most productive pediatric research facilities in the United States. The hospital is also one of America's premier teaching hospitals through its affiliation since 1932 with the Keck School of Medicine of the University of Southern California. For more information, visit www.CHLA.org.
Follow them on Twitter, Facebook, YouTube and LinkedIn, or visit our blog: www.WeAreChildrens.org.
Named one of the best children's hospitals by U.S. News & World Report (2014-2015) and a 2014 Leapfrog Top Hospital for the highest quality of care, Children's Hospital of Orange County (CHOC Children's) is exclusively committed to the health and well-being of children through clinical expertise, advocacy, outreach, education and research that brings advanced treatment to pediatric patients. Affiliated with the University of California, Irvine, CHOC's regional health care network includes two state-of-the-art hospitals in Orange and Mission Viejo, many primary and specialty care clinics, a pediatric residency program, and four clinical centers of excellence – the CHOC Children's Heart, Neuroscience, Orthopaedic and Hyundai Cancer Institutes.
CHOC earned the Gold Level CAPE Award from the California Council of Excellence, the only children's hospital in California to ever earn this distinction, and was awarded Magnet designation, the highest honor bestowed to hospitals for nursing excellence. Recognized for extraordinary commitment to high-quality critical care standards, CHOC's Pediatric Intensive Care Unit (PICU) is the first in the United States to earn the Beacon Award for Pediatric Critical Care Excellence. www.choc.org/giving Twitter: @CHOCChildrens
Fun Captured Photobooth is now proudly serving Southern California's Weddings, Birthdays and Events. Our professional and stylish booth is very elegant and yet very fun for all types of events. We like to bring out the silliness, fun and humor of every guest that comes inside our booth. Our high quality photo strips will become the memories you can keep for a lifetime. Please take your time to view our website and our services and we look forward on seeing you on your next event! www.funcapturedphotobooth.com  Facebook: https://www.facebook.com/FunCapturedPhotobooth
Established in 2011, Good Work(s) Make a Difference® has been determined to delivering the most fashion-forward, uplifting, and inspirational bracelets and accessories. We contribute 25% of net proceeds to charitable organizations in order to make a meaningful impact in our neighbor's communities and lives. http://goodworksmakeadifference.com/ Facebook: https://www.facebook.com/GoodWorksMakeADifference Twitter: https://twitter.com/goodworksmove
Love Swirls is a Confectionery mobile pop-up cart that offers yummy classic & organic cotton candy -freshly spun on site at your sweet event!  www.loveswirls.org. Facebook.com/loveswirlscottoncandy Twitter:@love_swirls
Artist and designer Lulu deKwiatkowski transforms her painterly, hand-drawn designs into a fashionable line of jewelry flash tattoos. The latest extension of her lifestyle brand, the tattoo collections range from classic bracelets and feminine floral styles to edgy geometrics and bold prints. www.luludk.com Instagram: @luludk_tattoos
29 years ago, Nespresso, a part of Nestle group, pioneered the simple but revolutionary concept of pre portioned premium coffee, and patented an exclusive system for perfectly mastering the preparation of espresso at home. Nespresso redefined the way coffee lovers around the world enjoy their coffee through premium quality, smart machines and exceptional customer service. We invite you visit us at our Flagship in Beverly Hills at 320 N. Beverly Dr. Beverly Hills 90210. www.nespresso.com Twitter: @nespresso and @nespressousa
Revelry Event Designers is an exceptional visionary team that creates the look and feel of events ranging from the Academy Award Governor's Ball and Grammys to the Disney Hall and Staples Center Gala Openings. We are known as LA's go-to event and interior design company, specializing in designing and installing private and corporate events worldwide. Our experience, creativity, passion and professionalism combine to provide our clients a unique level of satisfaction. www.RevelryEventDesigners.com  Twitter: @RevelryDesign Instagram: @RevelryEventDesign Facebook: RevelryEventDesigners
At Suja Juice, we strive to help people transform their lives through conscious nutrition. We've handcrafted three lines of delicious Cold-Pressured, Organic & Non-GMO juices & smoothies that are USDA certified Organic and certified Non-GMO. With a wide range of cold-pressured organic offerings, Suja has a juice for every lifestyle. We hope you enjoy all Suja has to offer & live a long, beautiful life. Excellent! #LoveSuja website: www.sujajuice.com  facebook: @SujaJuice Twitter: @SujaJuice Instagram: @LoveSuja
Headquartered in Los Angeles, CA, tokidoki was founded in 2003 by designer Simone Legno and his partners Pooneh Mohajer and Ivan Arnold. An innovative line of apparel, handbags, cosmetics, accessories and more, tokidoki has built a worldwide following with its larger-than-life characters. www.tokidoki.it Twitter: @tokidoki Instagram: @tokidokibrand
Too Faced is a serious makeup brand that knows how to have fun. www.toofaced.com  Facebook.com/toofaced Twitter: @toofaced
Viva Pops – Viva Pops will put a smile on your face and delight your taste buds with unique flavor combinations like Lavender Lemonade and Salted Caramel. They are made with organic fruit, juices, herbs, and dairy. No artificial flavors or colors are ever added, keeping the flavors true and always delicious. www.ilovevivapops.com Twitter: @ILoveVivaPops  https://www.facebook.com/Viva-Pops-278685560865/ Instagram: @VivaPops
Produced by TrueHeart Events
____________________________________________________________________________________