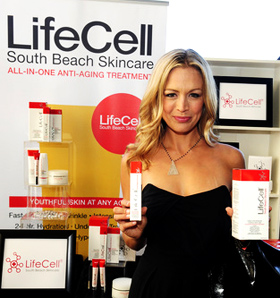 GBK, known for their luxury lifestyle gift lounges, honored the 2015 Primetime Emmy Awards' Nominees and Presenters with their annual GBK Gift Lounge the weekend leading up the the awards show.
Held at the beautiful L'Ermitage Beverly Hills, guests enjoyed gifts, refreshments and a gorgeous tented event with music by GoodBoy.
Celebrity attendees included Nominees: Alan Cumming ("The Good Wife"), Beau Bridges ("Masters of Sex"), Jeremy Podeswa (Director – "Game of Thrones"), Khandi Alexander ("Scandal"), Richard Cabral ("American Crime"), Tony Hale (Winner – "Veep"), stars from the hit series "Orange is the New Black" including Abigail Savage, Dascha Polanko, Emma Miles, Selenis Leyva and Julie Lake, and many more.
Gifting requires energy! And Ike's Place – Award Winning Sandwiches for Meat Eaters, Vegetarians, Vegans, and Gluten Free Diets, was onsite with their scrump-delicious sandwiches. Great rolls. We were excited to learn they are finally open in Westwood. Now in 16 locations. Check out their menu. Yum. A must-try! 310.208.0770
Presenting Sponsor, LifeCell, gifted their fabulous all-in-one anti-aging treatment, which is brilliantly-formulated to target every aspect of aging skin, so you can recapture your youthful looks. A definitely favorite among celebrity guests and media alike.
Celebs and media are always excited to see The Artisan Group® of creative artisans. They gifted a lovely collection of handcrafted products valued at over $1300.00, created by their members for the 2015 Primetime Emmy Awards, to celebrities and members of the press, which included jewelry, spa and bath products, and other handcrafted gifts.
Many of their great jewelry designs has been spotted on Primetime TV shows as a result of presenting their items to celebrities and stylist at the GBK Gift Lounge. Check out the Artisan Group to see how you can be part of a great opportunity. www.TheArtisangroup.org
Other luxury and must-have lifestyle brands included gifts from:
Foto Spark was on site to enhance the party atmosphere by providing a green screen photo booth with photos and animated GIFs. It was fun to see celebs be silly and have so much fun.
Lucky celebs were gifted by Belmond La Samanna, who offered 3-Night Gift Certificates to their resort on Baie Longue Beach in St. Martin, with daily breakfast for two.
Caribbean Living – known for their gorgeous tropical destinations, they offered an all-inclusive trip to the Caribbean at the celebrity's choice of 3 resorts.
LaloFitness gifted 3 personal training sessions and a $100 and a gift certificate for any of Lalo's Lifestyle Fitness Vacations.
Life Portraits Aura Imaging – who gifted naturally organic Canadian glacier mineral salt, crystals massage oil, chakra candles, and RE7 – a powerful performance recovery drink containing 11 essential vitamins and minerals.
Venetia Vodka – Flawlessly Crafted. Brilliantly Bottled. The World's Most Desired Vodka. Indulge!
Beauty and health sponsors included: Burke Williams Spa – who was on site gifting their H2V
Exclusive Skincare Line.
Aluminé – haircare products formulated using the best of nature and science without abrasive chemicals, parabens or sulfates.
Aesthetica Cosmetics, LLC – gifting The Aesthetica Cosmetics Contour Kit.
Grande Naturals, gifting their Outrageous Designer Gift Box,  which includes 1 GrandeLASH-MD (3 month supply) and 1 Grande MASCARA.
PlaqueHD, the first professional plaque- identifying toothpaste loved by dentists, patients and parents nationwide
Beauty Kitchen by Heather Marianna, providing skin polish and hand sliced soap bar option, organic and natural spa products
Violent Iodine – the once-daily, non-prescription pill to alleviate premenstrual breast discomfort and promote breast health.
A true highlight of the lounge was the incredibly diverse and trendy fashion and accessory products including:
World renowned luxurious and sporty watches by Oceanaut – Seapro – Christian Van 
Sant – Jivago. If you see watches sold online, chances are this is the company you are dealing with. Great business.
JH Design Group, a top manufacturer of licensed apparel; and MooshWalks – socks
with ears giving your feet personality.
Gourmet sweets and treats were sampled and gifted at the event by Green Sheep Water, offering their 16 ounce bottles of delicious purified water in100% recyclable aluminum bottles which are infinitely recyclable.
Charity beneficiaries included:
Stray Cat Alliance – Stray Cat Alliance educates and empowers the community to advocate for every
cat's right to be safe, healthy and valued. They are building a no kill nation, one stray at a time. For
more information, please visit: www.straycatalliance.org
Muscular Dystrophy Association – The mission of MDA is to serve those who are fighting muscle disease as we find treatments and cures, support families and rally communities. For more information, please visit: www.mda.org
American Friends of Magen David Adom (AFMDA) – MDA is a pillar of Israeli society whose mission is to save lives. As the country's "911," it serves as Israel's national emergency medical response, ambulance, and disaster relief agency. MDA also operates Israel's national blood supply, providing 97 percent of civilian blood and 100 percent of the blood for the Israel Defense Forces. While government-mandated to provide these essential services, MDA is not government-funded, relying heavily on American donors to support its operations. For more information, please visit www.afmda.org
Alfalit International – A non-profit organization that provides literacy programs for the underserved in the US and internationally. For more information, please visit: www.alfalit.org
More on GBK: 
GBK, formerly GBK Productions, is a luxury lifestyle gifting and special events company, specializing in entertainment marketing integration. Formed in 2000 by Gavin Keilly, the company's Founder and CEO, GBK consists of five divisions: GBK Celebrity Gifting, GBK Special Events, GBK Weddings, GBK Charitable Consulting and GBK Marketing/Public Relations. Widely known in the entertainment industry for bringing that little extra something into the Gifting Lounge environment, GBK offers its clients a full range of marketing services. For more information on Gavin B. Keilly (CEO), Carla Domen (VP) or GBK, please go to gbkproductions.com
Wait! Don´t forget to Subscribe for Free!
Main Feed | What is RSS?
Enter your E-mail below to Subscribe

*
No spam
|
Privacy Policy
We will not sell or distribute your e-mail address to anyone else.
Written by Jane Emery