Ah, summer! In addition to being the perfect season for travel, it also seems to be the perfect season for weddings. In fact, my little sister's wedding was this past weekend. While I thoroughly enjoyed celebrating this joyous occasion, I struggled a lot with what I was going to give her as a wedding gift. I wanted to give her something special that she wouldn't buy for herself. Yet, I also wanted it to be practical since she and her husband are just starting out. Then I found the perfect solution– organic bamboo sheets!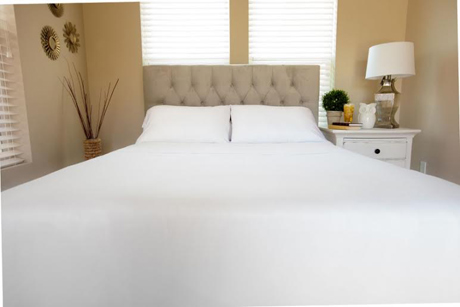 Organic bamboo bed sheets are the perfect wedding gift because they are unique and practical. No one else would have thought of getting her these, so I didn't have to worry about anyone duplicating my gift. In addition, buying bed sheets were practical because having new sheets to sleep on is always a nice way to start of a marriage. In my sister's case, she and her husband had to buy a new bed as many new couples do. They didn't have any bedding at all yet, so giving her new sheets was something that she really needed, just like all newlyweds.
Another reason why I settled on organic bamboo sheets in particular is because it was something special that my sister wouldn't have bought for herself. Like most newlyweds, my sister is just starting out so she's more worried about paying rent than the luxuries of life. By getting her organic bamboo sheets, I was able to give her something luxurious that will make her more comfortable as she settles into her new home.
The comfort of these sheets is also what convinced me to buy them as a wedding present. They are surprisingly soft, even softer than cotton. They also have a silky texture which prevents your skin from aggravating. My sister is moving from Georgia to Utah and the dessert air dries out her skin every time she goes out there. With organic bamboo sheets, she won't have to worry about her dry skin becoming aggravated and she'll be better able to acclimate to her new environment.
Additionally, my sister will be able to use these sheets year around, making them an even more practical gift. Organic bamboo sheets are extraordinarily breathable while also being soft and cozy. This makes them perfect no matter what season it is. In the winter, the soft, cozy threads keep you warm while the breathability of bamboo keeps cool as a cucumber in the summer.
Organic bamboo sheets aren't only great as a wedding gift; they're also a great addition to your guest bedroom!