You've borrowed some money via equity loan or title loan, or you've reached for your credit card and decided to spiff up your home. What improvements can you make on your budget? Even with a small financial investment and without taking on a large amount of debt, you can change the look of your dwelling. A little imagination and flexibility can get you far.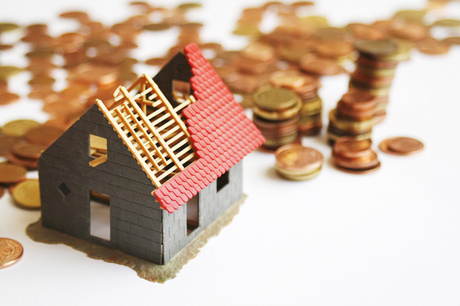 All you need is paint for one of the most effective instant face-lifts for your home. Inside or out, a new color can change the feel of a room and boost your house's curb appeal in no time flat, without taking a big bite of your bank balance. Don't have time or the attention span for a whole-house color shift? Try an accent wall, where you paint one wall in the room for impact. You may be surprised at the pop you get with a new shade reflecting off the light and fixtures.
Speaking of accents, you can make other smaller changes that won't tax your pocketbook to liven up your home. Experiment with throw pillows, rugs, picture frames, drapes — like accent walls, they offer subtle but effective lifts, with different colors and hues. As a wise man once said, a rug can really pull the room together.
Renovation mania has overtaken homeowners in the United States, and if you have a bigger budget to work with, you have bigger possibilities ahead of you. Bathrooms are the top makeover candidates among American homeowners, and simpler changes such as a new sink or vanity could instantly up the eye appeal. However, note that other adjustments can be extensive and expensive. While some homeowners feel comfortable with taking on the responsibilities themselves, a third party is often required. A bathroom makeover can involve plumbing, for example, which means you could require the services of a plumber or other specialist. There is no doubt a revitalized bathroom can feel like a retreat, so the payoff could easily be worth the investment.
Kitchens are also favorites for remodeling — and why shouldn't they be? They're often the room where people gather, where souls and stomachs are fed. Some homeowners can get away with an easy change, such as refinishing the cabinets or updating the fixtures. But kitchen styles change so quickly, you may want to go deeper into a project with new counters, floors, even layouts — you might want to add an island or rearrange the appliances. This could require not only a plumber but an electrician to make sure the lines go to all the right places, not to mention a designer to help you formulate your theme and gather your inspiration. A kitchen makeover could be immensely rewarding, but keep in mind the potential price tag for a dramatic makeover.
Your home is your castle, but even a palace could use a new look from time to time. The money is out there, courtesy of credit cards, equity loans, title loans, and more, but don't let your budget hold back your imagination — small details can lift a big room. If you're fortunate enough to work with a greater sum, then make the most of your cash flow with good planning. The key is to work within your means. You may be surprised by the possibilities that await at the end of your project.