Rox Spa Beverly Hills offers the greatest specials monthly and August is no exception!
25% off ALL Lasers! Also, $100 off any filler, and Botox, only $12/Unit! 
*  For laser hair removal, Rox Spa uses the gold standards in laser hair removal – the FDA-approved SopranoT and Soprano XL ("Virtually Pain Free!") systems by Alma Lasers. (Check out our Soprano  article HERE…)
*  For skin tightening, Rox Spa offers uplifting ultrasound with Ultherapy,  a new type of non-surgical, non-invasive procedure for the face that uses ultrasound and the body's own natural healing process to lift, tone, and tighten loose skin.
The FDA-cleared device used in the procedure utilizes the safe, time-tested energy of ultrasound to stimulate the deep structural support layers of the skin—including those typically addressed in a surgical facelift—without disturbing the surface of the skin. Check out our Utherapy article HERE…
*  Laser360 – 3 Technologies, 60 days to complete skin rejuvination!
Rejuvenate your skin with Laser360™. It's an exciting new aesthetic laser treatment that combines three revolutionary technologies to deliver softer, younger-looking skin in just 60 days.
The Laser360 skin resurfacing and rejuvenation treatment reveals brighter, younger and healthier-looking skin, from the inside out. It treats fine lines, wrinkles and discolorations from deep within the skin to give you a lasting new, revitalized look.
See below for all the great August offerings!
Call 310.777.0496 for information or to make an appointment.
Go to their website for more info: www.RoxSpaBeverlyHills.com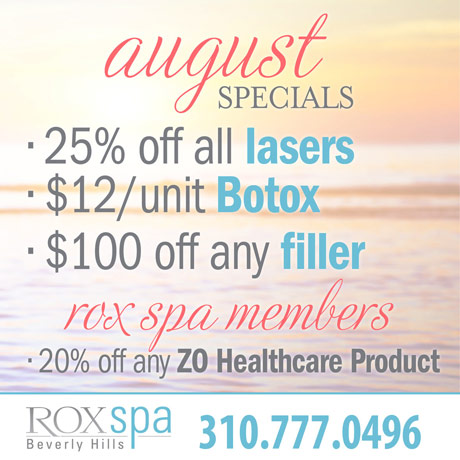 And now, you can become an esteemed member of Rox Spa to enjoy great monthly values, such as these: