On Thursday, August 6, 2015, summertime's most incredible culinary event is back! The Sixth Annual "An Evening on the Beach" benefitting St. Vincent Meals on Wheels, and sponsored by Audi, announces the Full Chef and Vintner Line-up.
On Thursday, August 6th, Audi will present the sixth annual An Evening on the Beach at the Jonathan Beach Club Santa Monica, in support of St. Vincent Meals on Wheels of Los Angeles.
Featuring some of LA's best chefs, the event's guests relax with tempting morsels off the grill, vintner tastings, specialty cocktails, great music, and a crackling fire as the summer sun sets over the ocean.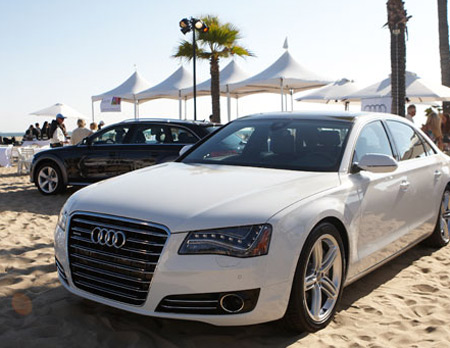 Dress is casual, shoes are optional, and proceeds will help to provide the over 4,000 meals needed to feed homebound seniors and other vulnerable residents across the Los Angeles area every day.
This year's chef line-up includes:
Alex Ageneau of aestus Restaurant
Gino Angelini of Angelini Osteria
Jered Standing of Belcampo Meat Co
Genevieve Gergis of Bestia
Jonathan Grahm of Compartes Chocolatier
Ray England and Shannon Swindle of Craft Restaurant
Jared Levy of The Eveleigh
Clark Staub of Full of Life Flatbread
Frankie and Vanessa of Gustus Vitae
Frank Ostini of Hitching Post
Jason McClain and Quentin Collignon of the Jonathan Club
Kai Kani of KAI Pop-up
Alec Lestr of Patina
Dahlia Narvaez of Pizzeria and Osteria Mozza
Chris Phelps and Zak Walters of Salt's Cure
Jessica Koslow of SQIRL Restaurant
Andrew Vaughan of Terranea Resort
Micah Wexler of Wexler's Deli
John Lechleidner of WP24
Cheese stations will be presented by Laura Chenel's Chèvre and Marin French Cheese, with a special mozzarella bar by Mimmo Bruno of Di Stefano Cheese.
Specialty cocktails will be served by mixologist/spirit ambassador Marcos Tello of El Silencio Mezcal, in addition to a Chopin Vodka martini bar complete with Petrossian caviar stuffed olives, a Selvarey Rum bar, and a coffee bar by Vittoria Coffee. Specialty wines will be presented by a group of guest vintners including:
Alta Colina Wines
Ascension Cellars
Beekeeper Cellars
Bonaccorsi Wine Company
Bonny Doon Vineyard
DemiJohn Imports
Dr. Loosen
Hartley Ostini Hitching Post Winery
Holman Cellars
Jordan Vineyard and Winery
Justin Vineyards and Winery
Kalin Cellars
LIOCO Wine
Malibu Vineyards
Melville Vineyards
Pence
Robert Craig Winery
Sevtap Winery
Symington Family Premium Port Wines
Date: Thursday, August 16, 2015
Tickets are $175, including parking, and are on sale now through the event website www.eveningonthebeach.com.
For the first time this year, on-demand transportation provider Lyft is partnering with Evening on the Beach to help guests travel more safely and easily to and from the event. More information about Lyft credits and other transportation suggestions will be available in the coming weeks.
Guests can also enjoy special offerings on the "Road to the Beach" by visiting each participating restaurant in advance of the August 6th event. Follow @ChefsontheBeach on Instagram for more information.
In addition to Audi, sponsors include Accenture, FreshPoint of Southern California, 100.3 The Sound, Badiot and Evian waters, Impact Production, The Hospitality Collective, Verterra Dinnerware, Clear Channel Outdoor and Wine Spectator.
For sponsorship opportunities, or to purchase one of the limited VIP tables of ten, please contact Joan Wrede of JWEvents [email protected]
About St. Vincent Meals on Wheels: For over 37 years the mission of St. Vincent Meals on Wheels is to prepare and deliver two nutritious meals daily to homebound seniors and other vulnerable residents across Los Angeles, regardless of ethnicity, disability, religious preference, or ability to pay. In 2013, STVMOW helped clients stay safe and healthy through a variety of lifeline services, and served nearly 1.2 million meals. Proceeds from this evening will help to sustain the mission to serve those who are unable to care for themselves.