Larchmont Village has something to celebrate this summer. The reopening of a great new restaurant, Vernetti, where Chef Steve Vernetti features Italian cuisine, both traditional and innovative dishes, where old school Italian cuisine meets new school. The newly redesigned space, formerly Girasole, is rebranded and reopened in heart of Larchmont Village.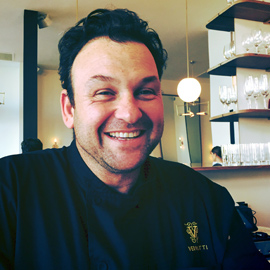 "To own a restaurant right here in Larchmont Village, in the same neighborhood where we are raising our family, is pretty amazing," said Chef Steve Vernetti. "Serving homemade pastas and choice cuts of meat and seafood, seasonal vegetables and baked goods, and seeing all that happens around a table set with a well prepared meal in a lovely setting is a dream come true."
More than anything, Steve Vernetti wants to share his passion for fresh, delicious Italian food and feed his community as he would his family. All his dishes are made with seasonal ingredients from sustainable sources, and from the best local quality purveyors such as Bread Lounge, and premium meats from a local, specialty butcher Marconda's Meats – a Farmer's Market staple for decades. His seafood comes from boat-to-table.
First and foremost, what makes a good restaurant great is the food. Learning of his extensive background, I knew we were in for something special. The energy was buzzing and the people were excited to be there. I was eager to sample the results of Chef Steve Vernetti's perspective on Italian-American cuisine, the result of a lifetime of versatile culinary experiences and training.
Background

Vernetti honed his art by traveling throughout Europe to Berlin, Paris, Venice, Florence, Amsterdam and Brussels. He spent a total of seven years in London being a highly-demanded chef, as he trained with the best of the best, some of the most prominent chefs in London: With Chef Charles Fontaine at Quality Chop House; at Le Caprice, Neal Street and Carluccio's; and at Byron restaurant in Hampstead, where he was executive chef.
The Food *Best Chicken Dish in LA
The dinner menu starts with items such as Baked Ricotta with chestnut honey and sautéed peppered apple, Marinated octopus and more. For main entrees, they offer great dishes such as the 40 oz, 30-day dry-aged Marconda's Meats porterhouse, the Bistecca alla fiorentina for two.
I particularly loved the Marinated Grilled Half Chicken, with creamy polenta…which, honestly, I can say it's the best chicken I've had in Los Angeles, so we had to award it with LA's The Place Top Pick for: Best Chicken Dish in Los Angeles!
Other choices included Osso Buco, Whole pan roasted Branzino from the Mediterranean. Pastas included Pappardelle con funghi, Rigatoni Spuntature – braised short rib ragu, marrow, and a beautiful Gnocchi de Spinaci, to name a few.
Design
So that settles that. The food is excellent. The icing on the cake is beautiful aesthetic feel of the design of Vernetti. Joanna Vernetti, Steve's wife and also his partner at Vernetti, collaborated with David Thompson, founder and principal at Assembledge+ on the restaurant's design. All the interior materials and fixtures are from various artisans and fabricators to evoke a modernized European bistro aesthetic. The clean, more modern design aesthetic has elevated the restaurant while remaining in keeping with Larchmont's unique, close-knit community, which the Vernettis also call home.
Retail Items
Vernetti's retail section features products that are California grown or sourced from Italian food importers. Items include L'Ultimo Forno pastas and biscotti, Majani chocolates, Romanengo fruit fondants, Bianco Dinapoli tomatoes and Pasolivo olive oils.
Hours
Beginning May 27, Vernetti is open seven days a week for dinner, 5:30 – 11 pm. Within the first month, they will add lunch, 12 – 3 pm, then breakfast Monday – Friday, 9 am – 12 pm, and weekend brunch 9 am – 2 pm last.
To read more, go to their website at Vernetti.la
To make reservations, call 323-798-5886 or email [email protected]
The restaurant seats 45 in a welcoming, comfortable atmosphere.
Vernetti
225 N. Larchmont Avenue
Los Angeles, CA

_______________________________________________________________________________________________