Think of the 2015 Mazda Mazda3 as a little dynamo: This compact car packs in a surprising amount of power and driving fun for its size. At first glance, the 2015 Mazda Mazda3 can easily be mistaken for a sports car, which isn't far from the truth.
With its crisp edges, gentle curves, and prominent front grille, the 2015 Mazda Mazda3 nails down the aerodynamics, and under the hood, it backs up its good looks with a powerful engine. Even better, the 2015 Mazda Mazda3 provides a comfortable, well-controlled ride, matched to an array of safety features and impressive infotainment options. You may never want to get out of the Mazda3 after you set foot inside!
You can't emphasize this enough: The 2015 Mazda Mazda3 is all about the drive, and to do so, it comes equipped with a four-cylinder engine that pours out smooth, responsive power and is available in two versions (2.0 liters, 155 hp, 150-lb-ft of torque or 2.5 liters, 184 hp, 185 lb-ft), in both six-speed manual or automatic.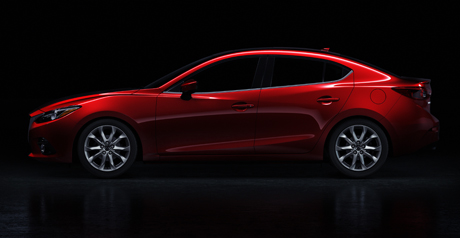 Overall, the Mazda 3 gets EPA fuel economy of up to 30 mpg city, 41 highway with the 2.0-liter, and even the 2.5-liter engine returns up to 28 mpg city, 39 highway.
However, all the horses in the world won't do you much good if the car is bumping along or your turning radius covers eight lanes. Never fear with the 2015 Mazda Mazda3 — this little pistol of a car has reworked springs, shocks, and antiroll bars to cushion your ride, and Mazda avows it has better cornering ability, along with improved stopping distances.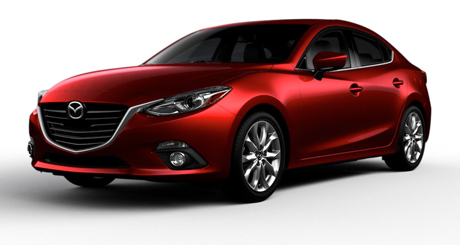 Inside the 2015 Mazda 3, the front seats are spacious and supportive, with better contours for your back. However, passengers in the back pay the price for the Mazda3's zoom and oomph. The fit in back seat might be tight for taller riders, but on the bright side, all passengers benefit from the Mazda3's full array of airbags: six in all, including front and side bags for each front-seat passenger, and side-curtain bags stretching the full length of the cabin. In fact, the Mazda3 was named an IIHS Top Safety Pick+ model for 2015.
The Mazda3 is available with i-Active Sense, a group of safety systems using a combination of cameras and radar to avoid potential dangers on the road. They include adaptive cruise control, a blind-spot monitoring system, lane-departure warning alert, a forward-obstruction warning system, a new Smart City Brake Support system, and headlights that switch automatically between low and high beams. Rearview cameras are also available on certain models of the Mazda3.
The 2015 Mazda Mazda3 comes with its fair share of entertainment-oriented electronics too. In front, you'll find the Mazda Connect, accessed via a big, bright touchscreen display that's responsive and easy to navigate. The system controls the standard AM/FM radio and CD player, and it includes a USB jack and auxiliary audio input port to hook up your digital music player. Depending on the model, options include SiriusXM satellite radio, a Bose system, voice control, and navigation.
Compact cars have long been known as practical, boring vehicles — not so with the 2015 Mazda Mazda3. You'll want to show off this Mazda as you speed down streets (within legal limits, of course) and take tight turns. You may not want to take on extra passengers for your joyride, but you're guaranteed to have a blast on the road — while enjoying surprisingly excellent mileage along the way.
www.mazdausa.com
______________________________________________________________________________________________