LA residents are in for a bit of something unique. The upcoming British Polo Day—hosted by British Royal Family member Lord Frederick Windsor — at Will Rogers State Historic Park on Saturday, May 30th.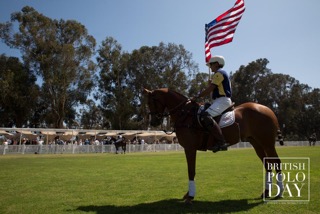 On the heels of its success last year, British Polo Day – as the only international polo network of its kind – British presented by Land Rover and leading travel specialist Abercrombie & Kent, returns to the USA on Saturday 30th May – from noon onwards– to 'swing their mallets' for British luxury heritage.
Hosted by the President of the Will Rogers Polo Club, Andrew Bossom; Lord Frederick Windsor; and his wife, actress and writer Sophie Winkleman, guests and VIPs will be treated to a day of fast-paced polo.
As part of an ongoing commitment to philanthropy, BPD USA is supporting local Los Angeles charity, Homeboy Industries alongside The UK Stem Cell Foundation.
Founded in 2009 by Edward Olver and his friend Tom Hudson, Polo Day Global Series has grown ​to encapsulate a network of 10 annual events, spanning the globe from Abu Dhabi to Australia, Mexico to Morocco (which Sir Richard Branson was recently involved with).
With last year's inaugural British Polo Day USA seeing the likes of The Duke of Argyll, David Walton, Elon Musk, Talulah Riley and Cassian Elwes come together to raise impressive funds for charity, this year's event is set to raise the bar ever-higher.
Nakoa Decoite, 'big wave' surfer, polo player and Royal Salute Ambassador will be among those celebrating the fundraising event of the season.
BritishPoloDay.com
___________________________________________