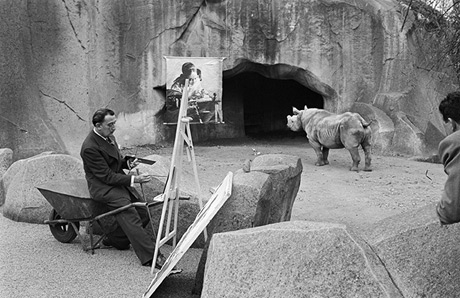 Art and photography lovers, get ready for "Revealed", a 30-plus compelling, once in a lifetime photography exhibition, curated by Olivier Widmaier Picasso, grandson of Pablo Picasso and author of "Picasso: Portrait Intime". Revealed will be exhibited exclusively at Riviera 31 at Sofitel Los Angeles in Beverly Hills.
The exhibition takes an intimate look at the world's greatest modern artists at work. The 30-plus compelling images were curated by Olivier Widmaier Picasso, grandson of Pablo Picasso, from the collection of French weekly magazine Paris Match. The photos are on display in the hotel's restaurant, bar and lobby.
Among the prized photographs are a black-and-white image of Pablo Picasso eyeing a Dalmatian longing to climb onto his lap, Salvador Dalí painting at the Paris Zoo, Jeff Koons styling a BMW for the 24 Hours of Le Mans, Pierre Soulages crouching over a work in progress, Kees van Dongen painting a posing Brigitte Bardot, and other striking images of René Magritte, Marc Chagall, Fernando Botero, Joan Miró, Jean Cocteau, Francis Bacon and others.
The "Revealed" Photography Exhibition will be open to the public, at Riviera 31 From April 24th – June 30th.
The exhibition has also inspired "Collection d'Art," ("art collection") a special menu selection created by Executive Chef Victor Boroda and served at the hotel's Estérel restaurant (www.esterelrestaurant.com). Chef Boroda draws inspiration from the work of the most famous painters of the 20th Century, whose intimacy and daily life are revealed throughout the exhibition. Menus include signature dishes whimsically aligned with three of the exhibit's featured art movements:  Cubism, Fauvism and Surrealism. The "Collection d'Art" three-course, prix fixe menus will be available from April 15th through June 30th, 2015.
As you're enjoying the exhibition, you can sip on some art-inspired cocktails by Riviera 31's mixologists. Two signature drinks were created for the occasion: The Picasso, Riviera 31's famous Strawberry Basil Martini revisited with a twist of while balsamic cream, strong and original like Picasso, and The Matisse, a savant mix of cucumber, mint, melon, and sparkling water, as fresh as the famous Matisse paintings. There will be available for guests viewing the photographs throughout the run of show.
"The debut of Revealed by Sofitel marks our continued commitment to arts and culture with outreach into the communities our property serves," said Eric Lemaire, Area General Manager Americas and General Manager Sofitel Los Angeles at Beverly Hills.  We welcome this exclusive collaboration to Los Angeles that further demonstrates the Sofitel luxury hotel brand's identification with acclaimed art worldwide."
Garden Mosaic "Revealed" by Sofitel at Sofitel Los Angeles at Beverly Hills completes a five-city tour across the U.S. and Canada.  The exhibit was launched at Sofitel New York in June 2014 and displayed last year at Sofitel Washington DC Lafayette Square, Sofitel Chicago Water Tower and Sofitel Montreal Golden Mile. The exhibition will travel to Budapest, London, Amsterdam, Paris and Munich, among other destinations.
Olivier Widmaier Picasso
The grandson of Pablo Picasso, Olivier Widmaier Picasso studied law and works as a producer and advisor for audiovisual media in Paris as well as a license developer with numerous artists including the name and works of his grandfather, Pablo Picasso.
He recently coproduced and hosted TV documentaries about contemporary art and opera, and portraits of major creators in fashion, design, photography, architecture and music. His mother, Maya, is the daughter of Pablo Picasso and Marie-Thérèse Walter, with whom the artist was together from 1927 until 1944.
He is the author of "Picasso, portrait intime" published in November 2013 (Albin Michel/Arte Éditions), soon to be translated in English, from which the TV documentary "Picasso, the legacy" has been adapted and will be broadcast worldwide.
Sofitel, World Class Hotels & French Elegance
Sofitel is the only French luxury hotel brand with a presence on five continents with 120 addresses, in almost 40 countries (more than 30,000 rooms). Sofitel offers contemporary hotels and resorts adapted to today's more demanding and more versatile consumers who expect and appreciate beauty, quality and excellence. Whether situated in the heart of a major city like Paris, London, New York, Shanghai or Beijing, or nestled away in a country landscape in Morocco, Egypt, French Polynesia or Thailand, each Sofitel property offers a genuine experience of the French "art de vivre."
Sofitel Los Angeles at Beverly Hills
8555 Beverly Blvd.
Los Angeles, CA 90048
Discover Sofitel on www.sofitel.com