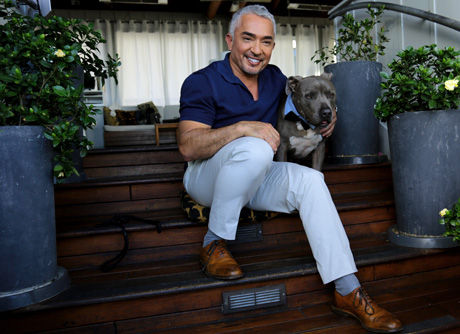 We had the chance to celebrate Cesar Millan's 2nd season of his Nat Geo Wild series "Cesar 911". Cesar Milan is well-known for his almost uncanny, seemingly-magical ability to be a "Dog Whisperer", to rehabilitate dogs and train people to achieve a balanced and natural relationship between humans and their pets.
His new series, Cesar911, takes Cesar's work with dogs to a whole new level. This time, Cesar takes on more widespread difficulties such as  neighborhoods terrorized by badly by misbehaving, troublesome pooches, and families literally falling apart, stemming from the complex difficulties caused by unruly pet dogs.
Some of the guests on the current season of Cesar911 attended the event, and this particularly thankful family shared their heart-felt thought with Cesar. We also hear from his executive producers:
[youtube]https://www.youtube.com/watch?v=5Y3EhVtSupY[/youtube]
In the Nat Geo WILD series "Cesar 911", Cesar Millan is contacted by victims of neighborhoods terrorized by mischievous dogs. Cesar with his 25 years of dog experience saves the neighborhood by showing the madness that erupts and how to synchronize with your pooch in those situations. To catch up on the latest of "Cesar 911" the link is www.Cesar911.com.
Guests were treated to a night of fun at Sky Bar at the Mondrian Hotel in Los Angeles, with an array of drinks, food, mingling, dogs and music by DJ Lindsay Luv. Special guests in attendance included Cesar Millan, Rebecca Cory, Sean Conlon with notarized K-9's Leroy Milo Brown, Biggie Griffon, Tuna, Manny the Frenchie, Balki Bones, Kingsley and Sailor and Scooby Doo.
Cesar Millan has shared his expertise with the public through his best-selling books,  public speaking, being a branded pet care entrepreneur and international star of Hit Series "Dog Whisperer", where Millan got his start on TV, which had a nine-season run that ended in 2012.
Along with opening a Dog Psychology Center, Cesar has authored and co-authored numerous New York Times best-sellers.  Cesar created a national non-profit organization in 2007 called The Cesar Millan Foundation, a foundation established to promote worldwide animal advocacy through educational programs.
For more info on The Cesar Millan Foundation their website is www.cesarsway.com
"Cesar 911" is produced by ITV Studios America. The third Season of Nat Geo Wilds "Cesar 911" is now in production.
Photo Credit Nat Geo WILD
___________________________________________________________________________________________
Sponsored Ad
Rox Center's Dr. Bruce B. Lee, OB-GYN, has a created and developed a ground-breaking procedure for the 7 million women in the United States who are suffering fibroid tumors and facing a hysterectomy.
Dr. Lee offers an alternative: Acessa, a safe, effective, and minimally-invasive procedure to treat fibroids. Cleared by the FDA, Acessa allows a quick recovery, a low relapse rate, and decreased postoperative pain, while eliminating the need for hysterectomy in most patients.
Doctors can now offer a new, outpatient, low-risk, highly-effective procedure, while patients can look forward to getting their lives back. Even better, Dr. Lee has opened his practice at the Rox Center in Beverly Hills and is now accepting new patients for Acessa treatment and more. www.FibroidLA.com
844.223.7221
__________________________________________________________________________________________