The flow of celebrities and VIPs kept WOW! Creations pre-Oscar gift lounge buzzing!
More great companies brought their brands to Hollywood and shared with tons of celebrities…
Koreball is a collapsible kettleball that allows you to adjust the weight, using water! Take your workout with you. the convenience is half the battle to getting your workouts in! The Koreball is a core-based, full-body, high intensity, interval training, fat-burning workout that you can do in only 30 minutes or less with Koreball. Rick Warren, 3rd degree black belt and a certified personal trainer who has trained 1000s, created this brilliant device for people of all ages to stay fit. www.koreball.com
Celebs tried Made in Utah's Ogden's Own Distillery samples of their premium liqueur and Spirits, including a vanilla Five Wives Sinful Vodka and other natural flavors, Award-winnin Underground, handcrafted herbal spirit,  and Porter's Fire Cinnamon Whiskey Liqueur. What a delicious spin on classic spirits! Two thumbs up! www.ogdensown.com
Talk about delicious coffee! Ponderosa Roasting Coffee Company is a small premier micro-roaster that has been in the business for years and has shipped all around the world. They found the 'just right' way to roast coffee to bring out its optimal flavors, and they succeeded. They roast their coffee on a 'renegade roaster' with a variety of regular and flavored teas and coffees. They also provide coffee for private labels, and sell their special roasting machines for both home use and commercial www.Ponderosaroasting.com
Pronutz provided a tasting of their yogurt-covered, non-GMO pistachios, which provides probiotics, to make for  optimal, healthy snacking. They also offer chocolate-covered pistachios, and other flavors. Quite delicious and a great new idea.  www.pronutz.com
Cottage Kitchen Foods make delightfully delicious, all-natural organic crackers. Cottage Kitchen foods feature six gourmet flavors that pair great with wine and cheese. Or just quite delicious on their own.  www.cottagekitchenfoods.com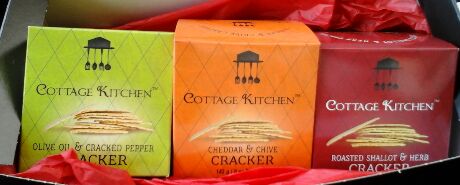 EMK Plancetal Botanical Skincare is one of the top anti-aging botanical placenta skin treatments. Their most popular products are their serum,  night cream and eye gel. EMK Plancetal's most cherished core value is integrity, they will never let business compromise their formula.  www.emkplacental.com
Under the Sun is hair care specifically created for coastal living as well as embraces all the elements of culture of coastal living. Their hair care protects against sun, salt, heat and humidity, which all damage hair and make it look less than ideal. It is sulfate and sodium chloride free.  www.alwaysunderthesun.com
Fudge is My Life is Preservative-free Fudge sauce made with no corn syrup and all natural ingredients.  It's produced in small batches and comes in 5 flavors:  dark chocolate, orange chocolate, mint chocolate, mocha and ginger. www.fudgeismylife.com
The coolest new trend is 'modern' tattoo jewelry. Gorgeous designs in gold or silver, are easily applied and last up to 6 days. www.goldnineink.com
A celebrity and VIP  favorite, Pop Chips reigns as the healthy and tasty snack that you can always pop in on the go.  www.popchips.com
Burkart Organics from Dinuba, Calif., were in Hollywood, presenting their certified organic, preservative-free Tangerine, Vanilla Bean Marmalade, with fresh stone fruit grown from their farm.  Burkart Organics gifted summertime dried stone fruit, including apricots, persimmons, and jujubes. www.facebook.com/burkartfarms.
Radar Watches are mix and match watches so you can wear your own original design. With different colors of straps and watches, you can customize personally into 121 different designs. www.radarwatches.com
Bedol clocks are energy-saving clocks powered by water. Bedol clocks never need batteries or electricity. Most recently, Bedol released water powered watches. www.bedol.com
Continue here for more great brands from the Pre-Oscar gift lounge by WOW! Creations…
Return to beginning of article here!
More Great SWAG from WOW! Creations 2015 Pre Oscar Gifting Suite – See more at: http://lastheplace.com/2015/03/09/more-great-swag-from-wow-creations-2015-pre-oscar-gifting-suite/#sthash.AyhToHaN.dpuf
______________________________________________________________________________________