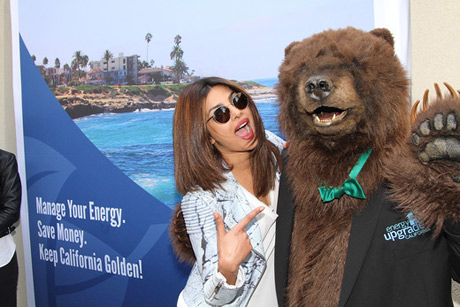 GBK in association with STOP-ATTACK.COM hosted their signature gifting lounge at L'Ermitage Beverly Hills in honor of the 87th Annual Academy Awards. The Luxurious gifting lounge was designed to enhance the lives of Hollywood' elite, and in turn, raise money through the support of various charities.
STOP-ATTACK.com, partnered with GBK to bring some awareness to this luxury lounge. STOP-ATTACK.com is an assault-response application (app), designed to be easy to use, quick to activate and reliable in an occurrence of any type of violent encounter. Stop-Attack the app is an invaluable personal protection app and services for IOS and Android mobile devices. resource. Tap … record, get help, take control. www.stop-attack.com
The GBK Charity was Each Mind Matters, which is a California's Mental Health Movement, a movement made up of millions of individuals and hundreds of organizations working to advance mental health. Each Mind Matters will also be gifting items from their shop, and their sponsor Philosophy.com with their hope & grace initiative.
Philosophy.com contributed a jar of "renewed hope in a jar" all-day skin-renewing moisturizer from their product line. The hope & grace initiative represents an unprecedented and unending commitment by philosophy to support mental health and well-being. With the Hope and Grace Initiative Philosophy.com will donate 1% of product sales to support community-based mental health efforts. www.eachmindmatters.org, www.philosophy.com
Energy Upgrade California® is a state initiative to aid Californians in saving energy, natural resources, help reduce demand on the electricity grid, and make informed energy management choices at home and at work. www.energyupgradeca.org
Guests satisfied their sweet tooth with gifts from MY M&M'S®, providing attendees with silver favor tins filled with award-themed personalized M&M'S® and creating a tabletop display where guests created their own blends of M&M's. www.mms.com
Celebrities in attendance were:
Scheana Marie, Yvette Yates, Pandora Vanderpump, Khandi Alexander, Richard Linklater, Kaitlin Doubleday, Trai Byers, Larraine Bracco, David Anders, Grace Gealey, Julien Feret, Hu Wei, Jonathan Sehring, Vincent DePaul, Naomi Grossman, Cortney Palm, Keith Stanfield, Steve Glickman, Shanola Hampton, Mekhi, Phifer, Rob Steinberg, Bruce Davison, Tricia Helfer, Yara Shahidi, Alexander Dinelaris, Martin Landau, Priyanka Chopra, Drake Bell, Travis Aaron Wade, Andy Dick, Blanca Blanco, John Savage, Kristen Renton, Christina Milian, Lyndie, Greenhood, Henry Sanders, Amy Landecker, Zoe Graham, Diane Warren, AJ Buckley, Melia Kreilimg, Nata Anderson, Keir O'Donnell, Robert Morse, Jennifer Cox, Daniel Baldwin, Nick Wechsler and more.
Celebrities were gifted from a range of health, wellness, beauty and fashion brands that filled the lounge including: exotic destinations and pet products, to hand-crafted jewelry and indulgent artisan chocolates. Goodboy provided a jubilant ambience with their music as well as put the finishing touches onto this celebratory event.
Dr. Jamie Sands is a Cosmetic Dentist, gifting a comprehensive dental exam and an in-office professional teeth whitening. www.studiocitycosmeticdentist.com
Beauty Kitchen is a show on Heather Marianna YouTube channel, Hannah provided skin polish, hand cut soap bars and natural spa products for attendees. heathermarianna.tv/beauty-kitchen/
DermaSet 3D is an Anti-Aging Renewal Treatment that reverses aging at a deeper and cellular level with their all in one anti-aging cream. www.dermasetcream.com
Basiccare gifted an exclusively developed new Basicare beauty Kit for Attendees.
Jonathan Hair Care gifted an array of their prolific hair care products that provides stronger and healthier  hair. www.jonathanproduct.com
Lalo Fitness is a celebrity trainer that was there to help celebrities look their best for the red carpet, he gifted 3 personal training sessions and his workout DVD. www.lalofitness.com
L.A. Star Greens  gifted their Perfect 10, which is the world's first certified organic supplement  blend of the top 10 superfoods. Including essential B12 and C vitamins. www.lastargreens.com
John Kelly Chocolates gifted an eight piece assortment of their signature chocolates with amazing attention to detail  gift box. www.johnkellychocolates.com
WonderWoof gifted their dog activity tracker that promotes your pup's healthy and social lifestyle through the Wonderwoof app, which reminds the owner of specific activities their dog and connects then with other avid dog lovers in the area.  www.wonderwoof.com
Support Your Pet is a pet lover database that features the highest rated pet supplies and services to aid other pet lovers for optimal care of your pet. www.supporturpet.com
Blaze Clothiers is a new luxurious clothing line incorporated in 2013, notarized as the next rival to Polo Ralph Lauren.
Shatra Designs is a company who inspires the customer their true personality through style for no single person is the same. Shatra Designs gifted their Bohemian-inspired luxury jewelry. www.shatradesgins.com
Bands for Arms creates unique hand made bracelets out of donated military uniforms. Bands for Arms gives up to 50% of proceeds to military non-profit organizations. www.shopb4a.com
Haala Denim is a luxurious denim brand portraying the iconic American lifestyle that will produce trend setting fashions every season, never becoming stagnant. www.haaladenim.com
Hazel and Harmony  gifted gorgeous bracelets handcrafted in Connecticut featuring the finest semi-precious stones with meaning and a corresponding hash tag that matches the intention & style of the stones from. www.hazelandharmony.com
Other sponsors included:
Alila Hotels and Resorts feature complete destination experiences of healthy, enriching and luxurious lifestyles. Alila provided gift certificates for guests to stay at Alila properties in India, Oman, Bali and more. www.alilahotels.com
Still With You is a company that creates heart-warming memorial statues to comfort the grieving after a losing someone dear. www.stillwithyou.com
Fancy Pants Wines sources all of their grapes from the best Californian vineyards.  Fancy Pants Wines gifted their refreshing Pinot Grigio and rich, juicy Red Blend in their fresh, approachable bottle design.  www.fancypantswines.com
Jim Hjort is a LCSW Psychotherapist and Right Life™ Coach gifting his services to help enrich the lives of those in need.  www.JimHjort.com
More on GBK:
GBK, formerly GBK Productions, is a luxury lifestyle gifting and special events company, specializing in entertainment marketing integration. Formed in 2000 by Gavin Keilly, the company's Founder and CEO, GBK consists of five divisions: GBK Celebrity Gifting, GBK Special Events, GBK Weddings, GBK Charitable Consulting and GBK Marketing/Public Relations. Widely known in the entertainment industry for bringing that little extra something into the Gifting Lounge environment, GBK offers its clients a full range of marketing services. www.gbkproductions.com
_________________________________________________________________________________________________
Wait! Don´t forget to Subscribe for Free!
Main Feed | What is RSS?
Enter your E-mail below to Subscribe

*
No spam
|
Privacy Policy
We will not sell or distribute your e-mail address to anyone else.
Written by Staff Writer