From art, to jewelry, to bath and body to cosmetics, the list of treasures from The Artisan Group's lush gift bag for the Golden Globes included more divine goodies. The Bath and Body Brands!
Bizzy Fizz Bath Treats:
Laura and Skylar Bisel's Bizzy Fizz is a family-owned and operated company, inspired by a six year old child who is passionate about bath fizzies and wanted to make quality bath fizzies for the world. They gifted their Cooling Foot Scrub by Bizzy Fizz Bath Treats.

Dollipop Cosmetics:
Jennifer DeHerrera's Jubilant indie cosmetic company's mineral eyeshadows are super-pigmented and go on smooth for all day wearability. Most are packed full of sparkle and shimmer! Jennifer assures their integrity and high standards in all products, as well as vows their vegan roots are truly vegan. She gifted her Utopia 3g Pigmented Mineral Eye Shadow Jar  with sifter.

Zoe Natural Creations:
Shawna Wilkinson's Zoe Natural Creations is passionate about creating body care products that look, feel and smell great and that assures you that you need not to be spectacle of the ingredients you put on your skin. She gifted her Coffee + Sugar Body Scrub by Zoe Natural Creations.

The Grapeseed Co.
The Grapeseed Co. was founded on the desire to create premium organic anti-aging beauty products using the local, antioxidant rich byproduct of wine. Made with love and certified organic ingredients, pure essential oils and local grape seeds; the Grapeseed company has a variety of body care and gifts for dogs, babies, men, and your home. The Grapeseed Company gifted their Dirty Dog Organics Gift Set – wash & fur freshener

Soap Cauldron:
Soup Cauldron by Emma Mann is avid in the movement to bring natural herbal care back as a primary choice for anyone who wants a more natural approach to their daily wellness. She gifted her California Mission Fig & Honey Bar Soap.
Olivü 426:
Caitlin Brotz's Oluvu 426 strives to bring the high quality natural ingredients to you and your loved ones that work with your body at an affordable price. Each product in the store is hand-poured daily or weekly by our staff to assure fresh, high quality standard. She gifted her Olive Whipped Lotion and Pomegranate Lip Balm by Olivü 426.

House of Matriarch:
Christi Meshell has achieved a lifelong study of natural correspondences, sacred cosmology and plant medicine, knowledge which finds practical application in the fragrance creation and marketing processes with her House of Matriarch brand. She gifted BLACKBIRD & Ambre Vie Artisan Perfume Duo by House of Matriarch.

Ellison's Organics
Ellison's Organics 3-Free Nail Polish in Bigger on the Inside – Vegan Nail Polish Gifted "Bigger on the Inside" Vegan Nail Lacquer.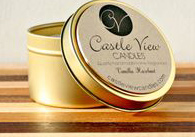 Castle View Candles
Jessica Markham's Castle View Candles offers handmade soy candles and home fragrances; you can find a selection of our scents in local shops as well as online. She gifted her Vanilla Hazelnut Soy Candle.
The Blissful Dog, Inc.
Kathy Dannel Vitcak strives to provide uber-effective products for dogs, handcrafted using the highest quality organic ingredients inspired not just for your dogs but for her own as well. She gifted her 'Is Your Blissful Dog Ready For Her Close-up?' by The Blissful Dog®, Inc.
Click here to see The Artisan Group® Jewelry & Accessory Designers
Check out The Artisan Group® Art, Photography, Stationary
Return to The Artisan Group at the 2015 GBK Golden Globe Gift Lounge