GBK in association with Pilot Pen, held their annual premier luxury lifestyle gift lounge in honor of the nominees and presenters of the 72nd Golden Globe Awards at the W Hotel in Hollywood. This lavish gifting lounge created an opportunity for celebrities, VIPs and the media to explore prolific brands from around the world, as well as support and be educated on the charities and causes they have to offer.
Pilot Pen commemorated the 72nd annual Golden Globes Awards through a celebration of artistic excellence and self-expression. At the lounge, celebrities were introduced to the Japanese origami tradition, which states that if you fold 1000 origami cranes, a wish will be granted.  Their exhibit encompassed 1000 origami cranes and attendees were invited to write a wish for their charity of choice while sharing it on social media using #pilotwish.
Pilot is making a $5000 donation to the individual whose charity receives the most shares, retweets, or regrams.  Currently, Jamie Camil, Director of nominated show 'Jane the Virgin,' is in the lead with 706 social interactions for his charity, Casa de la Amistad.
All guests also received the Vanishing Point Fountain Pen, the world's first and favorite retractable fountain pen, and FriXion Clicker Erasable Gel Ink Pen 8 Pack Pouch, an entirely new kind of erasable pen that is retractable, has striking good looks and ink that is formulated to write smooth and erase cleanly. For more information about their assortment of pens, please visit: PilotPen.us and Powertothepen.com.
As always, GBK featured several charity beneficiaries to participate in the lounge to educate guests about their cause. This year's honored non-profits include: Lambda Legal (lambdalegal.org), World Vision (worldvision.org) and YES, Beat Liver Tumor, (beatlivertumors.org)
Lambda Legal is the oldest and largest national legal organization aspiring to achieve full recognition of civil rights for lesbians, gay men, bisexuals, transgender people and those with HIV; through impact litigation, education, and public policy work. As a nonprofit organization, Lambda Legal does not charge their clients for legal representation or advocacy, and receives no government funding. They depend on gracious contributions from supporters around the country. For more information on how to support this progressive cause visit www.lamdalegal.org.
World Vision is a Christian humanitarian organization dedicated to working with children, families, and their communities worldwide to reach their full potential by tackling the causes of poverty and injustice. They have a presence in nearly 100 countries, serving all people, regardless of religion, race, ethnicity, or gender; providing emergency assistance to children and families affected by disasters and conflict, partner with communities for long-term solutions to alleviate poverty, and advocate for justice on behalf of the poor. To Support World Vision's Cause visit www.worldvision.org for more information.
YES, Beat Liver Tumor was founded by three colon cancer survivors and two caregivers, each of the co-founders had received a grim prognosis and were faced with very few or no treatment options. Discouraged by the lack of information and resources available to those affected by liver metastases and concerned about the under-representation of survivors, YES was created to bring support and educate those who are effective by liver tumors. Yes is avid in changing the face of primary hepatocellular carcinoma or liver metastases by: advocating for continued coverage of brachytherapy procedures and increased funding for cancer research, and educating liver tumor survivors of possible treatment options. For more information on Yes or how to aid them in their efforts to relieve liver tumors and their detriments to those affected visit www.beatlivertumors.org.
Some of the unique products included:
Tropical Vacations: A three-night stay at Puerto Vallarta Beach Club in a private, spacious 3 bedroom villa. A four-nights at Ce Blue Villas Beach Resort in Crocus Bay/Anguilla for 2 guests from Caribbean Living. And, An amazing Villa at the Viceroy in Bali.
JetSmarter provided one-month memberships providing private flights worldwide, which includes wholesale jet pricing and free empty leg flights.
Electronic cigars from Citizen e-Cig, a company dedicated to helping undo the hazards of smoking and get as many current smokers to quit through switching to the e-Cig alternative.
Three sets of reusable beeswax food wrap that keeps food fresh naturally from Abeego.
The world's first performance fabric sheets that are ultra-soft and technologically advanced to keep you cool, dry and comfortable from SHEEX.
Creeper Crawlers, developmental clothing for babies including their easy grip crawl suit;.
The latest tech gifts from LG Electronics.
Fashion and accessories are always a crowd-pleaser at GBK lounges, and this year was no different. Guests received a wide variety of classic and trendy brands including:
Samiah Fine Clothing, gifting hand-made brocade shoulder bags.
Sledge USA MLB collection, women's and men's MLB licensed fashion apparel in all MLB teams.
A collection of trendy jewelry, spa and bath products, fine art photography, stationery, pet products, and other handcrafted gifts from The Artisan Group®. www.ArtisanGroup.org
Gift cards from Beyond the Rack, an online shopping club with great brands and great weekly deals, it's North America's hottest online shopping club.
Rainbow Druzy Open Cuff bracelets which feature a stunning titanium coated stalactite quartz from BraveChick.com.
Canadian handmade, premium crochet hats from Canada Bliss.
A collection of wearable art consisting of sculptural pieces that are edgy yet refined from Westland Jewelry.
Beauty sponsors included:
Burke Williams and H2V, gifting H2V's new Eye-tox 3 serum and a gift certificate for a Burke Williams Advanced Eye Lift enhancement
Beauty Kitchen by Heather Marianna, provided her skin polish, hand cut luscious soap bars and natural spa products.
GBK also featured premium selection of edible sweets and treats:
Barry's Gourmet Brownies, a celebrity-favorite at the GBK Lounge, provided a gift box of of assorted flavors.
Sabra Dipping Company, a leader in the refrigerated dips and spreads category and producer of Americas top-selling hummus, sampled Sabra's salsa, dairy dips, guacamole, and award winning hummus from the Brand's tasting station as well as gifted a reusable cooler bag full of single serve Sabra products and chips
Cupcake Fusion L.A., a bakery know for delightful and whimsical combinations of sweet and savory cupcakes, showcased their cupcakes
Corazon's Custom Catering, a family-owned Filipino business that caters a fusion of Filipino-French cuisine, will be on site sampling and gifting certificates for complimentary Food Tasting Parties
My Candy Basket was a big hit with their beautifully created baskets of goodness.
No Party is complete without a bar. This bar had organic, low-calorie, gluten-free Bare Organic Mixers® that are made with juice, water, and agave syrup and of course for those that just wanted wine, the first premium single-serve pouch wine , Nuvino, was available.
Greenroom also had: Suja Juice, Joia All Natural Soda, Vita Coco, Coco Café, popchips, Pretzel Crisps, Pasta Chips, and PROBAR.
The following celebrities attended the GBK gifting lounge for the Golden Globes:
Alanna Ubach, Andrea Navedo, Anna Trebunskaya, Arien Escarpeta, Azie Tesfai, Bethany Jay Lenz, Caitlin O'connor, Candace Cameron, Casper Smart, Cathryn De Prume, Charlene Tilton, Charles Rahi Chun, Cheech Marin, Chin Han, Chord Overstreet, Christopher McDonald, Christy Romano, David Glasser, Dot Marie, Edie McClurg, Gary Busey, Gilbert Gottfried, Gina Rodriguez, Glen Powell, Golden Tate, Jacqueline Tobini, Jaime Camil, Jamie Kennedy, Jasmine Dustin, Jason Ritter, Jax Taylor, Jill Whelan, Jillian Rose Reed, Johnathon Schaech, Jonathan Magnum, Justin Baldoni, Katie Maoloney, Keith David, Keith Stanfield, Kelly Stables, Kristen Doute, Lisa Vanderpump, Lorelai Linklater, Madchen Amick, Maitland Ward, Mark Rolston, Mekhi Phifer, Mike Vulpe, Molly Hagan, Moran Atias, Neicy Nash, Nicolas Giacobone, Nikki Deloach, Pandora Vanderpump, Pat O'brien, Robert Steinberg, Sheana Marie, Stef Dawson, Tahj Mowry, Tamela jones, Tom Schwartz, Tony Denison, Viola Davis.
More on GBK:
GBK, formerly GBK Productions, is a luxury lifestyle gifting and special events company, specializing in entertainment marketing integration. Formed in 2000 by Gavin Keilly, the company's Founder and CEO, GBK consists of five divisions: GBK Celebrity Gifting, GBK Special Events, GBK Weddings, GBK Charitable Consulting and GBK Marketing/Public Relations. Widely known in the entertainment industry for bringing that little extra something into the Gifting Lounge environment, GBK offers its clients a full range of marketing services.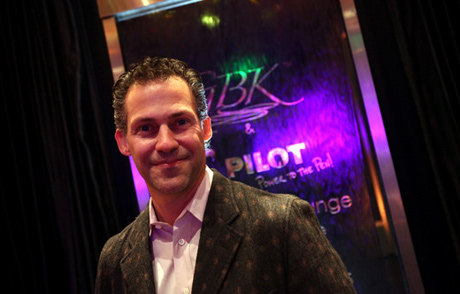 For more information on Gavin B. Keilly (CEO), Carla Domen (VP) or GBK, please go to gbkproductions.com