Keratherapy has revolutionized the salon industry with their new solutions of keratin therapy treatment with supportive after care products to enhance any salon goers experience.  Founded in 2010 by David Mulhollen Jr., Keratherapy came on the scene at a time when there was a worldwide demand for high performing formaldehyde-free keratin smoothing treatments. Mulhollen was able to offer natural low-fume traditional keratin smoothing treatments to address every woman's individuality of hair and quickly grew the company to become an industry leader worldwide.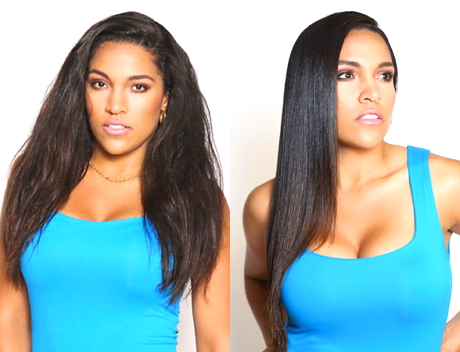 Mulhollen maintains that every woman wants to enjoy the benefits of smoothing treatments, but they don't all want curl reductions and all have different budgets, for this reason Mulhollen created an innovative new three tier approach to keratin smoothing treatments, to offer solutions based upon every clients' diverse demands.
The first tier is an in-salon extended professional treatment that lasts up to four months. The second tier consists of "express" professional treatments that last 30 to 45 days, including a service for locking in hair color and extreme frizz control. The third tier is a Professional Blowout service using Keratherapy's Daily Smoothing Cream that lasts until your next shampoo. Keratherapy's Keratin Infused Home Care Smoothing Collections do not only extend the life of the professional treatments, but also allow salon clients to enjoy smooth, silky, healthy hair without a treatment. Keratherapy suggests a visit with your local salon professional for a hair smoothing treatment consultation.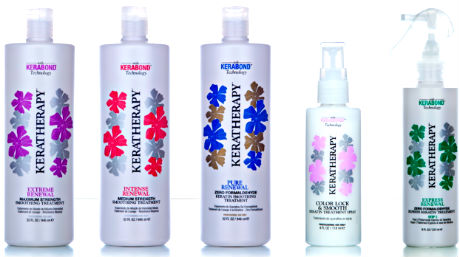 Professional Keratin Systems
Keratherapy's Professional Keratin Systems features their proprietary Kerabond Technology® which is a breakthrough Keratin Renewal Treatment that easily and effectively repairs and smooth's while releasing almost no fumes into the environment.
Extreme Renewal Maximum Strength Smoothing Treatment
The Extreme Renewal Maximum Strength Smoothing Treatment is now new and improved with a lighter consistency for faster application and unsurpassed Frizz Control and Curl Reduction. This elite elixir offers maximum smoothing and curl reduction for even the thickest hair. Extreme Renewal deeply penetrates the hair shaft for maximum repair, while a unique blend of silk amino acids, organic shea butter emollients, natural green tea antioxidants and pure keratin shield the hair to reduce excess volume and frizz, eliminate dryness and brittleness, and deliver long-lasting nourishment and protection for up to 16 weeks. As well as being safe for colored-treated hair.
Intense Renewal Medium Strength Smoothing Treatment
Intense Renewal Medium Strength Smoothing Treatment provides use the finest organic ingredients, including powerful silk amino acids, plus soy and antioxidant proteins that provide serious repairing power while limiting fumes. Safe for color-treated hair and lasts up to 12 week to some degree less of a curl reduction and lasts for up to 12 weeks.
Pure Renewal Zero Formaldehyde Keratin Smoothing Treatment
Pure Renewal Zero Formaldehyde Keratin Smoothing Treatment is a 90 minute formaldehyde-free keratin treatment that rejuvenates frizzy and chaotic hair to silky smooth perfection. Safe for color treated hair and delivers medium curl reduction and complete frizz control for up to 12 weeks combined with a blend of the highest grade of jojoba, argan and rosemary oils, we have now brought the future of keratin treatments to contemporary  society.
Express Renewal Zero Formaldehyde Express Keratin Treatment
This Zero Formaldehyde Express Keratin Treatment is a 30-45 day professional keratin smoothing treatment designed as a natural way to eliminate frizz, while reviving and smoothing hair. Infused with sugarcane, ginger root extract, wild bilberry and ginseng this formula will have nourish your hair into a silky, shiny, and exuberating hair for 30-45 days.
Color Lock & Smooth Keratin Treatment
Color Lock & Smooth Keratin Treatment Spray is a dual purpose professional treatment used as an add-on to any hair color service that dramatically improves the vibrancy and longevity of color. It safeguards hair color as well as an in salon express treatment offering frizz and curl control. Compliable with all hair types this 2 in 1 formula revitalizes depleted keratin and collagen proteins that will leave your hair glistening for up to 4 weeks.
Keratin Smoothing Home Care Collections
The Keratin Infused Moisture Collection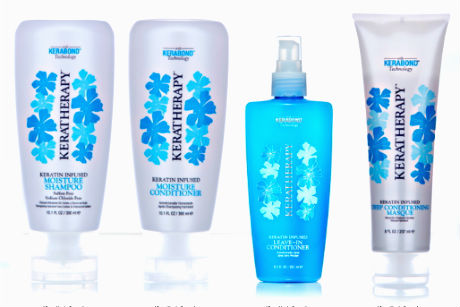 The Keratin Infused Moisture Collection starts off with the Keratin Infused Moisture Shampoo, this sulfate-free and sodium chloride-free shampoo with an abundance of antioxidants, aloe and keratin to preserve your hairs strength and shine. The Keratin Infused Moisture Conditioner is equipped with an extravagant mix of wheat germ oil, panthenol, collagen amino acids, and keratin to lock in moisture leaving your hair silky, smooth, and irresistible. The Keratin Infused Leave-in Conditioner is a multi-faceted conditioner and detangling spray supported by wheat germ and Jojoba seed oils to control frizz and keep your hair looking shiny and refreshed. For extra nourished, hydrated healthy hair the Keratin Infused Deep Conditioning Masque with a cast of jojoba, walnut, and chestnut oils to revive damaged hair to bring to fruition unprecedented elasticity, strength, moisture and shine.
The Keratin Infused Volume Collection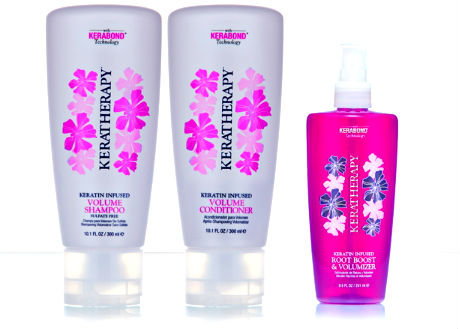 The Keratin Infused Volume Collection includes the Keratin Infused Volume Shampoo which is fixated with natural proteins, vitamins, and botanical extracts to gently cleanse and remove build up from the scalp. The Keratin Infused Volume Conditioner is designed to hydrate, illuminate, and detangle while replenishing elasticity and vitality to corroding hair.  The Keratin Infused Root Boost & Volumizer is a dual-agent as a root lifter and an all over bodifier for all types of hairs and textures to bring out the ultimate body, fullness, and texture in your hair.
The Keratin Infused Styling & Finishing Collection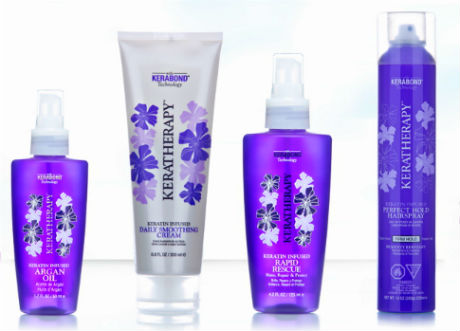 The Keratin Infused Styling & Finishing Collection includes Keratin Infused Argan Oil that offers the healing benefits of Moroccan Argan oils without the extra build up and weight. The Keratin Infused Daily Smoothing Cream is a signature heat activated treatment that restores and revitalizes dull and frizzy hair, while fortifying cuticles and eliminating frizz. The Keratin Infused Rapid Rescue is a phenomenal formula armed with coffee bean and and macadamia seed oil to aid in the restoration of split ends and prevent moisture loss, as well as crushed pearl powder, wheat protein, and keratin to mend damage caused by everyday life. The Keratin Infused Perfect Hold Hairspray is made up of papaya extracts, chamomile, and cocoa seeds that provide humidity protection to give your hair that fresh out of the salon feel.
Keratherapy was founded on the belief that every salon client desires smooth, silky and frizz-free hair!  Keratherapy offers a Keratin Therapy regimen for every client, regardless of your hair type.  Five professional salon treatments and eleven premium maintenance products are available at professional salons today. Keratherapy is successfully distributed in more than 37 countries worldwide and they continue to be the fastest growing keratin smoothing company in the world. You can even now have formaldehyde-free treatments for a natural alternative to chemical smoothing.  Learn from Keratherapy's educators what the difference is between formaldehyde smoothing treatments and all natural alternatives, so you can have a choice at your local salon. For more information on Keratherapy, call 855-537-2843 / 954-628-5163 or visit www.keratherapy.com