Treat your princess like a queen this holiday season with Pure Brazilian's new Essential Home Care System formulated to prolong the brand's in-salon Keratin Smoothing Treatment, this line features 6 amazing products, plus a convenient Travel Size Kit that are designed for daily use and fortified with keratin, exotic oils and super hair nutrients these products will leave your hair super silky, shiny and frizz-free even without the Pure Brazilian® Treatment! www.purebrazilian.com 
Anti-Frizz Shampoo
$6.00 – $80.00 (3 sizes)
The exclusive formula uses a sodium chloride free system to gently cleanse without stripping the treatment. Preserves moisture and gives amazing shine and health.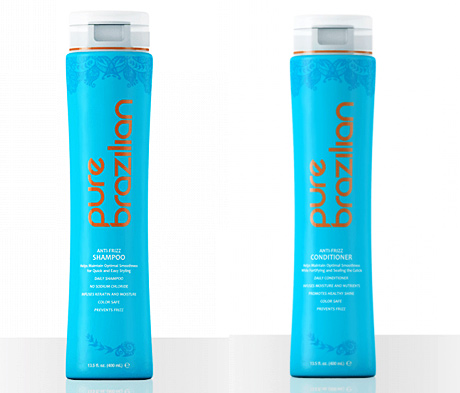 Anti-Frizz Conditioner
$6.50 – $90.00 (3 sizes)
Rich moisturizing conditioner with vital nutrients, along with keratin and bamboo helps create luxurious softness and shine. Use daily to help strengthen and fortify the cuticle, while protecting hair color.
 
Daily Anti-Frizz Serum
$7.50 – $30.00 (2 sizes)
Designed to be used before blow-drying and styling. This specially designed serum coats the hair with nutrients and keratin to lock in moisture. This product is lightweight and leaves the hair bouncy and shiny. UV and HEAT protection! Pure Brazilian DAILY ANTI-FRIZZ SERUM contains rich amino acids that strengthen the hair preventing split ends. Provides Daily Styling Protection.
Deep Conditioning Masque
$8.00 – $140 (3 sizes)
Like a drink of vitamins and nutrients for your hair. The MASQUE fortifies the cuticle using essential nutrients, such as Keratin and Cocoa Seed Butter, leaving hair feeling like satin! The Final Results: Smooth, Frizz-Free and Radiant Hair!
Miracle Leave-In Conditioner
$6-$26 (2 sizes)
An ultra reparative Keratin infused conditioner that re-constructs dry damaged hair by restoring keratin proteins, the building blocks of hair, that have been depleted by chronological aging or styling, chemical and environmental damage.
Shine Ultra-Light Nourishing Oil
$26.00
Ultra-Light Nourishing Oil features a proprietary blend of exotic oils, including Camellia Oil from Japan and Abyssinian Oil from Africa, along with seaweed and Vitamin E. The results are an extreme shine that instantly de-frizzes and infuses the hair with both color and thermal protection leaving it silky smooth while returning hair to its healthiest condition ever. Never greasy or staining, this clear miracle-in-a-bottle takes shine and smoothness to the max without the use of sulfates, salt or gluten and 100% vegan.
4 -Piece Travel Size Kit
$28.00
Everything you will need to ensure long-lasting results and stay frizz-free on-the-go!
Get salon quality hair at home. Check out this video from Pure Brazilian!
[youtube]https://www.youtube.com/watch?v=jA64HU7pGdA[/youtube]
________________________________________________________________________________________________________