Moonshine has an interesting history. The word "moonshine" is derived from the term "moonrakers" used for its clandestine (by the light of the moon) nature of the operations of illegal Appalachian distillers who produced and distributed whiskey. Moonshine has found it way into the mainstream, more than ever, and STILLHOUSE® SPIRITS CO., known for its acclaimed STILLHOUSE® Moonshine Whiskey, has expanded its portfolio with four new flavors: Red Hot, Peach Tea, Apple Crisp and Coconut. All are infused into the award-winning moonshine spirit, and packaged in the Brand's patented glass jug.
STILLHOUSE SPIRITS CO. was founded in 2012 with STILLHOUSE® Original Moonshine and has received two medals at the San Francisco International Spirits Competition. Derived from corn, the premium spirits company uses 100% estate-grown corn in a propriety recipe and distills it five times for a superior flavor and purity. The four new infused moonshines are built on a foundation of STILLHOUSE® Moonshine Whiskey and gain their individual, artisanal personalities through the infusion of all-natural flavors.
STILLHOUSE SPIRITS shared some great Thanksgiving Cocktails made from their fabulous moonshine:
THANKSGIVING TURKEY
2 oz Stillhouse Original
2 oz Fresh Juiced Squash
3/4 oz Browned Butter
3/4 oz Sage simple syrup
Method: Shake & fine strain. Serve down
Garnish: Whole cinnamon stick
Glass: Rocks Glass
STILLHOUSE'S WINTER DREAM
2 oz juniper-infused Stillhouse Original Moonshine
1 oz pasteurized organic egg white
2 oz Fresh squeezed orange
¾ oz fresh lime juice
¾ oz rosemary simple syrup
Garnish: Brush the Fresh Rosemary sprig across the side of the glass briskly to activate aromatics/
Method: Shake & strain
Glass: Coupe Glass
THE SHINER
1 ½ oz STILLHOUSE
Original Moonshine
Method: Bruise it, Pour Over Fresh Ice into an old-fashioned glass and top with twist of lime
Garnish: Twist of Lime
Glass: Rocks Glass
AUTUMN MOONLIGHT:
3/4 oz fresh lemon
3/4 oz simple syrup 1:1
1 oz STILLHOUSE Peach Tea Moonshine
1 oz STILLHOUSE Original Moonshine
5 dashes Fee Brothers
Peach Bitters
2 oz club soda
Method: Build ingredients over ice in a Collins glass
Garnish: Sprig of Rosemary
Glass: Collins Glass
WHOLE LOTTA LOVE:
2 ½ oz STILLHOUSE Original Moonshine
½ oz Luxardo Maraschino
Method: Stirred, served straight up
Garnish: 2 Red Grapes
Glass: Coupe Glass
SWEET EMOTION:
Bitter Truth Aromatic bitters
1 oz STILLHOUSE Coconut Moonshine
1 oz STILLHOUSE Original Moonshine
½  oz Ristretto Galliano
½  oz Italian red vermouth
Method: Build in rocks glass over big cube of ice, and stir
Garnish: Orange Peel Zest
Glass: Rocks Glass
"STILLHOUSE's dynamic portfolio sets the standard for moonshine cocktail lovers, from the higher proof STILLHOUSE® Original Moonshine (80-proof) to the mixer-friendly, naturally infused flavors (40-proof)," says Brad Beckerman, Founder & CEO, STILLHOUSE® SPIRITS CO.  "We are pushing the boundaries of consumer expectations around moonshine. With our full portfolio, we're capitalizing on the growing demand and popularity of the whiskey category and giving consumers yet another reason to celebrate with friends."
Moonshine aficionados can enjoy STILLHOUSE® at top restaurants, bars and lounges around the U.S., as it is now a mainstream spirit, enjoying great popularity.
Every jug of STILLHOUSE is produced and bottled in Louisville, Kentucky. The headquarters is located in Los Angeles, California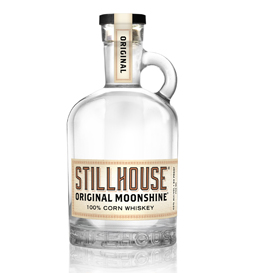 STILLHOUSE® Moonshine Whiskey is available in 750ml for a suggested retail price of $24.95, for original and naturally-infused flavors. STILLHOUSE is distributed by Southern Wine and Spirits, Glazers and Allied Beverage Group and is currently available in select markets across the U.S. including Florida, Texas, California, New York, Indiana, Illinois, Nevada, Colorado, New Jersey, Maryland/DC, Kentucky, Michigan, and Virginia.
For more information on STILLHOUSE® visit: www.stillhouse.com