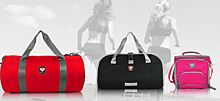 Fitmark has created the most efficient, fashionable on-the-go bags that embrace the idea of looking and feeling good both inside and outside. Read more in Health and Fitness...
Wait! Don´t forget to Subscribe for Free!
Main Feed | What is RSS?
Enter your E-mail below to Subscribe

*
No spam
|
Privacy Policy
We will not sell or distribute your e-mail address to anyone else.
Written by Tyler Emery