Darren's Restaurant has been part of the fabric of Manhattan Beach for the last 20 years, and has recently announced the end of an old era and the beginning of a new era. "After almost a year of overseeing the planning, design and preparing for the renovation, I couldn't be more delighted to share this labor of love with familiar faces and first-time guests alike," says owner Darren Weiss.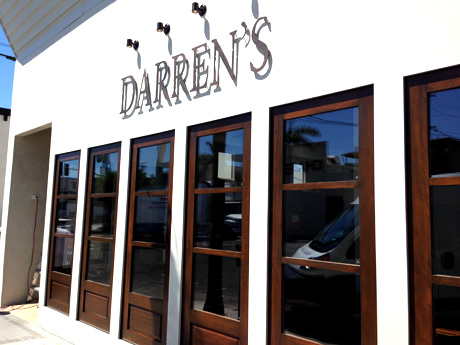 They have revamped their menu, atmosphere, and are ushering in a new vision that is casual, and comfortable while maintaining excellent food and drinks.
The 'new' Darren's Restaurant has reopened their doors as of July 11th, after having extensive interior and exterior renovations done, and the reinvention of their menu.
For loyal customers of Darrens, the two weeks that they have been closed has felt like an eternity for them!
The reinvented menu offers both small and large plates to share. Their updated menu is keeping their highly-demanded Shetland Island King Salmon as well as their Sweet and Spicy Lobster Chowder.
They also changed the interior of the restaurant,and are updating the menu to enable a more social atmosphere for their fun regulars and new guests.
It now has a centralized community table, a wonderful floor-to-ceiling glass exterior, with a very light and "airy" ambiance. They have created a contemporary European vibe that maintains the comforting and appealing environment that has made Darren's so great.
Darren's is hosting a dinner on July 29 at 7 p.m. that celebrates the reopening and also benefits the No Limits for Deaf Children organization. Tickets for this event go on sale Monday, July 14 and a percentage of ticket proceeds benefits the organization.
Darren's restaurant offers a relaxed yet professional feel that creates a great ambiance. Their renovation and reinvention of the menu reflects a change of season for them. They are aiming for a paradigm shift from a fine dining type feel to a more casual social feel that still maintains superb quality and outstanding taste.
Chef Darren Weiss is an iconic man who is passionate about bringing creativity and decadence to all of his dishes, and he has created a loyal following because of the superb quality that Darren's has to offer.
Darren's restaurant has great service that is combined with a beautiful ambiance as well as delicious food. Their environment is upscale and welcoming to people of all ages.
The restaurant is environmentally-conscious as they have state of the art coolers that conserve energy and also have a "tankless water heater and low water dish washing machine; support local growers and farmers; clean, all natural farm raised fish growers; using safer and more environmental cleaning supplies."
So get ready Manhattan Beach and others for the new Darren's Restaurant which preserves the high standards of the old Darren's while keeping up with the hip and happening culture of today's Manhattan Beach.
Please visit their website at www.darrensrestaurant.com
Darren's Restaurant:
1141 Manhattan Ave, Manhattan Beach, CA 90266
310.802-1973
Doors are open Monday through Saturday beginning at 5:00 pm, and closed on Sunday.
More about Darren's Restaurant:
Opened in 2007, Darren's is located in the heart of downtown Manhattan Beach. The warm and friendly environment allows guests to enjoy both an upscale dining experience and the famous California beach culture. With a light and airy atmosphere complimented by the open patio, locals and visitors alike come to experience the culinary masterpieces created by head chef and owner Darren Weiss.
The globally influenced cuisine is a fusion of new American, Mediterranean, and Pacific Rim flavors. Darren's offers private dining options for weddings, receptions, cocktail-style events and intimate dinner parties.
______________________________________________________________________________________________________