LA's The Place TOP PICK for Best Suncare Line!
Great skincare  finds that are both healthy and nourishing for your skin are golden! LA's The Place recently visited ULTA Beautyfor the official kick0ff of their partnership with  COOLA, a company that is very passionate about making healthy sunscreens people love to use. Not only is their line 70%+ Certified Organic, it's also luxurious and splurge-worthy at the same time.
COOLA doesn't just make sunscreens only. They have developed tinted moisturizer for the face, lips and more.
The majority of us are looking for the latest buzz words like "hypo-allergenic" or "certified-organic" when it comes to our health and beauty products. Unfortunately the market is clogged with products  who make unwarranted claims to be naturally good for your skin.
Thanks to COOLA, we are able to rely completely on their current formulations because they've decoded the industry. They've developed amazing noteworthy product technology to insure our skin is both hydrated and safe no matter how much time we're spending outdoors soaking up glorious sun.
COOLA proudly boasts not only that they deliver in product formulation but they are delivering in other areas as well. Bearing the 70%+ certification means their products are formulated with 70-97% of the highest grade organic ingredients.
They are literally one of the only sunscreen companies in the world who can make this claim. They can also proudly state that they are manufactured locally in the U.S.A. and the majority of their products are formulated locally in Southern California. Going the extra mile they are produced in a solar powered facility. One of the coolest things about COOLA is they use the power of the sun to protect from the sun!
Below are some of their new launches for 2014, that are worth checking out for yourself: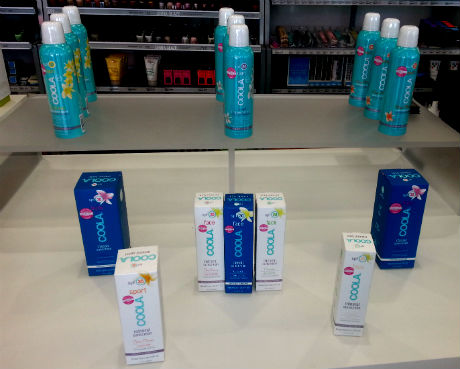 COOLA face:    Naturally shields and nourishes skin everyday with antioxidant infused  mineral matte SPF from 30-50. Offers broad spectrum UVA/UVB protection in light fresh cooling cucumber or natural scent. Infused with Organic She Butter to both smooth and hydrate.
Liplux:   Moisturizing lip balm with an SPF of 30, this anti-oxidant rich lip formula both smooths and protects with rich fruit butters like raspberry and avocado that will make your lips so soft you want to go MUAH!
Calm Glow
Eye Gel:   Amazing all natural ingredient calm gel in a bottle soothes, firms and protects the delicate skin around your eyes. Your skin will be both soothed and shielded from redness and damaging irritants.
Fresh Relief
Face Serum:     A deliciously cool serum in perfect for nourishing stressed and sun-damaged skin. Stimulates cell renewal and is your best natural defense against aging.
Radical Recovery
After Skin Lotion:   Ultra moisturizing, deep soothing lotion promotes superior ability to nourish, repair, and keep skin youthful and glowing all year.
If you're flying this summer rest assured all of COOLA's products are TSA-sized and tagged so they won't be left behind when you travel. Just when you thought this company couldn't get any trendier they are also green and recycle friendly; making choosing their products a win for your skin and our environment.
Being an eco-cool company they have gone out of their way to cover all bases and deliver superior and luxurious skin protection in an environmentally friendly package. Nothing could be more cool than COOLA besides beautiful, hydrated and fresh sun-kissed and sun-protected skin.
_______________________________________________________________________________________________________