Summer is here and marks the beginning of an exciting season of beach trips, barbecues and pool parties. Everyone loves the fun of long summer days and endless summer nights and we all know they can often get wet and wild. Thankfully you no longer have to suffer the consequences of having a great time and enjoying yourself! Consider these two awesome remedies to eliminate your hangover possibilities during these fun filled summer months!
As you know summer is all about getting out during the day and enjoying yourself in the sun. If you can eliminate the possibility of waking up with a hangover or worse getting one the same day you should absolutely consider this exciting new drink NEVER HUNGOVER (
www.neverhungover.com
), a delicious dietary supplement comprised of a natural blend of antioxidants, amino acids, nutrients and minerals, you can use to virtually eliminate the terrible after-effects of alcoholic beverages.
Conveniently packaged, this drink is the perfect 2 oz serving in a bottle that can be consumed as a shot or a mixer and is designed to be taken up to an hour before or while consuming your alcoholic beverages. For optimal results you should ideally consume one bottle for every three to four drinks containing alcohol. Another plus, NEVER HUNGOVER is caffeine and gluten free, and contains zero carbs, calories and sugars! It's the perfect pairing for hot summer days enjoying fabulous cocktails without the after effects of a hangover.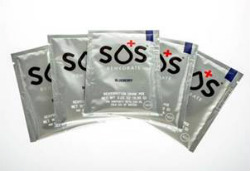 SOS Rehydrate www.sosrehdrate.com is amazing for the hot summer sun. This new hydration drink has six times the electrolytes than a normal sugary sports drink and has 27% more electrolytes than coconut water with less than half the calories and half the sugar. This exciting new drink is actually comparable to an IV drip for treating mild to moderate dehydration, and it comes in amazing flavors such as blueberry and lemon creating a healthy and efficient way to satisfy your thirst and prevent heatstroke.
_______________________________________________________________________________________________________