Renowned artist Jeremy Penn and L'Ermitage Beverly Hills hosted a spectacular and exclusive cocktail reception recently at the world famous hotel property for Los Angeles VIP'S, celebrities and trend setters, in celebration of his latest collection, "The Gaze – Deconstructing the Moment of Seduction."
Influenced by pop culture icons, the exhibit represents Penn's first hotel partnership, which will remain through September of this year. All of the original paintings were designed exclusively  for the L'Ermitage, and are additionally offered for sale ( pricing available upon request through JL Art Advisory).
Jeremy Penn is a New-York based modern artist born in 1979 in New York City where he studied Fine Art at Both the University of Maryland and Pratt Institute. He is an internationally renowned artist and has received honors from curators at museums such as The Museum of Modern Art, New York and the Metropolitan Museum of Art, New York.
The L'Ermitage is well known as one of the most stately properties in Beverly Hills embodying both old world charm and refined luxury attracting some of the most celebrated guests and VIP's in the world. When it comes to privacy and luxury this hotel is second to none and boasts prime access to Los Angeles cultural attractions and entertainment centers, shopping destinations and illustrious beach towns.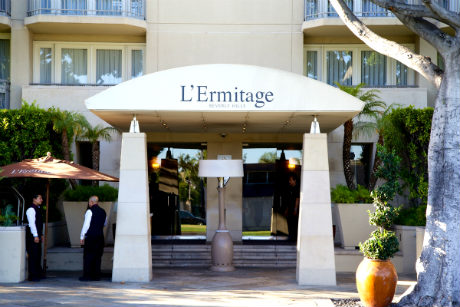 Jeremy Penn and L'Ermitage are the perfect pairing of sophistication and creative talent. This gallery showing will heighten the experience for any passionate lover of the arts; seeking a unique and rich exploration in both modern interpretation, and unparalleled luxury, comfort and privacy. Penn's work explores the initial feelings of a single gaze and the deconstruction of that moment in time. He is known for creating a seductive power play between the viewer and the art.
L'Ermitage Beverly Hills Hotel
9291 Burton Way, Beverly Hills, CA‎
877.235.7582‎