The 26th Annual Vintage Bouquet Food and Wine Event took place at the Greystone Mansion in Beverly Hills this past weekend. Put on by The Barristers of the Beverly Hills Bar Association and the Beverly Hills Bar Foundation, many of the finest restaurants in Los Angeles participated.
This event was established in 1988, and this event has grown in both size and prestige as they feature hors d'oeuvres and specialty cuisine by some of L.A.'s top chefs as well as California's top wineries. Paired with live entertainment as well as a live and silent auction, it made for an extraordinary day.
Proceeds from the event support the charitable causes of the Beverly Hills Bar Foundation including pro bono programs that focus on community outreach, legal education and access to the justice system. Visit www.bhbaweb.com/vb/  for more details.
The Restaurants
Celebrity Cruises was honored to be the Official Barrel Sponsor at this year's 26th Annual Vintage Bouquet Food & Wine Extravaganza at Greystone Mansion.
Celebrity Cruises offered an array of delicious cuisine. Their onboard dining is a beautiful experience as they offer a globally-influenced blend of classic and contemporary menus created by James Beard-featured chef. They offer dining at their main restaurant, where you can choose a set time every night, or choose the celebrity select dining, which allows you to be more flexible with your timing.
Casual dining can be enjoyed in their Oceanview Café, Porch, or Bistro on Five. They also have their Specialty Dining, where each restaurant offers a unique culinary journey. Q'Sine is their one-of-a-kind restaurant an interesting in ordinary dining experience. Tuscan Grille is a celebration of big bold flavors.  One could think of it as Napa Valley meets Tuscany.  An Italian steakhouse with a nouveau twist. Or their newest restaurant, the bright and modern Lawn Club Grill celebrates the flavorful joys of outdoor grilling. The highlight of dining at the Lawn Club Grill is the opportunity to serve as your party's "Grill Master," by being paired with a Celebrity chef to assist in preparing the menu for your table over custom-built grills. Onboard, they make 100% of everything we serve from scratch, creating the perfect marriage of flavors and the artful presentation of cuisine.
Bagatelle provides a wonderful dining experience where guests can indulge in their signature French Mediterranean dishes, as well as their wonderful selection of wines as well as champagnes. Executive chef Scott Quinn treated bagatelles patrons with their seasonal menu offerings as well as their menu a creative cocktails inspired by the south of France. Their signature music program features world-renowned DJs that really add to the beautiful ambience of Bagatelle, and keep their guests very pleased.
755 North La Cienega Blvd. Los Angeles 310.659.3900
Phorage was featured in Eater LA's Top 20 Places to Eat Now, list. Phorage is a Vietnamese eatery offering fresh, local and sustainable ingredients to their guests. Stay tuned for their private dining room that will feature tasting menus and guest chefs.
3300 Overland Ave, Los Angeles 310.876.0910
CHAYA Brasserie – CHAYA Catering is the leader in Asian-fusion cuisine in the Los Angeles area. Creators of "La Nouvelle Cuisine Franco-Japanese", they are located in San Francisco, Beverly Hills, Venice and downtown LA. They offer full-service offsite catering and express corporate catering.
Il Fornaio (America) Corp. owns and operates 21 full-service restaurants serving creatively prepared, delicious premium-quality Italian cuisine based on authentic regional Italian recipes. The food offered at the event was creative, appealing to the eye, and tasted absolutely phenomenal, and was quite pleasing to the taste.
301 North Beverly Dr. Beverly Hills 310.550.8330
Lawry's Restaurants has been surpassing their guests' expectations for 87 years! Lawry's has built a loyal customer base because of their superior ability to surpass their guests' expectations. They offer superb quality food, service and hospitality in a respectful workplace atmosphere. They strive to provide a legendary dining experience at a wonderful value.
Lexington Social House – The social house concept was born from the idea of the perfect dinner party. Intriguing guess mingle over deliciously handcrafted food and drinks while the high design and high energy of the guests come together to create the perfect evening out. Lexington social house is truly a gathering place the garden patio is an outdoor room with an indoor five complete with cocktail seating, a fireplace, it's own ball, as well as tree canopies.
1718 Vine Street, Hollywood  323.461.1700
Napa Valley Grill is located in the heart of Los Angeles' Westwood Village, Napa Valley Grille offers local, seasonal ingredients, artisan products, and a vast array of regional wine in a rustic yet refined setting. The Napa Valley Grille offered delicious food and wine.
1100 Glendon Avenue, Suite 100, Los Angeles  310.824.3322
Ruth's Chris Steak House in Beverly Hills offers warm, comfortable atmosphere  for an important business meeting, a private party, or a scrumptious steak dinner for two. Many celebrities are fans of Ruth's Chris Steak House.
224 South Beverly Dr., Beverly Hills, CA 90212  310.859.8744
STK Los Angeles combines takes the modern steakhouse and a chic lounge to become one restaurant. Right in the heart of Hollywood's Restaurant Row, this celebrity hotspot features steak as its main attraction. Executive Chef David Gussin offers different portions sizes of steaks, as well as naturally raised options and market fresh fish entrees. Besides steak, signature items include Parmesan Truffle Fries; Lil' BRGs, Shrimp Rice Krispies, Sweet Corn Pudding and Jump Lump Crab Salad.
755 N. La Cienega Blvd., Los Angeles
310.659.3535
Taberna Mexicana is a neighborhood restaurant  that brings to life the vibrancy of Spain and its surrounding regions. They serve classic tapas as well as contemporary Spanish comida and libations. Whether you have a craving for Croquettas, Mussels, or a traditional Paella made with Bomba rice, the fresh ingredients of Santa Monica's famous Farmer's Market will bring out the savory flavors every time.
1403 2nd Street, Santa Monica  310.858.7070
"Flor de la Patagonia Vinaigrette" is an Argentine style dressing made with California sourced gourmet ingredients. This artisanal dressing contains 100% first cold pressed extra virgin olive oil and a combination of boutique vinegars as the base with a different balsamic in each one. It is used for dipping, salads or cooking.
Brix has revolutionized the world of chocolate. Their chocolate is made specifically to pair with wine. Their red fruit flavors allow the chocolate to not overwhelm the wine, but rather compliment it. They offer four varieties including Milk, Smooth Dark, Medium Dark, and Extra Dark; showing their adaptability to different wines.
Goldie's
Goldie's has created a modern, healthy and sustainable method of nourishing our neighbors. Their food is sourced from local family farms with happy animals; house made pasta, chef foraged greens, ice creams and sorbets, etc.
8422 W 3rd St, Los Angeles  323.677.2470
Dandy Don's Home Made Ice Cream  makes their award-winning, super-premium ice cream almost every day to ensure freshness and sell it to over 150 Southern California fine restaurants, hotels, country clubs & markets.
16760 Stagg Street #222, Van Nuys  818.994.0111
Velvet Rope Bake Shop creates beautiful, unforgettably delicious desserts that make great gifts for your any one. Their desserts are all handcrafted, made from scratch in small batches and are always made with their best ingredients. They ship desserts to your house or your loved ones, anywhere in the continental US.
6280 Hollywood Boulevard, Hollywood  323.334.3360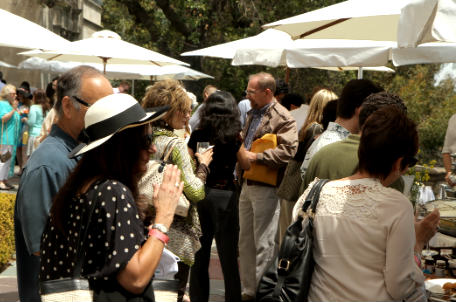 The Good Cookies & Beyond is a 100% gluten free dedicated bakery. They bake gluten free, dairy free and vegan desserts made with organic and natural ingredients. Their baked goods are free of GMO's, hydrogenated oils and trans fats, while still exuding wonderful flavors.
2081 Torrance Blvd, Torrance  310.320.7900
Ice Cream Lab's idea utilizes liquid nitrogen as the style of preparation to instantly freeze different natural ingredients into ice cream. The type of ice cream has come to be known as "Liquid Nitrogen Ice Cream", and is definitely more flavorful than typical manufactured ice cream, primarily due to its preparation process. Their process uses fresh natural ingredients which make the ice cream delicious and healthy.
9461 S. Santa Monica Blvd, Beverly Hills  310.795.6505
Wineries and Beverage companies that participated, included:
Tudal Winery
Wicker Vineyards
Sunstone Vinyards & Winery
Hubert's Lemonade
Stella Artois Cidre
Beverly Hills 90H20 Water
Quady Winery
Priest Ranch Somerston Estate
Peju
Moreno BHLV
Miner Family Winery
Bespoke Collections Artisanal brands
Lewelling Estate
Landmark Vineyards
Knights Bridge
Heitz Cellar
Ferrari-Carano Vineyards and Winery
Ceilo Malibu Estate Wineyard
Bernardus
Beekeeper
Dassai Sake
Artiste Wine and Cuisine
Ahnfeldt Wines
Proceeds from the Vintage Bouquet benefit the Beverly Hills Bar Foundation, an affiliate of the Beverly Hills Bar Association and a 501(c)(3) charitable organization committed to serving the greater Los Angeles community. The mission of the Beverly Hills Bar Foundation is to fund law-related education and community ervice projects benefiting youth, families, and seniors and to fund scholarships for deserving law school students.
Over the years, the Foundation has enhanced the community by funding a number of nationally recognized and emulated legal literacy and preventive law programs as well as community service projects including, but not limited to:
– Free Wills for Fire Fighters and Emergency Responders
– Free Monthly Legal Clinics
– Free programs for victims of domestic violence
– Free one-day seminars to help individuals understand their legal rights
– Free programs to elementary students about tolerance and diversity
– Free programs to high school students about the law
The Foundation is also proud of its long-standing support and association with Public Counsel, conceived and founded by the Beverly Hills Bar Association more than 30 years ago and now the nation's largest pro bono law firm. The Foundation, the Association, and Public Counsel share a deep commitment to helping others through volunteer service, a cornerstone of the Foundation's tradition of excellence.