GBK hosted a luxury lifestyle gifting suite in honor of the 2013 American Music Awards nominees held at L'Ermitage in Beverly Hills, CA.  The lounge followed by a celebrity poker tournament featured entertaining music from DJ Shy.  The GBK event helped raise money for the Model Citizen Fund whose mission is to aid homeless and disaster victims with backpacks containing food, health supplies and tools to help start new lives and build confidence.
Some of the fabulous stylish products that were gifted to the stars in attendance included Carmex, who were on site to give away their Moisture Plus® limited edition slim stick lip balm with the same original moisturizing formula presented in a high fashion design.
A three month supply of GrandeLASH by GrandeLASH MD was gifted along with a Grande Mascara.
Mark Hill Salon Professional products which are only sold at Walgreen's in the US were launched at the event, created by one of Britain's top celebrity hairstylists Mark Hill.
Gifting their high quality essential oils for your therapeutic needs was Bella Mira Essential oils.
Herbalosophy Beauty was giving away a professional salon hair care system with botanicals and herbal extracts.
True to GBK lounges, unique luxury getaways were gifted to lucky attendees this time featuring Palace Resorts and Caribbean Living were gifting a luxurious four night stay at Moon Palace Resorts.  Three nights in a Deluxe Overwater Villa was gifted along with a 20% discount to Miri Miri Spa by Clarins from The St Regis Bora Bora Resort including daily 20% breakfast discount.
Some of the more unique and trendy gifts at the lounge featured Alto Collective formed of two brothers who brought their handcrafted phone cases, Minimal Wallets and Longboards to gift to guests.
Vodka infused whip cream created by Liquor Whipped where gifting bottles of the product of your choice.
Blow Hookah has designed a revolutionary hookah without the mess, smoke and fire and were there giving away their traditional style hookah.
A $250 gift certificate was given to put towards a variety of awesome home products and workout equipment from Dazadi.com.
Catering for the event was provided by Jaliscos Mobile Taco Grill with chicken and pork tacos along with complimentary snacks and treats in the green room provided by Megaload, Pop Chips, Vita Coco, Pasta Chips, Sheila G's Brownie Brittle, Monster Energy Drink and Hint Water.
The exclusive Fashion and accessories section treated guest's too stylish products from Rolf Bleu TM by Caryn Sterling with  Cross body Ipad covers where "tech meets chic".
Jada Michaels Lingerie were gifting contemporary lingerie for women all shapes and sizes.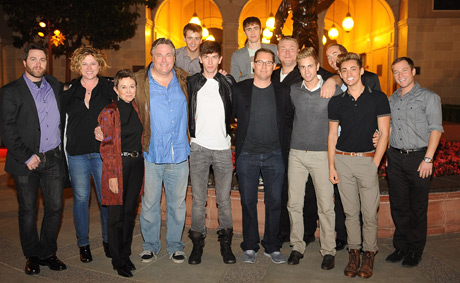 Child Support Clothing is a line of clothing which supports and helps make a difference to underprivileged children in desperate situations and were gifting a t-shirt from their line.
Men's and women's leather accessories by WOLFHARDT were gifting wrap around bracelets and belts.
A selection of denim was up for grabs from Boom Boom and One5One.
ATTENDEES
1 Beau "Casper" Smart – Actor, Dancer, "Leave It On The Floor", "Honey 2", "Step Up 3D"
2 Blush – Pop Music Girl Group
3 BooBoo Stewart – "Space Warriors", "Hansel & Gretel: Warriors of Witchcraft", "The Twilight Saga"
4 Carly Steel – "American Music Awards Red Carpet Host (Dick Clark Productions), "Malibu Horror Story"
5 Chrissie Fit – "Teen Beach Movie", Recording Artist
6 Daphne Wayans – VH1's "Hollywood Exes" (Ex Wife of Keenan Wayans)
7 DJ Caroline D'Amore – "DJ, Songwriter, Host of the Skee 247 EDM Radio Show "Heartzbeatz" Opener for Katy Perry concerts"
8 E. Roger Mitchell – "The Hunger Games: Catching Fire" (Chaff)
9 Elena Sanchez – "The Hunger Games: Catching Fire" (Cecelia)
10 Emma Kenney – Showtime's "Shameless" (Debbie Gallagher); "Epic" [From the creators of Ice Age & Rio] (Marigold Girl)
11 Fernanda Romero – "Pendejo", "Cavemen", "3 Geezers!"
12 Gilbert Arenas – American Basketball Player
13 Jai Rodriguez – "Queer Eye", ABC's "Malibu Country"
14 James Kyson – NBC's "Heroes"
15 Jay Ellis – BET's "The Game" (Bryce 'Blue' Westbrook)
16 Joyce Giraud-Ohoven – Bravo's "The Real Housewives of Beverly Hills"
17 Katrina Norman – VH1's "Hit the Floor" (Devil Girl)
18 Keith Harris – Black Eyed Peas' drummer, Grammy Award Winning Producer, Artist signed to Will.I.AmMusic Group
19 Khandi Alexander – ABC's "Scandal" (Olivia Pope's mother); HBO's "Treme" (LaDonna Batiste-Williams)
20 Kimberly Cole – Recording Artist
21 Lauren Dair Owens – Singer/Songwriter, FOX's "New Girl"
22 Luke Benward – "Good Luck Charlie" (Beau Landry), "Ravenswood" (Dillon)
23 Maitland Ward – "White Chicks", "Boy Meets World" (Rachel)
24 Matthew West – Nominated for "Favorite Artist, Contemporary Inspirational", Recording Artist
25 Melissa Rycroft – "Dancing With The Stars: All-Stars" ; "The Bachelor" (season 13); "Dallas Cowboy Cheerleaders: Making the Team"; "Dancing with the Stars" (season 8 finalist)
26 Michael Ohoven – Producer of Capote
27 Mike Shouhed – Bravo's "Shahs of Sunset"
28 Niecy Nash – TV Land's "The Soul Man" (Lolli Balentine)
29 Reza Farahan – Bravo's "Shahs of Sunset"
30 Robert Christopher Riley – VH1's "Hit the Floor" (Terrence Wall)
31 Robert Herjavec – 2013 American Music Awards Presenter, ABC's "Shark Tank"
32 Shamicka Lawrence – VH1's "Hollywood Exes" (Ex Wife of Martin Lawrence)
33 Shanola Hampton – Showtime's "Shameless" (Veronica Fisher)
34 Shaun Toub – "Homeland", "Iron Man 3"
35 Shelley Regner – Pitch Perfect Nominated for "Top Soundtrack" (Ashley)
36 Sheree Fletcher – VH1's "Hollywood Exes" (Ex Wife of Will Smith)
37 Stef Dawson – "The Hunger Games: Catching Fire" (Annie Cresta)
38 The Janoskians – Best Reality Series & People's Choice, Youtube comedy group of pranksters, singers, entertainers and stunt performers with over 1,200,000 subscribers
39 Toks Olagundoye – ABC's "The Neighbors" (Jackie Joyner-Kersee)
40 Toni Trucks – CBS's "Hostages" (Angela Nix)
41 Tony Dovolani – ABC's "Dancing with the Stars"
42 Valery Ortiz – VH1's "Hit the Floor" (Raquel Saldana)
ABOUT GBK: 
Specializing in entertainment marketing integration GBK formerly GBK Productions offer luxury lifestyle special events and gifting lounges.  Formed in 2000 by Gavin Keilly, the company's Founder and CEO, GBK consists of five divisions: GBK Celebrity Gifting, GBK Special Events, GBK Weddings, GBK Charitable Consulting and GBK Marketing/Public Relations.  GBK has a full range of marketing services to offer its clients and is more widely known for giving that little something extra at gifting suites. For more information on Gavin B. Keilly (CEO), Carla Domen (VP) or GBK, please go to www.gbkproductions.com
GBK's Gift Lounge is not affiliated with the American Music Awards or Dick Clark Productions.
~~~~~~~~~~~~~~~~~~~~~~~~~~~~~~~~~~~~~~~~~~~~~~~~~~~~~~~~~~~~~~~~~~~~~~~~~~~~~~~~~~~~~~~~~~