The nonprofit organization, whose mission is to honor and empower Wounded Warriors, flew lucky veterans and their happy families to Hollywood, CA, where celebrities honored them and gathered to enjoy a much-deserved day of appreciation for their selfless and brave service.
More brands that gifted the Wounded Warriors and Celebrities, continued…
Jewelry designer Alicia Mohr of Ali's Collection gifted beautiful necklaces and arm cuffs from her gorgeous collection. EMMY nominated star of "Mad Men", Linda Cardellini, was seen picking out an Ali's Collection Celestial Ring and GRAMMY winning musician, Printz Board, was seen wearing an Ali's Collection Braided Silver Bracelet.  Printz Board said, "On a scale from one to ten this [Ali's Collection] is a 10."
Roma Boots was on site to gift their flip flops and rain boots and to showcase their boot drop program which delivers rain boots to poor children all over the world.  Actress Elyse Levesque picked out a pair of HOPE boots from the Roma collection and "Army Wives" star Wendy Davis picked out a pair of red rain boots.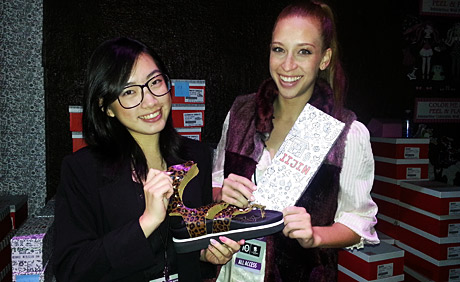 The Zumer Sport team gifted their amazing line of products made from recycled footballs, basketballs and tennis balls.  Wounded Warrior guests Andrew Coughlan, Rick Beetstra & Nancy Schiliro picked out Zumer Sport drawstring backpacks and R&B star Tank picked out a Zumer Sport toiletries case.
Kelly Teegarden Organics gifted their natural and organic  skincare and cosmetics, formulated to benefit you. No chemicals, no toxic ingredients. Actress Linda Cardellini from "Mad Men" picked out a beautiful pink Kelly Teegarden Organics lip gloss.
The Jelly Queens gifted their delicious gourmet line of jams and specialty spreads featuring exotic ingredients.  Favorite flavors included their Cabernet Jelly, Spiced Caramel Sauce and Banana Nut Bread Jam.  Actress and radio host Lisa Ann Walter enjoyed picking out a few flavors from The Jelly Queens.
This Bar Saves Lives co-founded by actors Ryan Devlin, Ravi Patel and Todd Grinnell, gifted their healthy and delicious snack bars with a powerful social message.  For each bar sold, they donate a packet of life-saving food to a child in need.  "Enlisted" co-stars Geoff Stults and Angelique Cabral were excited to try This Bar Saves Lives' dark chocolate cherry and sea salt bars.
Luxury skincare line ATZEN gifted their fabulous product line and founder Catherine Atzen showed guests like the beautiful Lindsay Arnold from "Dancing with the Stars", the radiant glow her products give.
Linda Cardellini picked out a "California Dreamin" sign for her daughter Lilah-Rose's room and wounded warriors got to customize "Proud Military Family" signs for their kids' rooms all designed by the team at Mona MELisa Designs.
Super sweet Erin Cahill was thrilled that she could customize a patriotic wall sign from Mona MELisa Designs for her assistant's father who is retired from the military, at the Wounded Warrior Project Style & Beauty Suite.
Wounded warriors and their families posed with the TONKA T-Rex truck.  This larger than life TONKA truck is appropriately named in part because of its sheer size and dominating appearance. The Tonka T-Rex is one-of-a-kind and represents the true meaning of toughness, and is an appropriate ambassador to our Wounded Warriors' courage, strength and brave sacrifices.
Actress Joely Fisher picked out My Little Pony plush dolls for her daughters and actor Jason George took home Tonka army trucks and helicopters for his sons all from the team at Funrise Toys.
"Grey's Anatomy" and "Mistresses" star Jason George proclaimed "My kids will love these" as he picked out DiaNoche Designs Illuminated Wall Art for his children's rooms.
Actor Aidan J. Alexander picked out an eco-chic Koostik speaker system made of beautiful wood to be used with his iPhone.  Recording artist Judith Hill was excited to listen to music on her new Koostik speaker system.
Click here to read more of The Wounded Warrior Project Emmy Style Suite…