Written by Susie Salva
Grammy Award winner and CMA recipient Australian Cowboy Keith Urban releases his eighth studio release "Fuse," on Capitol Records Nashville. On September 10th this incredible CD "Fuse," will be released for consumption.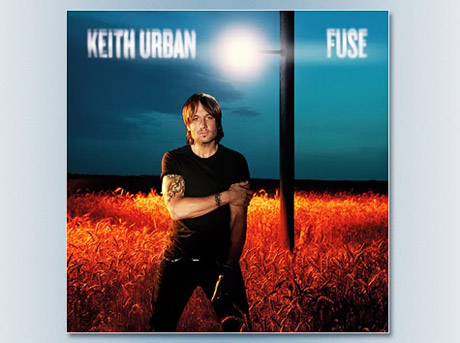 Voted Best Male Vocalist Keith Urban merges the best between country and rock music. A seasoned guitarist and sultry vocalist he plays the electric guitar, acoustic guitar, banjo, piano, bass guitar, mandolin, bouzouki, Ebow, and sitar. Most recently he has appeared on the Australian version of the Voice and as an American Idol judge.
Urban's music is infectious, foot stoping, all out rocking and definitely memorable.
Songs about fast cars and lost loves "Fuse" is an explosive disc and even allows him to show his tender side. His music is accessible to both country music fans and straight ahead rockers. If you ever thought that Urban maybe too country this CD has something for all music fans. It's very enjoyable and you may find yourself humming along with the exceptional songs on the album. "Fuse" could be qualified as a country cross-over an area of music gaining much popularity.
"Somewhere in My Car," starts off the album with the plucking of a banjo and infuses a mix or rock with Urban's strong hand on the electric guitar. Something about country music and the love of a car. "Even the Stars Fall 4 U," may be an ode to his partner Nicole Kidman whose he been married to since 2006. He describes the spell that has befallen on him where stars don't even stand against a chance in this relationship. "Cop Car," another car song is where Daddy's going to kill me, but the two of them are going to survive the night. "Red Camero," another car oriented track with a dance backbeat bit where his hands are on the wheel and her head on his shoulder.
"Shame," where he speculates about things in his life that have brought him much shame…not trying to be perfect everyone hurts the same hiding underneath our skin. "Good Thing," this country twanged song makes sure she is treated alright never to be treated poorly again. "Love's Poster Child," an example of Country Fried Rock with this cut and "She's My 11," a return to the banjo she's so fine, she's all mine, she's on the radio turned up to 11 — reference to 'Spinal Tap," where the amplifier is turned up to 11 even though it really only turns up to 10.
"Little Bit of Everything," is an example of being willing to try a little bit of everything including cuban cigars and getting your groove on. "Heart Like Mine," putting forth the idea of being self-centered, but terrified of losing his one true love. Comparing himself with his father but not willing to lose his love again. "Black Leather Jacket," the illustrious cool clothing item expressing toughness wearing this iconic jacket thinking back about days gone by. Rounding out the last two tracks on this fantastic disc is "Gonna B Good," and "Lucky Charm." The former reckons the two are gonna be together as the stars lining up like they should. "Lucky Charm," foretells betting on yourself and you can never lose.
[youtube]https://www.youtube.com/watch?v=_KlRznM81Jw&list=PL5DB402AF37F2CF19[/youtube]
"Fuse," is an impressive record this time out with very accessible songs, little country ditties and rock beats with his sweet voice and incredible guitar work not to be discounted. He is a tremendous talent and translates the human condition wonderfully. This record shall bring numerous fans into his corner and has the potential to sell many copies of this infectious disc. For more on Keith Urban feel free to go to www.keithurban.net/home
_____________________________________________________________________________________________________________