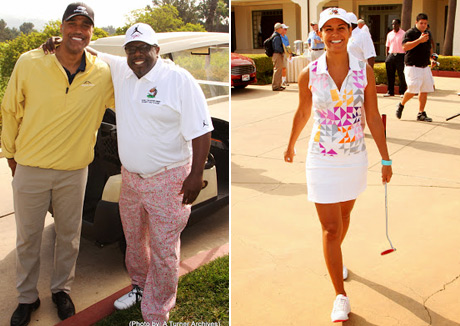 Laughter and fun were the names of the game, and charity was the purpose, as The Inaugural Cedric "The Entertainer" Celebrity Golf Classic teed off at the lush Spanish Hills Country Club in Camarillo.
Actors and athletes alike joined fundraising forces, benefiting The Kyles Family Foundation, The Brotherhood Crusade of Los Angeles and The Boys and Girls Club of Camarillo, all charities which provide incomparable services and programs for youth and their families.
Guests included: Cedric "The Entertainer," Don Cheadle, Barry Bonds, Rick Fox, Dondre Whitfield, Duane Martin, Dr. J, Flex Alexander, Jerry Rice, Salli Richardson, Willie Gault, Eric Dickerson, Ronnie Lott, Rodney Peete, Michael Finley, Al Joyner, Bobby Grich, David Justice, Ed Moses, Jim Plunkett, Kathleen Bradley, Marcus Allen, Pete Shaw, Richard Dent, Vince Coleman, Willie Buchanon, Jason Seymour, and many more!
Internationally celebrated, Cedric "The Entertainer's" career has flowed seamlessly from standup to television to film, from voice over artist to producer. That same passion shows in Cedric's role as a philanthropist, "Using Laughter to Build Character," which has positively impacted many of our nation's young people.
After a mouth-watering breakfast and a putting contest, the Inaugural Celebrity Golf Classic was in full swing at 10am. Cedric "The Entertainer," along with his 200+ guests, delighted in the views of the Topa Topa Mountains and the breeze off of the Pacific Ocean as they ventured out onto the championship golf course.
Sponsors
Sponsors were present around all holes, including: Xerox, Mattel, Brand Jordan, Nestle, and Ketel One.
Other fantastic sponsors included: Who Ced Hats, BMW, Ludacris Ear Buds, Cigars L'Atelier, Crown Royal, Canteen Vending, California Private Lending, Red Stripe, Guinness Beer, Simi Valley Ford, Wiki Wiki Shave Ice, and Abe the Jeweler.
GBK created their famous gift lounge as a thank you to the numerous celebrities in attendance.
Guests received many incredible gifts from Fit 365, Spanx, Inc., 2K, Milena's Candles, including phenomenal luxury headsets by Sir Ike Audio, and more.
A luxe cocktail reception and awards ceremony followed the tournament amid the clubhouse's beautiful Spanish style archways and breathtaking views.
The true magic of the event was the silent and live auction, including items such as: a Master's jacket, signed by the Masters winners, a package to play in a foursome with NFL players Eric Dickerson and Marcus Allen at the Sherwood Country Club, among others.
The Kyles Family Foundation (KFF), The Boys and Girls Club of Camarillo and The Brotherhood Crusade were each presented with a $10,000 check and US bank made a pledge of $5,000.
Celebs and guests spent an incredible day on the course and wrapped up with festivities in the clubhouse. Cedric "The Entertainer" really hit a hole in one, though, as he inspired guests to give back. As his great quote goes, "Laughter is a great tool; let's put it to work."
More on the Charities
The Kyles Family Foundation (KFF) is a non-profit 501 (c) 3 tax exempt organization, founded in 2009. The foundation was established for "the purpose of teaching life skills, such as healthy eating, physical education, and academics to urban youth throughout the nation — To build confidence and self-esteem enabling them to navigate through life with a sense of purpose." Through mentoring programs, strategic alliances and community outings, KFF will introduce our underserved "at risk" youth to invaluable life lessons and experiences. Topics and workshops include personal hygiene, exercise classes, beauty treatments, and some pampering — All relative to building confidence and self-esteem. Additionally, Etiquette Training Workshops centering on table settings, dining etiquette, and the value of nutritionally balanced meals are offered through KFF.
The Boys and Girls Club of Camarillo provides programs for young people between the ages of six and eighteen that will inspire them to realize their full potential as productive, responsible, caring citizens.  Their vision is to aspire to serve the youth and community by developing strong future leaders, instilling integrity, honesty, respect and foresight, and providing a fun and safe environment for all who walk through their doors. The Boys & Girls Club of Camarillo serves over 3,000 youth in Ventura County, offering a positive place for kids in those crucial after-school hours. The club is considered a second home and provides professional staff members that offer guidance and leadership as positive role models. For more information: www.bgccam.org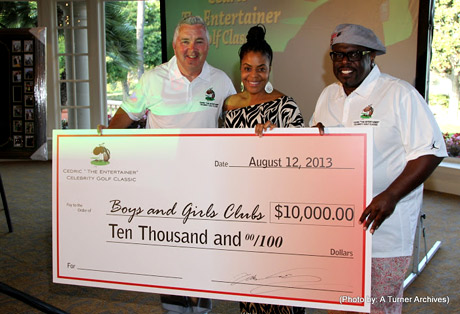 The Brotherhood Crusade is a 501(c)(3) not-for-profit institution founded in 1968 to provide necessary resources, program services and a voice of advocacy to traditionally underserved communities. Its mission is to remove and/or help individuals overcome the barriers that deter their pursuit of success and facilitate opportunities for a better quality of life, by promoting health and wellness, enhancing educational opportunities, cultivating economic growth and building community agencies and institutions. For more information: www.brotherhoodcrusade.org.
GBK Event, Gifting Company in Los Angeles
GBK (formerly GBK Productions) is a luxury lifestyle gifting and special events company, specializing in entertainment marketing integration. Formed in 2000 by Gavin Keilly, the company's Founder and CEO, GBK consists of five divisions: GBK Celebrity Gifting Lounges, GBK Events, GBK Weddings, GBK Charitable Consulting and GBK Marketing/PR.  Widely known in the entertainment industry for bringing that little extra something into the Gifting Lounge environment, GBK offers its clients a full range of marketing services.  For more information on Gavin B. Keilly (CEO), Carla Domen (VP) or GBK, please go to www.gbkproductions.com.
Facebook / Instagram / Twitter Hashtag: #CedricGolf