Cast Restaurant at Viceroy Santa Monica – An LA's The Place Top Pick for Best Restaurants of 2013
Dining in Los Angeles is a true foodies dream. Many a great chef have helmed their own restaurants here.  And when you want to impress that special someone, find that perfect spot for a special occasion, or just want to treat yourself to something great, how do you choose? Finding that 'perfect spot' is always a challenge.  Is the food as great as they say? How's the service? Can we hear our conversation at the table? How are the surroundings? Where can I find all of the above?
We wanted to share one of LA's best kept secrets… Cast Restaurant, located inside The Viceroy Hotel on Ocean Blvd in the heart of Santa Monica, CA, which has recently relaunched with an extensive transformation to the interior space, as well as the expansion of Chef Tony DiSalvo's modern, market-driven menu.
Hip and Luxurious
As you walk through the elegant lobby of the Viceroy Santa Monica and enter the upscale, swanky restaurant, you are at once captured within its allure. You'll find yourself in capable hands from the time you arrive. Here you sense that you are in the hands of true experts in the culinary and hospitality world, which you are.
"Viceroy Santa Monica has always been known for its distinct dining destination," remarks Viceroy Santa Monica General Manager Michael Platt. "As a hotel, we are constantly evolving and innovating, so we are excited to apply a fresh look to the restaurant while remaining true to our classic sophistication and welcoming our local audience to our re-imagined space and menu."
The Restaurant
Cast offers the best of both atmospheres, which indoor dining, as well as dining in a beautiful outdoor setting. Cast features a central dining room with stunning interior décor, with both booths and individual and communal tables, for an intimate setting.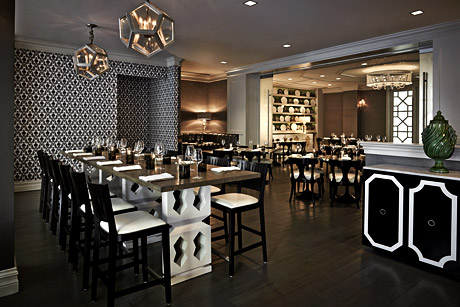 Beautifully detailed mosaic sliding panel doors are able to transform the traditional dining room into an intimate space perfect for a private affair.
If you opt for outdoor dining, Cast restaurant gives you the best of both worlds; you are able to have decadent fare while taking in the fresh Santa Monica air, surrounded by lush greenery, as it is located right alongside the backdrop of the hotel.
It's About Great Food
Executive Chef Tony DiSalvo has revamped the menu and made it his own market-driven menu with a 'Mediterranean' twist. Formerly executive chef of Jean Georges in New York, the Sicilian chef himself has relocated and is now putting a spin on everything in the kitchen and then some! The name is reflective of Chef Tony's inclusive and eclectic menu in that he has 'cast' a wide net to embrace diverse and global tastes as well as cast iron tools found in his kitchen.
Chef Tony DiSalvo has immersed himself in this industry. In the early years he enrolled at the Culinary Institute of America (CIA) in Hyde Park, NY, in 1993. While at the CIA, he served an externship with Jean-Georges Vongerichten, (who just happens to be his inspiration).  "Tony DiSalvo brings a chic Jean Georges sensibility to the glam, Hollywood-Regency style". As described by Angeleno. Chef Tony DiSalvo's culinary savvy is on full display as he creates a globally-influenced menu sourced from local markets and farms.  The menu has an array of tastes and influences that are sure to set your taste buds into overload.
Seasonal Tastings
Recently focused on stone fruit, peaches with burrata, apricots with veal, cherries with lamb, melons and figs Chef Tony DiSalvo has created a menu that has something for everyone. Delivering incomparable taste combinations and traditional technique, Chef Tony's cultural sensibility is dictated by the seasonal and authentic flavors that 'Angelenos' know and love.
When Chef Tony introduced his latest restaurant concept, 'Cast' in July, 2013, he introduced New American, along with a delightful selection of internationally-inspired dishes ranging from bites, small plates to big plates.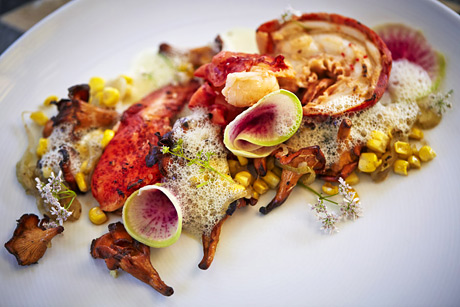 The menus/offerings at Cast are nothing less than exceptional. The essence of the menu is rooted in Chef Tony's seasonal, rustic cuisine with influences from the international cultures and flavors found throughout Los Angeles
Take a tour coast to coast with the breakfast and brunch menus which offers delicious selects inspired by Mediterranean, Irish, and French-themed menu items. Of course it also offers delectable tasty favorites such as eggs benedicts and scrambled egg wraps, but with a twist of course.
Bites include their favorite Cast iron-roasted cornbread, Burrata Crustini, Shigoku oysters on the half shell. Soup and sandwiches, burgers and 'American' fare are offered on the lunch menu.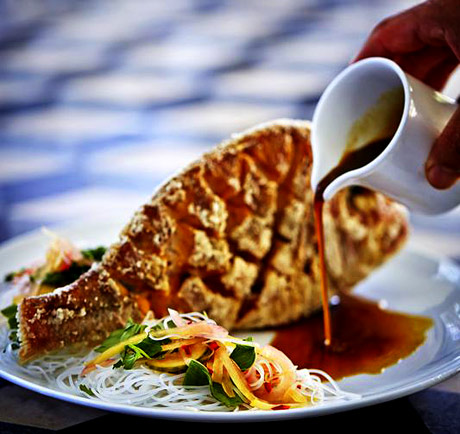 Small plates include Spinach salad, New Caledonian blue prawns, Grilled octopus, Chinese spiced fried quail, Maple-glazed pork belly.
The dinner menu offers savory plates such as: Maine lobster, Diver scallops, Broiled Halibut, Grilled Lamb, T-bone Steak. Classic signature menu items include Chili-Fried Chicken with Spring Vegetable Kimchee, Lamb Kefta Meatballs, and homemade Potato Gnocchi with fresh Asparagus and Morels.
Made with the freshest ingredients the multi-course menu unexpected twists and flavors create an unforgettable experience for the adventurous diner.
What better way to spend a day off than with a relaxing picnic, taking in the beautiful California coast? Your picnic can now be complete thanks to their 'picnic' option the staff at Cast will make your picnic for you that you can take with you while you have a picnic on the West side.
Perfect California weather with fresh food prepared by Cast provides an undeniable satisfaction and ambiance any time of the day.
Cast has been given the distinction as: "Best Hotel Restaurants", Food & Wine, "Hip hotel dining room" Los Angeles Times, and "The best-kept secret in Santa Monica", Los Angeles Times. Isn't it about time you checked out the restaurant that all of Los Angeles has been talking about?
CAST is open seven days a week for breakfast, lunch and dinner.  For additional information including the menu or to make online reservations, please visit www.viceroysantamonica.com or 310.260.7511.
More News on Viceroy Hotel Group
Viceroy Hotel Group delivers one-of-a-kind lifestyle experiences that bring together provocative design and intuitive service in sought-after locations. Signature brand amenities and services created for the diverse business and leisure guests include dynamic dining venues featuring world-class culinary talents and destination spas specializing in health, fitness and beauty. Current properties include hotels and resorts in Abu Dhabi, Anguilla, Beverly Hills, Maldives, Miami, New York, Palm Springs, Riviera Maya, San Francisco, Santa Monica, Snowmass, St. Lucia and Zihuatanejo with forthcoming openings in Istanbul, Dubai, and Bodrum, Turkey.